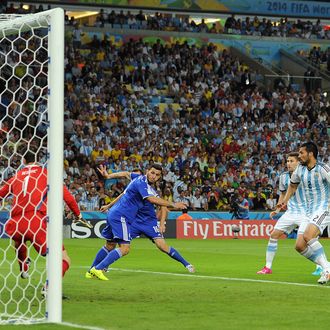 Photo: Chris Brunskill Ltd/Getty Images
During one of Sunday's World Cup games, a player for Bosnia and Herzegovina's national team did something very dumb and very unfortunate: He scored an own goal, giving Argentina an early lead, from which the already overmatched Bosnia and Herzegovina squad never really recovered. It was the third own goal so far in these games, and, chances are, we could see more tonight, as The Wall Street Journal reports that nearly 10 percent of the U.S. men's national team's World Cup scores have been the result of own goals.
It's hard not to empathize with players who score on their own teams; it's exactly these kinds of errors that are so frustrating, largely because there's no one to blame for them but dumb ol' you. Examples of real-life "own goals" include but are certainly not limited to:
Dropping your iPhone and watching the screen

 

shatter.
Thinking your car is in reverse when it's actually in

 

drive.
Drunk texting an

 

ex.
Getting dinged with an overdraft

 

fee.
Walking into a glass

 

door.
Setting your alarm for p.m. instead of

 

a.m.
The biggest reason we make dumb, preventable mistakes is simply because we're distracted, explained Jason Moser, a psychologist at Michigan State who studies these sorts of errors, in an email. "Mind-wandering of various sorts gets in the way of these very rote tasks and produces 'own goal'-type mistakes," he said. "Mistakes like this can occur simply out of boredom or off-task mind-wandering, where the brain processes responsible for vigilant attention kind of go offline for a bit, and are occupied by some other content, like thinking about what's going on on Facebook." (Ugh, Facebook.)
But thinking too much can also backfire. He explained that the people who are most worried about making mistakes may also be predisposed to making them. "Worry can detract attention from the task at hand and require people to refocus during times of erring to make sure they don't fail at the task," Moser said in an email. The distracting effects of the physiological manifestations of anxiety — sweaty palms, upset stomach, racing heart — can sometimes lead to screw-ups, too, he said.
The key here, Moser says, is to stop being afraid of making mistakes. "Errors shouldn't be considered as scary and things to be avoided, even if they are simple silly ones. Instead they should be attended to and [used] for learning. Approaching mistakes as events to learn from goes a long way in making the simple slips less frequent, and easier to move on from, in a productive way that produces change and improvement."
I believe the Michael Pollan–esque version of this advice would be: Pay attention. Not too much. And quit wasting time on Facebook.