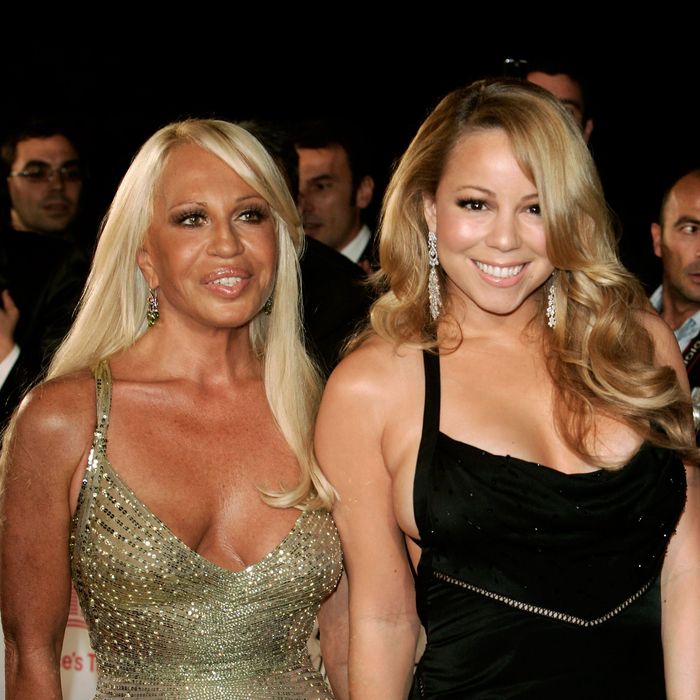 Photo: Pascal Le Segretain/Getty Images
Donatella Versace and Mariah Carey have been best friends ever since Mariah took a break from her tour, hopped on a private plane, and flew to Palazzo Versace to party for less than 24 hours. Decades later, Donatella has offered up an even truer testament to their gal-pal-dom by reviewing Me. I Am Mariah … The Elusive Chanteuse for Vogue.com.
By giving a close read of every track, Donatella teaches us what a real, beautiful friendship looks like. For example, in this description of "One More Try," Donatella writes words that are sure to make Mariah's heart soar, but also throws in a backhanded compliment to keep her grounded, as only a BFF can:
I can't stop listening to Mariah's rendition of One More Try. George Michael is a great friend and one of my favourite artists, so I never think that anyone can do justice to his music. But I feel that Mariah really understands every word that he has written. At times her voice is angelic, at times pleading and then, towards the end, it goes into a crescendo reaching amazing heights. I'm sure that George would be very proud of Mariah's version of his much-loved song.
But really, Donatella demonstrates the only rule of friendship that matters: Endorse everything a friend does with hyperbolic pride, even when they insist on referring to themselves as an "elusive chanteuse."