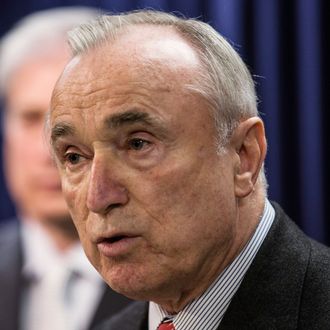 Photo: Andrew Burton/Getty Images
It was a simple tweet, including a photo of two NYPD officers outside their precinct house — the taller one looking dour with his hand resting on his gun, his partner barely cracking a smile. But the text, from police commissioner William Bratton, signaled a sea change: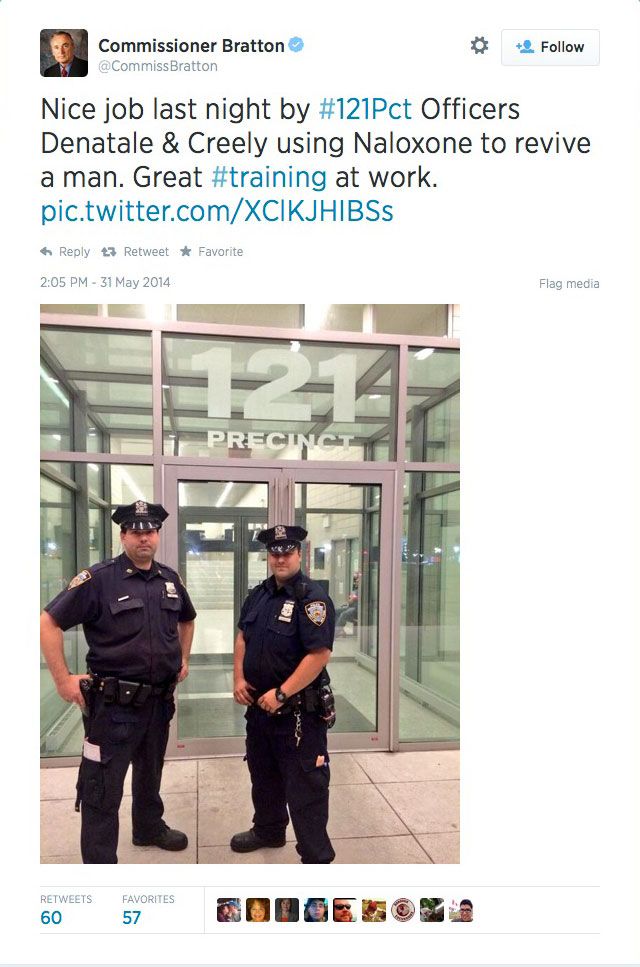 That's right: New York's police chief was commending his officers not for arresting a drug user — but for saving his life.
The cops had been trained as part of a new program that will ultimately provide naloxone — the antidote to overdoses that include opioid drugs like heroin or prescription pain relievers — to patrol officers and others in the police department likely to be in contact with the public. State attorney general Eric Schneiderman has budgeted $1.2 million for 19,500 naloxone kits and training for the police. 
Previously, it was only available in hospitals and ambulances, but since 1996, community organizations like needle exchanges, rehabs, and hospitals have distributed the antidote to drug users and their family members, mostly on a small scale. This year, the Obama administration has pushed to make it even more available to such groups and to all types of first responders, including firefighters and police (find out where to get them here). Since overdoses now kill more Americans each year than car accidents, it's a lifesaving initiative.
The NYPD's naloxone program was piloted in Staten Island, where Friday's rescue took place. A Port Richmond mother, concerned that her 27-year-old son had overdosed, called police. Once officers arrived on the scene, they assembled the naloxone nasal spray device, administered the drug, and revived the victim, who was then taken by paramedics to Richmond University Medical Center for further treatment. 
We've come a long way from the late 20th century, which saw the NYPD's Operation Pressure Point in the East Village, mass arrests of drug users, and widespread adoption of harsh mandatory minimum sentences for even nonviolent drug crimes. From the mid-1980s to the 1990s, widespread opposition to providing clean needles to drug users to stop the spread of AIDS was based on the idea that saving addicted people from HIV would "send the wrong message." Nancy Reagan even argued that "if you're a casual drug user, you're an accomplice to murder," while LAPD chief Daryl Gates, founder of the hugely popular but ineffective D.A.R.E. drug prevention program, said in 1990 that "casual drug users should be taken out and shot."
Luckily, though, these attitudes seem to be dying away as public opinion drifts toward more liberal policies, such as marijuana legalization. In New York, it isn't just the embrace of naloxone kits that's signaling a shift in direction. The state's "Good Samaritan" law, which went into effect in 2011, also improves matters by providing victims and those who call for help during an overdose with limited immunity from drug possession charges. This helps avoid potentially deadly delays in getting medical care owing to fear of legal consequences. Finally, we're starting to treat drug users as human beings, not criminals.