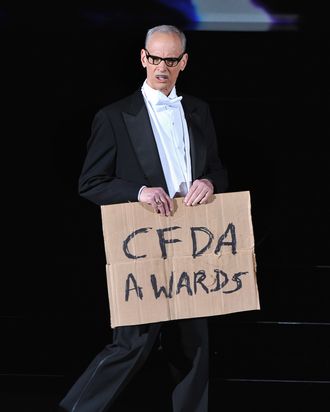 Photo: D Dipasupil/Getty Images
The Critically Fickle Design Awards. That's what John Waters dubbed the so-called Fashion Oscars. Clad in a white-tie ensemble — "To hell with normcore, that's so spring 2014 — and carrying a hitchhiker-style cardboard sign, the CFDA Awards host wasn't afraid to rib the fashion crowd last night. "Let's make fashion cost more," he joked at one point. "It seems too cheap to me." Here, some more of his bons mots.
On affordability: "In 2015, let's make a blouse sell for more than a car; a coat cost more than a yacht. All we need is one customer to break the glass ceiling of pricing. I mean, when was the actual date that a handbag began costing more than a condo in Queens? Why do magazine editors question a $28,000 'Puffy Clouds Embroidery Dress' by Marc Jacobs? This man has expenses."
On his own design ambitions: "My line would be called 'Caught Dead,' as in 'I wouldn't be.' Inspired by the lowest-of-the-low thrift-shop outfits that have been left unsold in the bottom of those Value Village bins for at least a year. Think dad-jeans in a 44-inch waist with faux bleach stains around the crotch. Women's underarm shields left over from the '50s. Maternity tube tops. Outdated meatball-brown maxi skirts from the '70s. Clothes that even the hippest FIT or Parsons student couldn't wear ironically. Jenna Lyons, go ahead, appropriate it! I'll be flattered!"
On finding inspiration: "I'd also tell Women's Wear Daily that my influences were more advanced than the usual references to Mad Men, 'the art of subtraction,' or 'urban gypsy.' Mine would be family drug interventions, roller-coaster accidents, and, most importantly, 'Poor, Pitiful Pearl.'  Remember that great doll from the '50s that came dressed in a burlap bag and a Nikita Khrushchev's wife–style head scarf in a plain brown box with the wonderful copy: 'THIS IS POOR, PITIFUL PEARL'?  She is my muse!"
On smiling models: I'd introduce my motley new looks during Baltimore Fashion Week, which has been unfairly deemed unsophisticated by some critics just because the models smile like beauty queens walking down the runway, waving to their parents in the audience and yelling, "cheese".  So?!? Imagine if Comme des Garçons did this? Wouldn't that be as transgressive as Rick Owens' models "grit facing"? A good mood on the catwalk is positively post-modern these days.
On trying to make aging a trend: "Tavi Gevinson inspired me by dyeing her hair gray when she was just a kid and causing a sensation. But let's go further.  Rihanna, you've got fashion balls, help me out with this new rigorous style. Let's make fun of the generation who came right before you who are beginning to fear aging. Go ahead — be daring. Draw on liver spots and wow 'em on your next red carpet. Feature fake varicose veins with that bikini in Mustique. Cause a real scandal by sketching on Ruth Gordon lips for your fourth Vogue cover. Men, you can help, too. Wes Gordon, shave a receding hairline into that signature mop and maybe women will follow the style as they slip into one of your gorgeous slip dresses. Marcus and David, how about a rag & bone gray cashmere fake paunch to wear under those Rivington jackets? We know there's no such thing as ridiculous in couture. Every night when I was a teenager I'd leave the house in some ludicrous outfit and my dad would shout, 'It's not Halloween, you know!' But as all fashion sophisticates know — yes it is! Every night is Halloween — and we are here this evening to celebrate that joyous fact!"