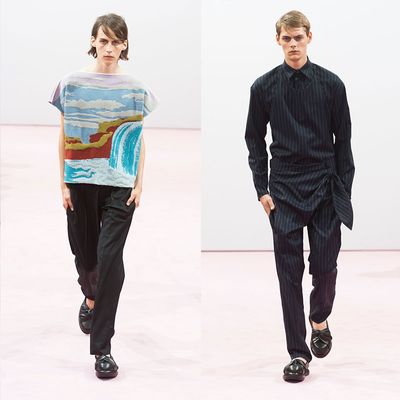 LONDON— You might expect Jonathan Anderson to be a little distracted lately. After all, he took over the big role at Loewe back in September (after receiving a big injection of funding from LVMH) and recently told Business of Fashion about the ambitious, long-term plans he's implementing for his own label. Today, on the same morning as his spring-summer 2015 menswear show in London, he launched the first J.W. Anderson e-commerce site —  a sleek, clean affair that includes not only his celebrated menswear and womenswear lines but also a jewelry section full of imposing Art Deco–inspired cuffs.
Rather than causing added chaos, the exponential growth of Anderson's business and career seems to have done exactly what it should have; it's formed a launch pad for him to do bigger and better things. His collection this morning felt as though it had taken a leap forward since his last menswear show in January. When he sprinted out for a bow at the end of the show, he even looked different. Three months short of his 30th birthday, the designer has lost his boyish look and suddenly looks like a man who knows exactly what he's doing.
The show was held at Anderson's usual venue — an Army Reserve Centre in central London — but while in previous seasons it felt utilitarian, this season it had been given an uncharacteristically luxe makeover with plush pink carpet and pale-pink benches. The collection began with a series of short-sleeved, boat-necked intarsia sweaters covered with knitted landscapes. They were modeled on real countryside — British editor Melanie Rickey tweeted that she recognized one as Cuckmere Haven in East Sussex. It was a commercially friendly access point for the collection — from the opening moments, there was a sense that the audience was mentally compiling shopping lists.
There followed a whole lot of stripes: pinstripe tunics layered over trousers in a confident reimagining of businesswear, and silk pajamas in loud, diagonal stripes — a little like something you'd have worn to Studio 54. Every blouse included its own oversize scarf in matching silk.
There were also shrunken, knitted vests; blazers with cutouts at the back, and off-the-shoulder sweaters. But Anderson used his clever eye for marrying the avant-garde with the accessible — for the less adventurous, there were beautiful trousers, easy jackets, and sporty button-down sweaters.
In recent seasons, Anderson has become one of the industry's favorite Ones to Watch, and with that must come incredible pressure to deliver. Judging by the successes of 2014 so far, he's taking it all in stride.