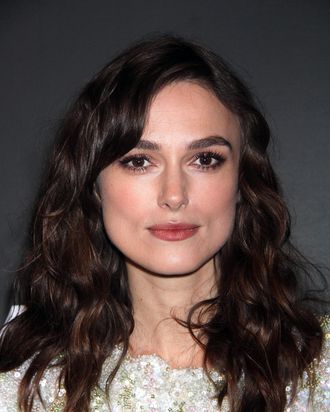 Photo: Laura Cavanaugh/Getty Images
In an interview for her Elle UK cover story, Knightley said she would "100%" discourage teenage girls from acting. Actually, let's make that "150 million trillion per cent" discouragement. Laws of math and statistics should be put aside for how hard she's advising against acting.
Knightley's points are twofold: A teenager should do silly things that don't have the attention of media scrutiny — and media scrutiny can be vicious. It takes adult-level thick skin. Here's Knightley:
Teenage years should be done privately. You should be going out and getting unbelievably drunk, getting into ridiculous situations, making mistakes. That's what that time of life is about and we should do that privately.

Saying that, I don't regret it — I wouldn't do my life any differently, but having lived through it …There was a very long time when [interviewers] were all: "Well you're a shit actress and you're anorexic and people hate you" which, for a teenager is a very strange thing.
People are truly jerks sometimes. But there are comforts in dungarees and coming out on the other side of it.