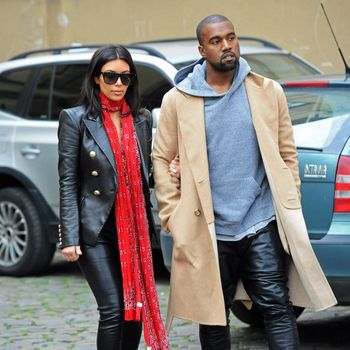 Photo: isifa/2014 Getty Images
The Daily Mail reports that Ms. Kardashian-West was bored as a tree stump on her Ireland honeymoon with Kanye. She did not like the rain; she did not like the lack of glamour. She was so bored with their five-night trip that she "begged" to skip out early.
Sources noted that the pair skipped the touristy stuff (which was dull anyway, said the source) and muddied it up on some "treacherous" mountain bike trails.
As a reminder, Cork is a peculiar part of Ireland. But though locals' accents sound Jamaican, the area does boast good old Irish "green fields and muggy drizzle." Where they stayed,  Castlemartyr, has one fancy resort and one fast-food chain and three pubs. (All this, according to the Cut's Cork dispatcher, Ed Power.) Modesty that would stand in sharp relief to the Gold Toilet Tower wedding.
Kim Kardashian was last seen traveling back to Los Angeles without Kanye. Her grand tour of three-pub towns is over and will never occur again.