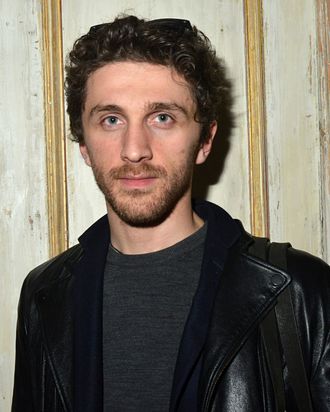 Back in December, when David Koma was named the new artistic director of Mugler, the appointment was a little out of left field but somehow perfect: The Georgian-born, Russian-raised, London-based designer has become a favorite of Beyoncé and Lady Gaga— not to mention center-ab-barer Gwyneth Paltrow — for his bondage-inspired pieces. As it turns out, he grew up idolizing Thierry Mugler. While in New York to show his resort debut at Milk Studios, Koma talked to the Cut about highlighters and dressing Georgia May Jagger for the Met Ball.
You're a longtime fan. I read that, growing up in the republic of Georgia, you were looking at Thierry Mugler's designs when you were only 12.
I grew up in Georgia, and then when I was 9, we moved to St. Petersburg. When I was 12 or 13, I saw a documentary about Thierry Mugler and I was completely blown away by the silhouettes, the fabrication, the whole atmosphere.
What's it been like adapting to this big luxury European house? How are you designing differently than you have for your main brand?
The design process I always approach the same way because I am who I am, and I want to be true and honest to my personal views and taste and everything. Obviously for Mugler, it's a big house, a much bigger team. For example, for the first resort collection, we concentrated a lot on tailoring and creating that sort of trouser suit.
Yes, with the very strong shoulders and the big trousers.
I think it's a must for the new Mugler woman. Then long dresses, which I haven't done very often. I've just been following my instincts and doing what's right for the house. We didn't go deeply into the archives, not in the beginning, because I just wanted to show my own signature for the house, and then slowly incorporate the archive pieces that are absolutely amazing.
You have a lot of hard-edged metal details. Why?
Hardware and metalwork is very important to the house, and I really wanted to bring that back as a signature. I've used buckles and ribbons as functional details with the jackets and dresses, but then we took these two elements as embroidery and decoration to the rest of the collection. So it ties up the whole thing.
Some of the past designers have really put their stamp on the brand. Is that a lot of pressure for you in terms of following in these footsteps?
No, [I'm] continuing their legacy and their house with incredible history. No pressure, just hard work and enjoyment.
So you dressed Georgia May Jagger for the Met, and she was wearing that very low-cut black dress. That was the first time one of your designs for Mugler was seen on the red carpet. What was that experience like, and what kind of reaction did you get?
Georgia May is the new face of Angel perfume and she's a very cool, lovely girl to work with, because she's beautiful, she's young, she's cool. I designed for her this really elegant dress but it looked incredibly elegant on her and the reaction was amazing because she looked really hot! She's so young and she's so beautiful; I didn't want to put her in something that would drown her.
And you also did Virginie [Courtin-Clarins]'s wedding dress, another recent project. [Editor's Note: Clarins Group owns Mugler; Courtin-Clarins is Mugler's director of development, marketing and communications.] What was that like?
That was just my little present for her. She had a big dress, which wasn't designed by me and it was just from the Mugler collection. We gave her a beautiful white dress that she wore before the big wedding.
So tell me a little bit about the inspirations you looked at for resort. You've got these black-and-white passages in the collection and then you've got these electrical tape designs, or splashes of paint. You said you were inspired by Lyrical Abstraction, the modern art movement. Can you talk about that?
I just love modern art in general. I was looking at different artists, but I didn't want it to take as inspiration one particular artist. I looked through a lot of very abstract art that led to me taking a highlighter and [drawing] very spontaneous, fresh lines.
Resort started out as something very different than what it is now. It used to be focused on people going on vacation and it was for a certain type of wealthy customer. Now resort is obviously one of the biggest seasons in terms of sales. What's it like starting out with resort as your first collection, and what's your modern interpretation of resort that's not so "ladies who lunch"?
We want to focus more on an active, working woman and creating a wardrobe that she can rely on during the day but she can look chic and amazing in the evening. Just the whole idea of doing resort was quite important for me because I just wanted to focus on the product and creating the base and the wardrobe for the woman rather than spending all my time on creating an image.
So what are your future plans for Mugler? You're showing in Paris in the fall.
We're showing in Paris in September. Basically this is one of our first steps for the new Mugler. We're focusing on ready-to-wear, but accessories and shoes are really important to us, so I think in a year's time we're going to present an accessory collection, which is going to be be amazing.
In terms of the red carpet, is that something that's important to you as a designer? Are there celebrities you'd love to dress?
To be honest with you, never, ever have I thought about it. I feel always extremely honored when so many successful, incredible women that could wear anything that they want in the whole world choose to wear Koma, and if they would choose to wear Mugler I would be extremely honored and happy. We never target it and we never approach it. We have some celebrities that pick themselves or they have a stylist pick. It's a very instinct-based thing. It works.
This interview has been condensed and edited.