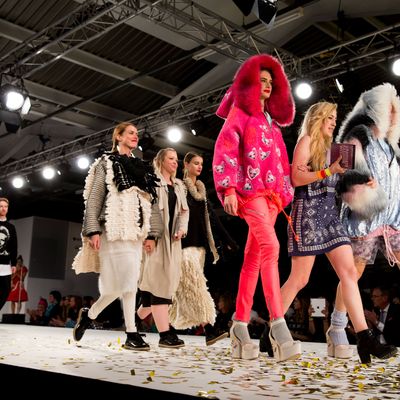 Photo: Tristan Fewings/Getty Images
LONDON — In recent years the U.K. fashion industry has seen a big pay-off come from nurturing young designers: Homegrown talents like Christopher Kane, Mary Katrantzou, and Erdem have gained major traction overseas. And fashion school is where that nurturing process begins.
One prestigious U.K. college, Central Saint Martins, has a hallowed place on the official London Fashion Week schedule — but there are many other, lesser known schools producing talented graduates, and for those young designers, there's Graduate Fashion Week: a four-day exhibition where British and international graduates can show off their work, make industry contacts, and compete for awards.
The event, which counts Hilary Alexander among its trustees and Sarah Mower among its judges, kicked off on Saturday. It's the world's biggest student fashion event — there were over 30,000 visitors this year — and has previously helped launch the careers of Stella McCartney and Burberry's Christopher Bailey, among others. This year, it found a new home in east London's Brick Lane — a creative neighborhood, and a vast improvement on the sterile west London venue where it has previously been held.
There were appearances from industry speakers like Gareth Pugh, Vivienne Westwood, Calvin Klein, and Tommy Hilfiger, and runway shows from colleges as diverse as the Edinburgh College of Art and the global Istituto Marangoni. The final day saw the International Catwalk Competition, which was won by Taiwanese student Shan-Liao Huang from Shih Chien University. Huang's mens- and womenswear collection was androgynous and armorlike, including a jacket with a voluminous rounded back, looking like a turtle shell. Graduates from Italy, France, Norway, Ireland, Sri Lanka, Australia, and Russia also took part.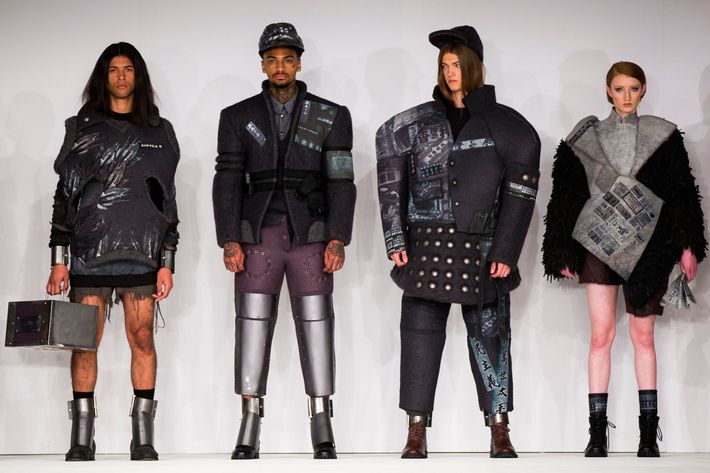 Then there was the Best of Graduate Fashion Week show, which showcased individual collections by the most talented young designers of the week. Camilla Grimes of England's Manchester School of Art won the Creative Catwalk Award for her furry, neon streetwear, with its embroidered bomber jackets and enormous cloak hoods.
On the more outlandishly creative end of the scale was the University of Central Lancashire's Stephanie Chesworth, whose knitwear collection used graphic images of tropical fruits, and the kind of cheerfully lurid colors you might find in a children's book about breakfast time. She wasn't lucky enough to win an award, but it was a refreshing jolt to the system for the audience, who had waited 40 minutes in a hot room for the show to start.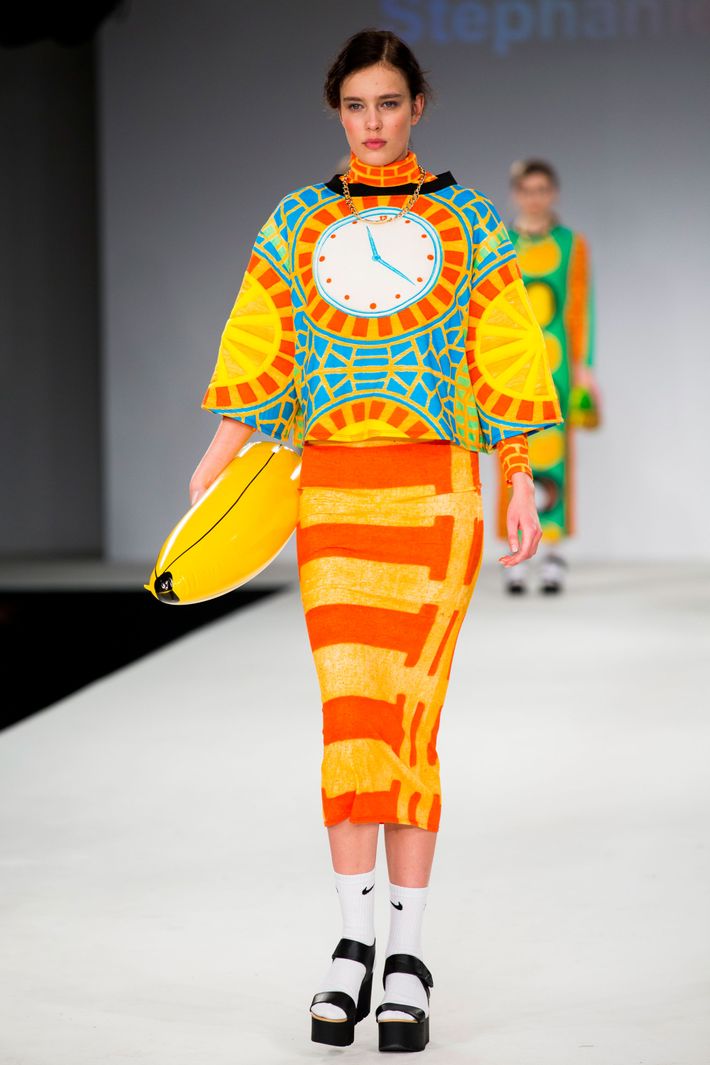 But the big winner was Grace Weller of Bath Spa University, whose collection featured beautifully intricate floral embroidery on dark lace. She took home both the Womenswear Award and the George Gold Award, which entitles her to £10,000 and the chance to adapt her collection for the British retailer George.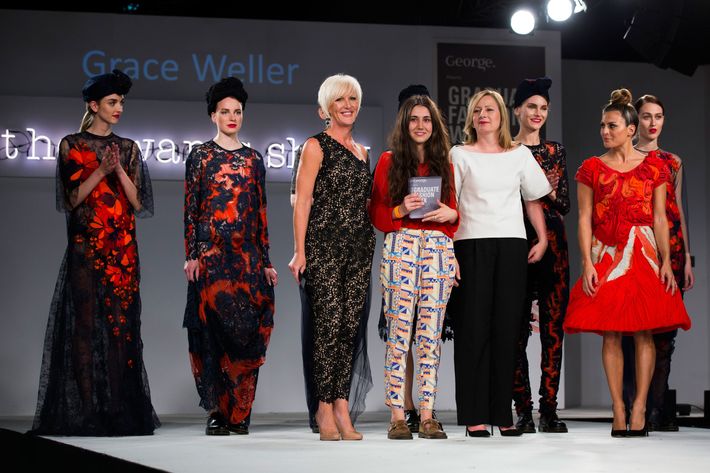 In years to come, 2014's graduates could be taking up senior roles at fashion houses, or becoming big names in their own right. Until then, the event has given the students a first taste of international attention — and a glimpse at what a career in fashion might really be like.