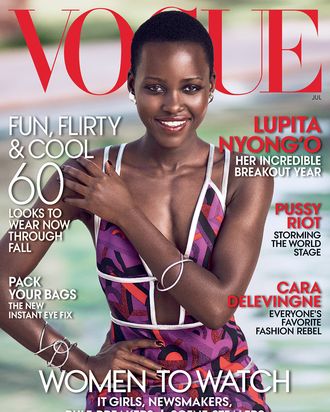 Big day! Vogue put a black woman other than Michelle Obama, Rihanna, or Beyoncé on their cover. Darling of every world Lupita Nyong'o just landed her first Vogue cover. This is well deserved and not at all surprising, considering she's spent her first year in the spotlight redefining beauty standards, making bold, confident red-carpet choices, and accepting an Oscar while staying on two feet.  


It seemed the usual reserve of Vogue adjectives wouldn't do for a cover girl of this caliber. In the swoony profile, Hamish Bowles creates a new vocabulary of descriptors befitting Nyong'o. She's a "cucumber cool," "swanlike apparition" who is "as beautiful and hieratic as an ancient Egyptian statue of a cat goddess" and as "preternaturally poised as a prewar debutante."  

If anybody deserves new words for amazing, it's Nyong'o — so, fine work, Vogue! This is such a nice bit of news, we'll only raise a slight eyebrow at the racially tinged exoticism of shooting her in Marrakech.