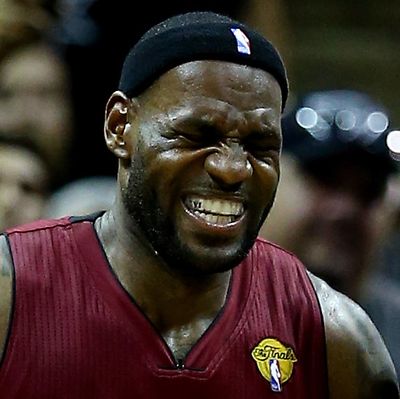 LeBron James #6 of the Miami Heat reacts after cramping up against the San Antonio Spurs during Game One of the 2014 NBA Finals at the AT&T Center on June 5, 2014 in San Antonio, Texas.
Photo: Andy Lyons/Getty Images
Last night's Game 1 of the NBA Finals between the San Antonio Spurs and Miami Heat was quite memorable, largely because the air conditioning in the AT&T Center in San Antonio broke, forcing players to swelter through 90-degree on-court temperatures. As a result, LeBron James developed cramps and asked for an uncharacteristic breather down the stretch. He went back into the game with about four minutes left, hit a nice layup to cut the Spur's lead to 2, and then stood paralyzed at the wrong end of the floor while the action continued. He looked like he was in tremendous pain, like his legs simply couldn't carry his 260-pound frame the 50 feet over to his bench, and eventually had to be carried part of the way.
The Heat lost — partly because LeBron wasn't on the court, but also because the Spurs hit a brutal late cavalcade of three-pointers. After the game, the jerks of Twitter had a field day:
Yes, it's easy to highlight some nasty tweets after just about any news event and overgeneralize based on them. And surely if you called up the individual tweeters and inquired as to their motives, they'd say it was all in good fun, that they're just kidding around. But there were a lot of these tweets, and they fit a long-standing pattern. In addition to the obvious misogyny on display here ("LeBron is a woman! Having her period! Hurr!"), this view of masculinity — you play through the pain, and if you're not on the court or field when it matters most, you are a failure or a coward — is both stupid and dangerous.
As the Daily News reported last year, a recent study showed that about a dozen high-school and college football players drop dead on the field every year, and half the time it's not because of a traumatic injury sustained during play:
Kelly Dougherty, an assistant professor of pediatrics at the University of Pennsylvania Perelman School of Medicine, said she found the number of heat-related deaths in particular "quite alarming."

Many of those deaths happened in the South during preseason play, including at two-a-day practices.

"These are preventable deaths," said Dougherty, who has studied heat acclimation but wasn't involved in the new study.

"This article highlights the urgent need for future research studies that would investigate children's and especially football players' body temperature responses during practice (and) during games," she told Reuters Health.
Usually when we talk about gender norms we're talking about women, and for good reason — overall, women have to deal with a lot more crap on this front, have to worry about all sorts of societal pressures that men don't. But guys aren't immune, and these deaths aren't occurring in a vacuum: They're happening as a result of a very specific, culturally reinforced view of masculinity.
It should tell us something that not even LeBron James, the best basketball player on the planet and a freakishly athletic embodiment of, yes, toughness, is immune to it. Imagine you're a second- or third-string marginal athlete on some high-school football team in the middle of nowhere. What's your reaction to this? What do the tweets about Midol tell you about the need to "man up" the next time you're struggling during practice under a hot August sun?