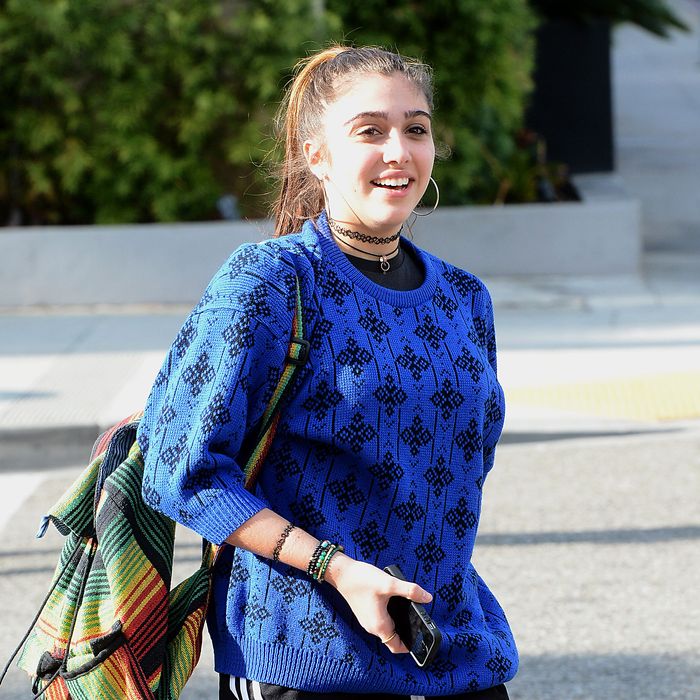 Photo: All Access Photo / Splash News
Madonna's daughter Lourdes Leon — neologism coiner and fashion blogger with a famed hatred of gladiator sandals — is putting on her reflective shades. Rose-colored they are not: She's here to write about all the terrible clothes everyone wears in high school. 
On the Material Girl clothing-line blog for Macy's, she writes:
Looking back on the past four years of high school means looking back on unfortunate outfits I wore confidently to school (good for me).

Oh how I wish I could go back in time and urge my 14 year old self NOT to wear black rhinestone studded t-shirts with bloody skulls on them, purchased from really "hip" stores (wtf is hip anyways). I like to reassure myself though, that I had to go through that awkward time of "trying stuff out" to figure out what I liked wearing best. I still don't think that I have a defined style, maybe because I don't want to limit myself to what I should wear. Makes me happy knowing that I went to an arts school where any kind of style could fly: It gave me the confidence and the yolo spirit I needed to successfully look like a clown (it's fine). 
Great parentheticals. Anyway, as for this summer, Lourdes looks forward to "wearing a lot of tribal pants and sports bras and hopefully not a floral romper." Avoid those floral romps as hard as you can, girl. Turn your eyes, rip 'em to shreds, and never look back.