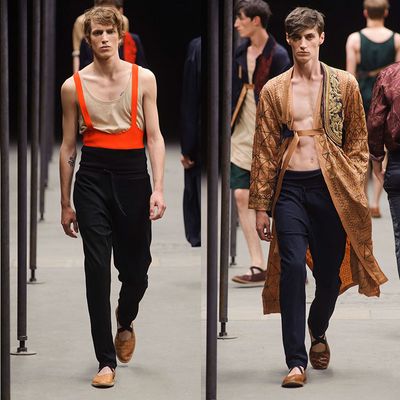 Sportswear has infiltrated high fashion over the past few seasons, be it in the form of varsity tees, sneakers, or even basketball shorts. But for spring 2015, Belgian designer Dries Van Noten drew on a much more elegant style of activewear. Inspired by ballet (he cited Rudolf Nureyev in particular), Van Noten made his models appear as brooding dancers with tousled hair and defined cheekbones.
Of course, dance being the theme, the body was important: Some models came down the runway in unitards, others completely bare-chested. Ribbed knits scooped low at the neckline and sheer silk shirts were unbuttoned almost to the navel. Models wore comfortable-looking slouchy pants. Just as skin was a feature, so was fabric — Van Noten is a master of textiles, and the tactility of his creations is one thing that sets him apart. The same silk used for the shirting came into play for the pajama-style suiting, as well as robes that literally floated on the body. Most effective, and highly sensual.
While he might have embraced bright colors last season, the palette this season was much more restrained — navy, black, forest green, burgundy, and a muted gold were the orders of the day, with a shot of poppy red cutting through on occasion. Prints (another Dries specialty) were subtle, and there was only a hint of embroidery. Not that these styles needed any adornment — the silhouettes and fabrics more than carried the collection.