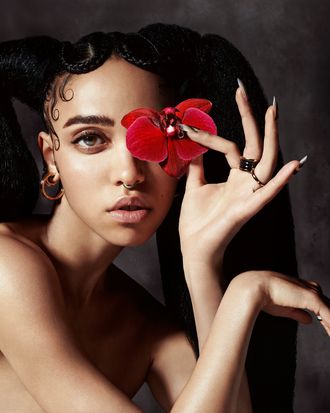 The British musician called FKA Twigs caught the eye of the fashion world from her very first magazine shoot — the cover of i-D's pre-fall 2012 issue, which featured the word love spelled out across her forehead in baby hairs. With a distinct fashion sense and heart-shaped face, Twigs became an instant style icon. But what has earned the self-determined, strong 26-year-old a growing cadre of devotees is her unique, intimate music, which mixes up elements of R&B, hip-hop, and British dance styles for a new kind of avant-garde pop. As a producer and singer, she is a lesson in contrast — her high-register voice is silken among her grating beats, and she is unafraid to tinker with the thin line between pleasure and pain, both lyrically and visually.
Twigs (born Tahliah Barnett in Gloucestershire) spent much of her life as a professional dancer (ballet; tap; back-up), and her videos (all of which she's either directed or co-directed) often feature her interpretive skills. Her background in dance also makes her perfect for high-fashion photography; in her new spread by Inez + Vinoodh for the cover of Dazed & Confused, she's giving angles that would make Tyra weep. But don't let her musical and physical intensity fool you — Twigs is as chill as can be. "Someone asked me yesterday, 'Do you meditate?' No, I don't meditate! I watch trash TV when I get out of the studio," she laughs. "It's really easy to project this whole ideology of what being an artiste is, and I'm just not down with intellectualizing it. I just think, if you feel like doing something, then do it."
Last week, Twigs came to New York to do press for her new album, LP1, which is out August 12 on Young Turks. When we met her, she wore cream-and-chartreuse silk pajama pants, and sat on the floor in a room full of editors from both fashion and music publications, lightly bopping to her own new songs. The Cut spoke with her about art, womanhood, and the textures of her music and style. Plus, watch her new video for "Two Weeks," out today.
First things first: What's the secret to your baby hairs?
I've been doing S-curls for years; I just use gel and a tooth comb. But the baby hairs are gone now; I'm done. I'm sure they'll make an appearance, but I used to really enjoy doing them every single day, even if I was half an hour late I'd manage to squeeze in seven minutes to do it. But since I did the i-D cover, it's something that's really taken off in fashion and in music. My reference for it comes from Josephine Baker, the first-ever famous black performer, but I think the way it's been taken now, I don't know if I'm down with it. It's just like piercings and tattoos: On the right person they can be really beautiful, but on the wrong person they can be really bad.
You tend to collaborate with your good friends, like the director Grace LaDoja, as well as your stylist Karen Clarkson. How do you work together?
I call Grace my big sister. With Karen, it's always really laid-back. She's got a really amazing vintage shop called Found and Vision in Notting Hill, so sometimes I like to go there and try things on. We exchange a lot of references that aren't necessarily clothes-based, like pictures of flowers, or a color palette of flowers, or textures. She's introduced me to people like Richard Avedon, whom I'd never heard of before, or we'll look at more creative photography like Robert Mapplethorpe's work. We work together well because I'm very fearless, and she's my friend. I really trust her. It's not for credits in a magazine or to make a designer happy or from a PR point of view. It's because that is what suits my body shape, and what makes me feel comfortable.
Fashion's important to me, but beauty fades. All that stuff is fun while it lasts, but anything can happen tomorrow. You've got to have so much more about you than the way you look or your clothes. If someone said to me, When you go home, all of your wardrobe and all of the nice things you have would be gone, I wouldn't care. That's the truth, I wouldn't care!
Your mother was a clothing designer as well?
When my mother was young, she used to make all of her own clothes. She really loved the styles of the '30s and '40s, so she'd have little cinched-in waists and would make her own suits and would always have a beret on the side of her head. I'd come home from school, and there'd just be fabrics everywhere hanging off doors, hanging off sofas; I grew up standing on a pin weekly, 'cause there'd always be pins on the floor. It was really fun, but for a second I rejected it, because if you grew up with it, it makes you not that bothered in a way. But now I'm very grateful for having that type of upbringing, because without even realizing it, I can sew as well. Nothing really complicated, but from years of watching my mum do it at home I can fix things and alter straps. It's a skill that's kind of lost in today's society.
The artist Jesse Kanda designed your LP cover, and you told him that you wanted red somewhere in the art. Does color play into your vision a lot?
I'm always weird about color. I definitely stick to black a lot. Not in a goth-y way, but my videos are black-and-white, or if I do a video in color I like the contrast to be quite high. I'm really into textures visually as well. In the Wet Wipez video I just directed, I really wanted the texture of the satins and the velours and the furs in the video to be brought out in the contrast. But I like the color red; I think it's a really lucky color. When I'm thinking about artwork I always like there to be a bit of red in it. I think it's a winner's color. Textures apply to everything I do. Even within my music, I like smooth things, and then hard and fluffy things, all giving them their place to shine.
In your music, too, there is a lot of range and nuances in the beats, some of which are so layered you can only hear them on high-end speakers.
I always add loads of sounds in there, sometimes I'll just put a really high sound that hisses, that you can't even hear, but then if you take it out, you miss it somehow. I think vocally, from a recording, technical point of view, "Lights Out" is my favorite vocal, because my voice doesn't sound like a voice, it sounds like a robot. There's a really weird frequency that's been brought out in the recording, and it's really hissy. I imagine if Medusa had loads of snakes on her head, lights on the snakes would be singing it.
Your songs put forth a lot of emotion, honesty, sexuality. I'm sure you've discussed your "Papi Pacify" video a million times, which is an intense representation of all those things. What's your relationship to power, within yourself, and with others?
I don't know, really … I'm 26, so I haven't really figured it out yet, because I feel like I'm just entering into womanhood. Sometimes I feel 15; other times I feel fully grown and mature and handling all my business. It can waver from day to day, hour to hour. So I haven't quite figured it out yet, but I've always been a quiet person, and I guess maybe that can be seen as a weakness in some ways, as I've always been soft-spoken. But ironically, as I'm getting older, I'm realizing that being quiet makes people unsure of you, because what they don't know is more scary and makes them wary in a way. It can influence what people project onto you.