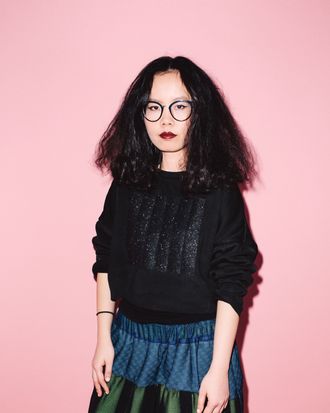 Jia Hua is new to fashion. Not a few-seasons-in new, but fresh-out-of-college new. After graduating from Parsons's MFA program in 2013, the Chinese designer did something different than most of her classmates: Instead of interning or going to work for an established designer, she chose to immediately go out on her own. She set up her own label, HuaJia Studio, which debuted this past February.
While in school, Hua noticed a flyer in the halls of Parsons promoting H&M's Design Award Competition. Every year, the company grants one student €50,000, a slot on the Stockholm Fashion Week calendar, and the chance to have a few of his or her pieces produced and sold at the store. Hua applied to the contest and didn't win, but she did make it to the final eight, thanks to her layered, neon take on sporty separates. (Her standout look? A fluorescent-orange pencil skirt paired with a hip-length sweatshirt made of nylon and Lurex knit, all topped off with a visor.) "My customer is definitely youthful," she says. "A lot of my inspiration comes from the street. A reflective strip on a runner's jacket can inspire me."

The H&M attention brought her some press, and helped her secure a showroom. Now, Hua, 26, is building her business, with a studio based in New York. And she's working on her second collection, which will be ready just in time for New York Fashion Week. She spoke to the Cut about choosing to go out on her own, running her own label without any backing, and the potential she sees in the Chinese market for new designers.

Where did you grow up?
In China. I was born in Zhanjiang but raised in Shenzhen, which is near Hong Kong.

When did you come to the realization that you wanted to be a fashion designer?
I started drawing when I was really young. I could just sit there for hours and just draw. I never stopped. I knew I wanted to do something related to art, but at the time it wasn't that clear. When I was 10, my family moved to Shenzhen, which is very contemporary. It was more of a modern city, and people dressed up — I think that really influenced me.

Are either of your parents artists?
No, no one in my family. Well, my mom is an architectural engineer, but it's not really related to design, it's more in the structure. But I think it must have influenced me, because when she was too busy she would throw out rulers for me to play with.

How did you end up in New York?
I did my bachelors in fashion design in Beijing. After that, I came to New York to study at Parsons for the M.F.A. in fashion design and society program.

Why did you choose Parsons?
The program is very different from the traditional Parsons fashion education. It's definitely more conceptual and gives us more freedom to explore. Besides the design studio classes, there were lots of other classes offered that explored film and fashion culture. [Theory CEO] Andrew Rosen came and gave us a speech, and also [fashion consultant] Julie Gilhart. When I looked at the curriculum for that program, it seemed interesting. And I was always kind of interested in New York, so I decided to come. I finished last year, and I'm now doing my own line.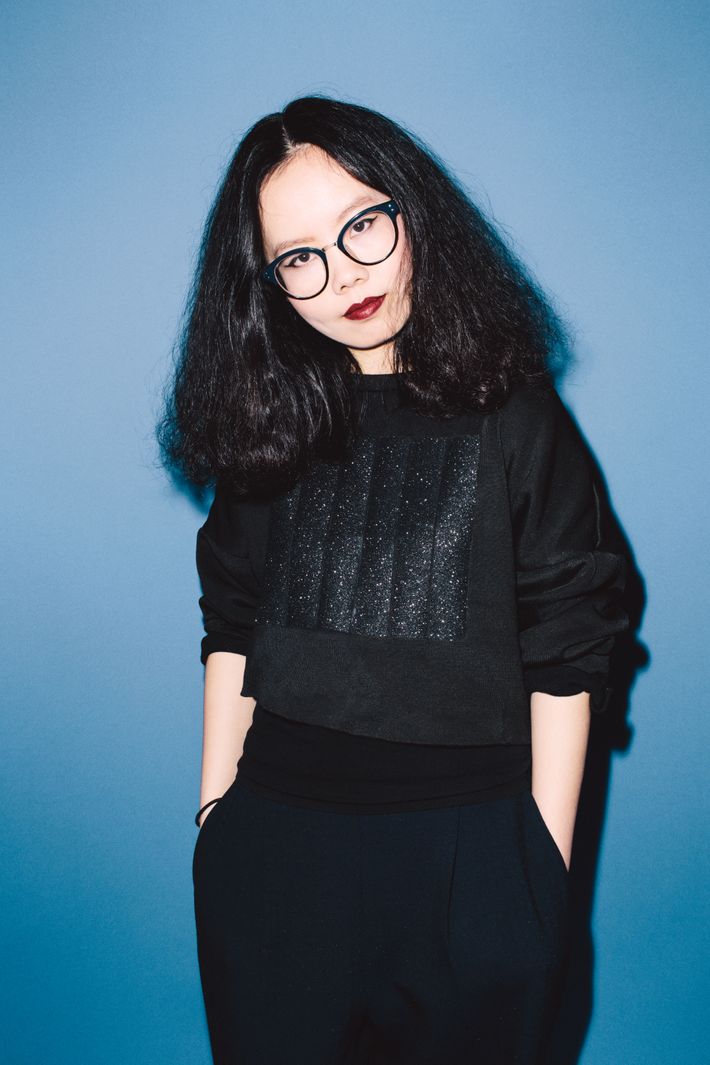 Why did you decide to do that instead of going to work for a big company?
I'm working and doing my own thing at the same time, because I can't really devote all of my time [to the collection]. Financially, it's really difficult.

So do you consult for a company or a bunch of different companies?
Right now, I'm working as a creative director for a small line. They just started up and want a whole new image, so I'm doing that. And at the same time, I'm doing my own company. It's sales season, so we're quite busy.

How has the response been so far?
We've received a lot of interest. Bergdorf Goodman, Barneys, Lane Crawford from Hong Kong — they've all come to see [the collection]. It's definitely something very new to the market. But I've also gotten some feedback that the pads are too heavy, or the waistband is too chunky and the weight of the whole dress is maybe too heavy. Also, pricing issues. Lessons for me to learn.

What is your concept the brand?
I focus on material and color, manipulating fabrics. I layer different materials and colors together in my own way. And I want everything to have a sporty, comfortable feel. It's oversize and young. The luxury is in the fabric and the technique.

This year, you were nominated for the H&M Design Award. What prompted you to enter?
I saw a poster about it at Parsons and figured I would try it. I sent out a few images, and I got in the semifinals and then into the finals, which was kind of amazing.

Did you get to meet a lot of industry people through it?
Yeah, at the end there were eight finalists, and we all went to London to present our collections. The final jury included Erdem, Michelle Dockery from Downton Abbey, Michelle Harper, editors from Vogue, and Ann-Sofie [Johansson] from H&M.

What was it like?
We had a long runway-style presentation, and then we got a chance to display our collection. Then they each came through one by one. I think people are interested in the material and the ways that I put them together.

I know why you came to Parsons, but why build your business in New York? Why stay?
There is always a very young energy here. The atmosphere is friendly and open. It just keeps me alive.

Fall is your first official season. What do you want to do next?
Funding, of course — I think every designer is looking for that. But I think it will be very difficult. And I want to stay based in New York, but I would like to expand the business internationally. To Paris, for example. And I want to expand to China, because it's a really good time to be a designer brand there.

It seems like Chinese shoppers don't care as much about labels and logos. At least not as much as they did in the past.
Ten years ago people were running after Gucci and Chanel logos. Now those customers are running after designer brands. More people are beginning to realize the beauty in design.
Photographer: Eric T. White; Manicure: Casandra Lamar using MAC Cosmetics at Factory Downtown; Makeup and Hair: Tiffany Saxby using Korres and Living Proof / T3 Tools at Factory Downtown.