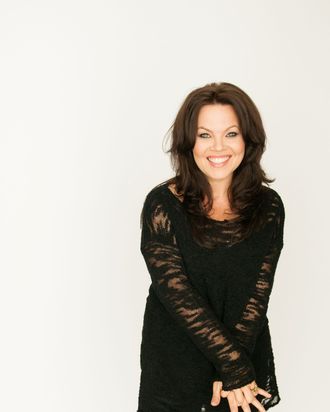 Shailene Woodley is a woman of many unorthodox interests like eating clay, making her own toothpaste, and wearing five-finger toe shoes on the red carpet. But the latest endorsement from Woodley is far more appealing to a mainstream audience than swallowing dirt: the self-help and personal branding guru Danielle LaPorte. "This writer is amazing and a sister beyond sisters," Woodley told The Daily Beast in an interview last week. "She reps the sisterhood thing and women's empowerment, and she wrote this book called The Desire Map where it's basically charting the things that you want in life, and not just sitting back and saying, 'I'm going to manifest this … here's how,' but actively doing something to manifest your dream."
LaPorte is the latest in a string of several New Age gurus to enjoy a recent celebrity endorsement: There's Marianne Williamson (beloved of Kardashians, Nicole Richie, and Oprah), Oriah Mountain Dreamer (whose inspirational poetry Beyoncé posted on Instagram), Katherine Thomas (who gave Gwyneth Paltrow the term "conscious uncoupling"), and, now, LaPorte, who offers her 86,000 Twitter followers guidance via bite-size "truth bombs."
Despite Woodley's enthusiasm, LaPorte told the Cut by phone that until Shailene began publicly endorsing her, she had no idea who the actress was. "But when I found out I went, Ohhhh, she's lovely." LaPorte, 44, teaches her acolytes to indulge their feelings as the path to happiness. And, like a true self-help guru of the modern age, LaPorte distributes one-liners, like "depression is just boot camp for getting to joy," in the perfect font and size across multiple social networks. On her site, fans can purchase two hours' worth of audio on the "desire mapping process," or they can kick back with the inspirational tracks on Radio D for free. She estimates that her blog has about 200,000 subscribers. Woodley may be her most visible fan, but LaPorte also has the ears of Maria Shriver and Gretchen Rubin of The Happiness Project and is endorsed by the likes of Spirit Junkie author Gabrielle Bernstein, a motivational speaker the New York Times called a "guru" for the Carrie Bradshaw generation, and Women, Food and God author Geneen Roth. 

LaPorte never went to college — and instead dabbled in dot-coms and bartending. She worked the floor of the Body Shop in Vancouver and Toronto before joining the company's corporate side. Soon after, she led The Arlington Institute, a nonprofit think tank in Washington, D.C., focusing on "predictive modeling of future events" pertinent to national security. Eventually, she resigned. But that experience inspired her to start her own lifestyle brand, and co-write a book on "soulful personal branding." At some point within all this, LaPorte met the Dalai Lama ("It was magical … magical is an understatement") and got a phone call from Oprah's producers (though she never made it on the air). Soon after, she was fired from her own lifestyle company in which she described on her web site's "About Me" page as a "coup d'etat," which fueled her desire to write a book about passion projects and reinvention. "It's really a phoenix from the ashes story," she told the Cut. "It was the best thing that ever happened to me."

Her first book, released in April 2012 by Harmony, an imprint of Crown, The Fire Starter Sessions: A Soulful + Practical Guide to Creating Success on Your Own Terms, sought to teach people how to find more meaningful success — to ignite the "soul fire." It was inspired by her visits to 16 cities in one year, during which she held group "fire starter sessions," urging people to listen to their inner voices and follow their passions. At the time, LaPorte charged clients $1,000 for one-hour long "strategy sessions" — "I am not a coach; I have opinions," she explains — for which she says there was a six-month-long waiting list. "I saw patterns happening with women about limitations," she says. "Everybody wanted permission." 

LaPorte takes pride in being self-made through constantly reinventing herself. "I'd never even taken a writing course," she told Forbes in 2012, when she was interviewed about being a successful entrepreneur. (The interview claims she got a quarter-million-dollar advance for The Fire Starter Sessions.) "I'm not even sure about my grammar sometimes. 'Should that be I or me?' … But I wrote the proposal, and I can sell ice to Eskimos, dirt to farmers. It's easy to sell when you believe in stuff."

In the particular book Woodley endorsed, The Desire Map: A Guide to Creating Goals With Soul (which came out earlier this year), LaPorte argues that people are burdened by chasing ambitions when they should be chasing their feelings. "I'm hitting a nerve with people in terms of the ambition that's crushing and feels too tight, reaching the goal and it feeling empty," she explains. In The Desire Map, LaPorte writes, "You're not chasing the goal itself, you're chasing the feelings that you hope attaining those goals will give you." (Also for sale are Desire Map workbooks, a journal, and a day planner.) She employs six people, all of whom work virtually from points around the globe. 

For a time, she planned to launch a magazine called DANIELLE, but pulled the plug after starting the project. Her reasoning, as she explained to readers in a blog post titled "How to Let Go of A Dream," was that she had "a feeling" (emphasis hers) not to forge ahead. More recently, LaPorte, who is based in Vancouver, has collaborated with Matt Dilling, a neon-light artist in Brooklyn, to sell $4,000 neon truth-bomb wall hangings. She also writes poetry ("I pray you / desire temples of peace / and benevolent tsunamis of love") and has performed spoken-word pieces.
And now she'll be reaching out to Shailene Woodley. "I'm going to send her a love note and some more Desire stuff," LaPorte says. "I would love to have tea with her and just, like, support her in a way, of protecting her psyche, protecting her heart."