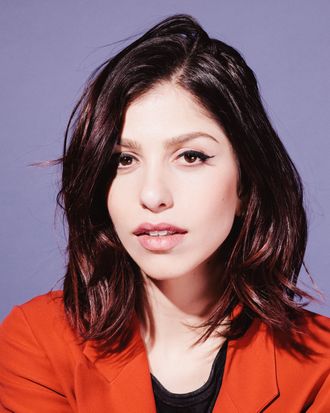 There are dozens of clutches on the market — from Forever 21 to Louis Vuitton — but few that, as in the case of Reece Hudson, have become as much of a staple for downtown scenesters and red carpet frequenters alike.
The line launched in 2009 under the pretense that a bag could be cool, well-made, and not crazy expensive. For their first collection, designer Reece Solomon and business partner Max Stein offered five styles, including the Bowery clutch with quilted accents (which, at $695, remains a bestseller). Today, the collection includes a slew of new shapes, with fans like Emma Watson, Georgia May Jagger, and Naomi Watts frequently wearing Reece Hudson for major events.

Solomon and Stein are recent graduates of the CFDA Fashion Incubator's second class, and they've just moved into their first "real" office, with plans to expand into different categories down the line. (The collection is now stocked at Barneys New York, Bergdorf Goodman, and Liberty, among others.) Solomon, 28, spoke with the Cut about her first internship, how she got the guts to start her own label, and her big dreams for the brand.

How did you get into fashion?
I grew up in New Jersey, but very close to the city. So that was always nice, not being too out of the way. It also enabled me to intern at Marie Claire my senior year of high school because it was easy to commute. A friend of mine who was a year older had worked there — probably through a family friend or something, because it was hard to get an internship in high school — and introduced me to whoever was in charge of interns. I spent a lot of time in the closet. At that point, I was just so excited to be unpacking clothes. The most exciting experience was when I got to assist Tracy Taylor, who was their fashion director at the time, on a photo shoot. Ted Gibson was doing hair. I loved it.

Where did you go to college?
Boston University. I studied communications, though I didn't really want to be doing that. I think my parents wanted me to have a liberal arts education, and if I still felt strongly about design I could do design after. During the summers, I started interning at Proenza Schouler. That was super-informative and educational and really inspiring, and cemented that I really wanted to do design. I graduated a semester early from BU and I went to Parsons to get an associate degree in fashion design, and interned for Proenza again. It was great to see a company change so much. And then I also interned at rag & bone, which was a totally different experience. They actually allowed me to do some design work.

What about after Parsons?
I had always wanted to start a brand, and my friend Max wanted to work on developing a designer and building a company from the business side. I was initially thinking about ready-to-wear, but we saw this void in the market for [handbags]. It's become a much more popular, thriving category now, but at the time it was much smaller, a little more obscure, so we just went for it.

Did you read like, How to Write a Business Plan, or something?
No, we didn't really have a real business plan. It was super off-the-cuff. I mean, we had no idea what we were doing. We definitely thought we did. But I guess that naïveté is important when you're trying to get a business started. I would do everything different now, but I also wouldn't have learned the things I know had I not made all those mistakes. I think that even if we had made a more formal business plan, it would've been thrown out in a week because it was nothing that we anticipated.

How did you start financially? Was it friends and family, or did you raise money from an outside investor?
It was all family money at first, and my friends. And continues to be at the moment.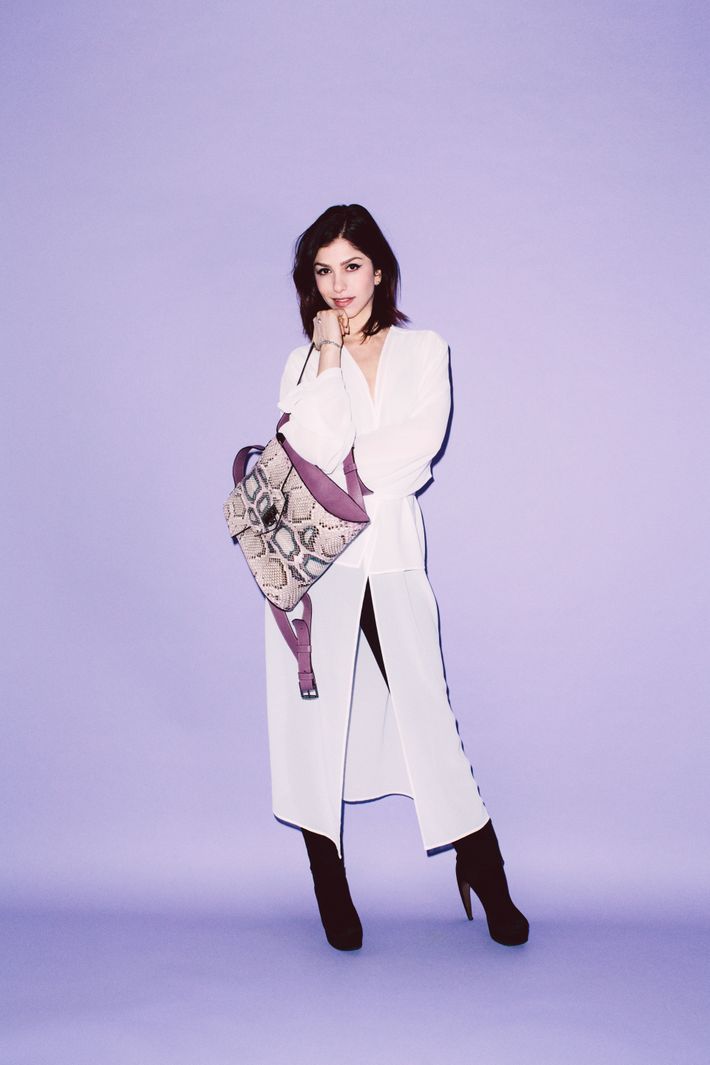 What was the thing that surprised you the most about running a fashion business?
It's so much more expensive than you can anticipate. Just all the unforeseen costs that don't have a direct correlation to your actual product, like photo shoots and shipping and extra materials and sampling materials and developing a pattern and a million different expenses that keeping coming that you just didn't think about  before you had your company. That was a huge shock and lesson. And it's not glamorous. I'm doing all the things I used to do as an intern. The amount of time I'm actually doing design or whatever is far more minimal than I would've imagined.

What was the first bag that you designed?
Well, the first collection was five styles in one color, it was very tight. The Bowery oversized clutch was in the first collection and that's the only bag from the first season that's remained. It really worked out for us, it continues to be our best seller. It's probably our most identifiable bag.

You were picked up by Kirna Zabete in your second season. How did you pull that off?
We did a presentation that season, very small and simple, in a family friend's apartment. I guess we reached out to them and they sent one of their buyers. They were looking for some new handbags. There wasn't a lot of newness in that category at the time, so that was lucky. And then later on, Sarah [Easley] and Beth [Buccini] came to an appointment in our office, which was really my old apartment, and they took a chance on us. They've been so instrumental in our growth, because them picking us up totally validated us to so many other people.

What was the next big thing for you, the CFDA Fashion Incubator?
We did the Incubator and we got Barneys. We met with Barneys for a few seasons, maybe four, before they picked us up. Those two things coincided. Getting into Barneys was huge, getting into the Incubator was huge. But for different reasons.

You've recently moved out of the Incubator space to make room for the new class. What did you gain from that experience?
I always say the best thing we got was the mentorship. It's incredible to have people that you can call who are at the top of their industry. That, to me, is the most significant thing that we've gained from the program.

You mentioned that initially you wanted to do ready-to-wear. Is that something that you want to do in the future?
Personally, down the road, yes. For Reece Hudson, I don't know. I think that we want to expand into other accessory categories and really grow the business as an accessories brand first and foremost.

Maybe shoes?
Yeah, hopefully shoes, jewelry. We have to evaluate when those things make sense, but yeah, things like that.

What else do you have coming up?
Well, this year was the first year that we added pre-collections, so that's been exciting. It makes us feel that we have greater presence, and I also think having more deliveries is important for stores. Moving into our own office has been a huge thing for us, even hiring employees is a big stuff.

What are your big dreams for Reece Hudson?
I want it to be a huge, global brand. I'd love one day to have our own free-standing stores.
Photographer: Eric T. White; Makeup and Hair: Tiffany Saxby using Giorgio Armani/Dermalogica and Davines at Factory Downtown; Manicure: Casandra Lamar using MAC Cosmetics at Factory Downtown.