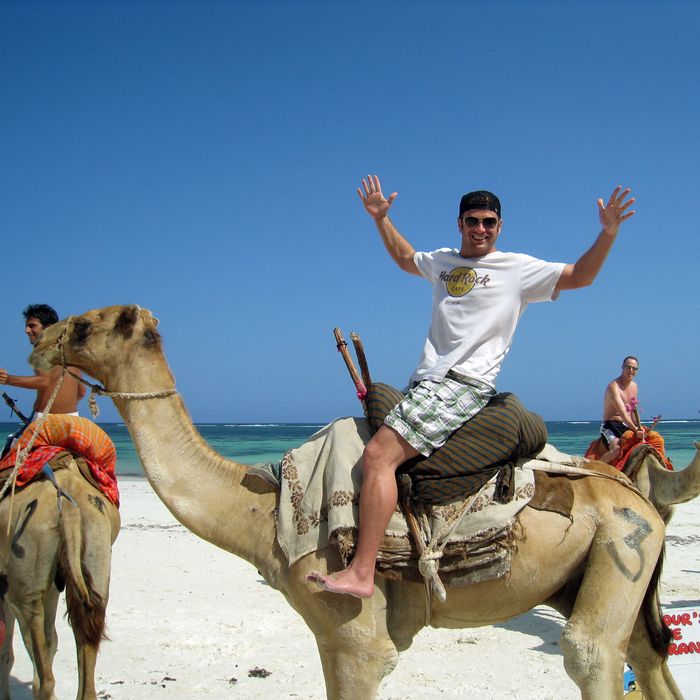 Photo: Courtesy of Lee Abbamonte
Golfing in Afghanistan, tracking silverback gorillas in Rwanda, dominating the world's highest bungee jump in South Africa: This is the day job of 35-year-old Lee Abbamonte, who calls himself a professional "global adventurer." He broke the world record in 2011, at age 32, to become "the youngest American to visit every country" (traveling on savings from a high-school landscaping business and post-college Wall Street stint), and has since parlayed his wanderlust into regular appearances on Fox News and the Travel Channel, as well as a website for aspiring Johnny Globetrotters. More under the radar is this West Village–based voyager's exclusive, if not surprising, side gig: planning epic bachelor parties for the one percent.
It started with a few blog posts, going back to 2008, about pre-wedding Vegas trips that he organized for his buddies, and gradually escalated into requests from strangers who wanted Abbamonte to help them live out their Hangover fantasies. Provided they can afford his exotic, $10,000-plus itineraries, he's been happy to oblige this niche — and Wall Street–centric—client base ever since (they contact him through his website and word of mouth). Abbamonte talked to the Cut about what Kiev has over Vegas, pairing clubbing with fighter-jet-flying, and seeking out "hot tour guides" instead of strippers.
What was the first bachelor party you ever planned for a client?
It was in Kiev. During the day, we went to a shooting range where we rode in Soviet-era tanks and shot arrows and machine guns; we also caught a Ukrainian football game and ate a ton of chicken Kiev. At night, we hired hot Ukrainian tour guides — it sounds sketchy but they're not escorts — to show us around, which was a great idea because none of us knew the language or where to go. Plus, it's much easier for 15 dudes to get into a club when you have a pretty local helping you. You can get bottle service in the clubs there for less than $50; when we got back to the Hyatt, we'd hit the sauna to sweat out the gallons of vodka we drank.
Why Kiev?
A night in Eastern Europe doesn't end until 6 or 7 a.m. — the nightlife rivals Ibiza and Mykonos — plus, you can drive tanks. I've done a few in Kiev, another in Prague, and I'm planning a couple in Bulgaria and Prague this summer.
Who are your typical clients?
Mostly Wall Street guys who are looking for something more over-the-top than taking a party bus to Atlantic City — and can afford it. These will start at about $10,000 per person, including travel.
What about celebrity clients?
The No. 1 thing they want is anonymity, and they pay well, so I want them to keep coming back.
How expensive can these bachelor parties get?
I did one in Vegas at the Palms Hotel that cost more than $20,000 for the weekend. We stayed at the Sky Villa suite: 6,500 square feet, has its own exercise room, a pool that hangs over the street, beds that spin, and private butlers who bring you food and booze any time you need it. For the daytime, we did a helicopter tour of the Grand Canyon, raced non-street-legal Ferraris at 180 miles an hour, shot machine guns in the Mojave desert, BASE jumped 829 feet from the Stratosphere Hotel, and flew F-16 fighter jets — fighter pilots showed us how to do all kinds of stunts and low-level mountain flying.
What about strippers?
I actually think strippers are pretty cliché. The most outrageous requests I get are never from the groom — he just wants to get wasted and have fun — it's the best man who wants strippers in the room at all times. I like to go for other kinds of shock value: zip lining, tank riding, ATV riding, bungee jumping — basically anything with an adrenaline rush that you probably wouldn't do at home or with your significant other. But, of course, at night, you have to hit the town.
So a lot of bottle service is involved?
One guy only drank Red Bull and vodkas for 72 hours straight — with no sleep. When he got on the plane to leave Vegas, he started shaking and tripping out so badly that we had to help him get off the flight. He went to the gate, and kept telling security, "I can't fly, I can't fly!"
How many drinks do you think he had in total?
During these parties, you lose count. It's even crazier in a place like Kiev, where bottles of vodka go for $20, as opposed to the $500 per bottle you can pay at a club in Vegas.
What other bachelor-party destinations do you have your sights on?
Another European city that has the right mix is Krakow, Poland, with more Soviet-era guns, plus paintballing, booze cruises, and girls oil-wrestling. And Medellín, Colombia, is another must: outrageous villas and mansions, Pablo Escobar tours, and obviously, the women.