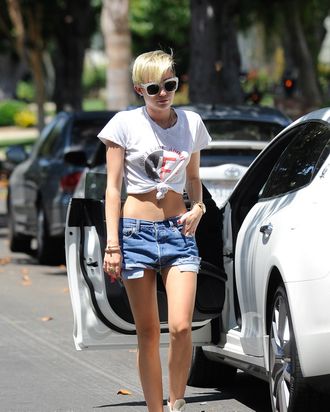 Photo: GONZALO/Bauer-Griffin/GC Images
While Miley Cyrus became the human version of an M.I.A. song, her personal assistant found that some items were amiss at Cyrus's home on Saturday. Jewelry and a $102,000 white Quattroporte (that just means a four-door, like a regular car) Maserati were gone.
Just two days later, someone spotted the Maserati and called the police. It was just hanging about, unharmed, undamaged, parked on a Simi Valley street. Probably just went on a little solo adventure. So what does this car have to say for himself?
His owner was gone! Betraying him with an airplane, he heard. So what if he were mad? So what if he needed to cool off. She was the one who taught him to "just do [him]." He would go on a little stroll. Everybody needs to be alone once in a while. Everyone needs a little change of scenery. But you know you can change the skies but not the man. That's what he learned. Anyway, he's back now, four doors and all. Happy?