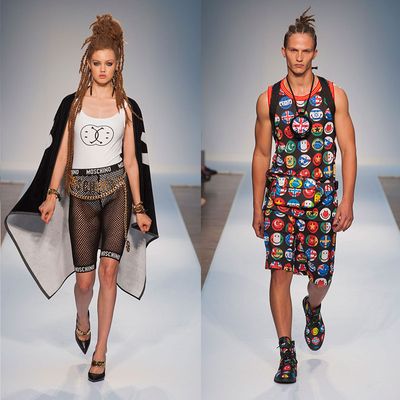 Moschino arrived in London yesterday with Jeremy Scott's first-ever menswear show for the label, and editors, buyers, and hangers-on flocked to the show in droves. It was so oversubscribed that hundreds of guests had to stand, holding phones high in the air to try to capture each made-for-Instagram moment.
In the crowd, the fall 2014 womenswear collection was everywhere. The Cut saw three McDonalds-inspired iPhone covers within seconds of entering the room.
We all know that Scott is not interested in obscure references, and this season was in keeping with his last few collections. The show was a celebration of what was termed "Fauxschino," with the trademarks of Louis Vuitton and Hermès appropriated just for fun. There was also a prominent acid-house theme running through everything – smiley faces were layered over the flags of the world and printed on bomber jackets, shorts, and shirts. A linked smiley face appeared on sweatshirts and T-shirts, looking very much like a mischievous nod to the Chanel logo.
Walking alongside menswear was the women's resort collection, with models including Lindsey Wixson and Charlotte Free wearing mesh tube skirts, butt-skimming swimsuits, and impressively heaped dreadlocks. The last few looks of the show were covered in glittering golden dollar signs and the all-important new word: MO$CHINO.
When he came out to take his bow, Scott wore a crown — because of course he did. Judging from the cheers of all the super-fans around him, it looked as if he were the new king of London.