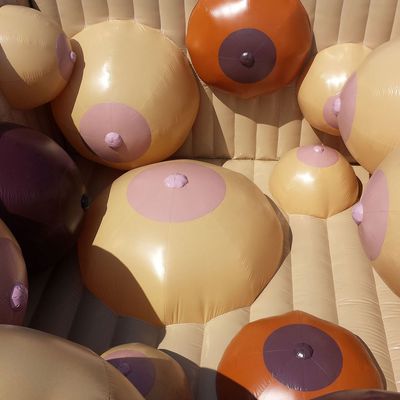 It is easier to have a decorous conversation with strangers in a bounce house of enormous plastic breasts than I had initially thought. This inflatable-boob room is the set piece of Bompas & Parr's exhibit for the Museum of Sex called "Funland: Pleasures & Perils of the Erotic Fairground." I spoke to the pair — Sam Bompas and Harry Parr — as the three of us jumped and navigated the dozen or so fake tits — which ranged in size from large Jello mold to small igloo. As we leaped about, we talked about endorphins (from the jumping), the way museums show sex, and Instagram's nipple policies.
Bompas and Parr are somewhat concerned about Instagram. They are naturally attuned to the way their work will come across on social media; and the inflatable-boob room, where half the boobs are taller than this reporter, seems primed for sharing. But nipples and social media are having a hot, little territorial fight at the moment. Parr hopes no one gets banned from Instagram for museum-going enthusiasm. 
Famed for their architectural Jello displays and their synesthesia-inspired fireworks displays (New Year's Eve, 2013–2014, in London; the explosions were scented with peach or strawberries), Bompas and Parr want their work to be captured easily as a story for their audience — "stories for life," as Parr puts it. "That is what people want from museums now."
The story of their current exhibit reads like a Willy Wonka sex dream. It's sexy in the way that a hot dog is sexy, which is to say, it's not. It's so graphic and obvious, it comes back around from being suggestive to just being a joke about things that are about sex.
Sex in museums is usually romantic, formal, and stuffy — or deliberately and seriously provocative. This pretension is what makes it fun and playful to giggle about seeing a tantric-sex scene on a very old pot. "Funland" loses a bit of this unintentional fun, by losing this tension. But, as giggling seems redundant while playing a roll-ball carnival game with molded penises instead of race horses — thoughtful meditations about sex, pleasure, and eroticism are inspired more easily.
The Museum of Sex approached Bompas and Parr while they were bar-tending in New York (they are well regarded for their food science) with the idea for a bounce castle of breasts. "We loved the idea," said Parr, "but we knew we had to apply a theme and academic rigor." They brought along Professor Vanessa Toulmin, director of the U.K. National Fairground Archive, to provide contextual grounding in carnivals of yore, with their promises of pleasure. The lighting is very fun-house; the music composed by Dom Jones is like hearing a Vincent Price doing porn.
The exhibit begins with a mirror maze called the Tunnel of Love. At its conclusion, the wanderer has reached "the G-spot." This is a little on-the-nose. After the love canal, one enters the bouncy boob castle (capacity: six people). It evokes the famed field of butts from Sir Mix-A-Lot's "Baby Got Back" video. The artists did not admit to this inspiration, but they said they appreciated the comparison. After a "roll-ball" carnival game and an archival movie reel (with some amateur porn from carnival workers), one arrives to the final activity: Grope Mountain.
This is a climbing wall with body parts as handholds, designed by a professional rock-wall setter. The duo said that it's particularly made for observation; while people are on the wall, they forget what they might be clutching, out of fear that they'll fall onto the floor at the Museum of Sex. When the observer looks at the wall, she just sees a person madly reaching for a plaster dick or an inside butt cheek, or some boobs.
Won't this all be a little awkward to attend with friends or dates? I ask, in a couple different ways. Parr counters: "You know, it's actually nice to have some awkwardness, some realness. So much of socializing is just chat and spoff. Here you can see a real person, you see that people are real human beings."
We agreed that we would feel strange about this as a first-date locale, but thought maybe a third date would be fine. I had nearly finished making my way around the climbing wall when, because of general clumsiness, I bruised my knee on a plaster butt.
The exhibit opens June 26, 2014, and will run until spring 2015.