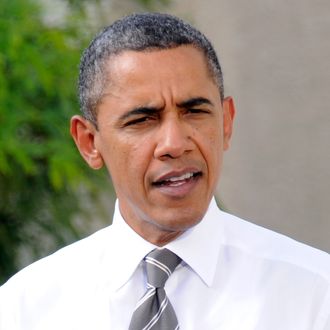 Photo: Ethan Miller/Getty Images
Later today, Obama will announce some changes he plans on making via his executive powers to ease the crushing student debt many in the U.S. face. Naturally, the conversation about this is focusing mostly on the economy — the Times notes that "borrowers' debt load is growing and retarding the ability to buy homes, start businesses or otherwise spend to spur the economy, economists say." That's all true, but there are also mental-health issues here that are being overlooked.
Researchers are still at a relatively early stage in understanding the relationship between debt and mental health, partly because it's a tough thing to investigate in a rigorous way. An ideal study would involve, at a bare minimum, identifying a bunch of demographically representative debt-free people, gathering all sorts of personal data about them, waiting a decade or so for some of them to accrue debt (and ideally longer), and then checking for differences between the indebted and debt-free groups. Not easy!
That said, there's solid early evidence that debt can lead to anxiety, depression, and other issues, much of it summed up in a Royal College of Psychiatry literature review that found, among other things:
- The more debts people have, the more likely they may be to have a mental disorder. Different types of debt (e.g. mortgage vs. credit card, or "problem" vs "non-problem" debt) may also have a different impact on individuals' mental health but this requires further research and analysis.

- An individual's worry or concern about their debt can have an equal or larger negative impact on mental health than the actual size or amount of that debt.

- Debt may have indirect effects on household psychological well-being over time, as it impacts on feelings of economic pressure, parental depression, conflict-based family relationships, and potential mental-health problems among children.

- Debt or repayment difficulties appear to be independently associated with thoughts about suicide, but — with the exception of one study — not with suicide attempts.
So discussions about debt — or poverty more generally — shouldn't ignore the fact that there's more at stake here than who can buy what, especially given how good the U.S. is at driving young people into the red.