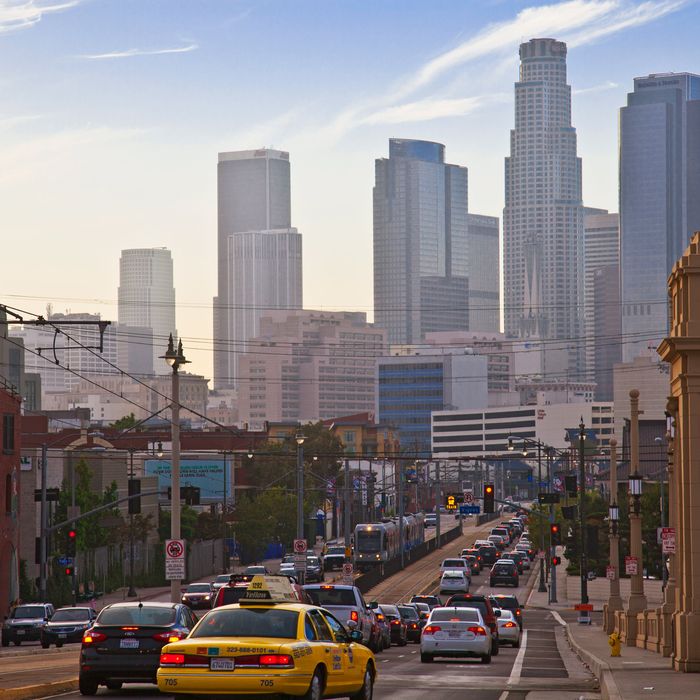 Photo: Peter Bennett/Getty Images
Artist Brian Goeltzenleuchter has gathered up all the smells of Greater Los Angeles by zip code. Now, he's attempting to re-create each smell, by neighborhood, for a one-day exhibit at the Santa Monica Museum of Art (SMMoA) called "Sillage."
In order to fairly acknowledge the funky urban cacophony, Goeltzenleuchter crowd-sourced. According to the Los Angeles Times profile, here's what he's working with so far:
1. Concrete
2. Bacon-wrapped hot dogs
3. Hipster
4. Heavy industry
5. Grass
6. Motor oil
7. Marijuana
8. The Pacific
9. The antiseptic blasts of corporate air conditioning
10. Urine
11. Traffic
12. Day-old hooch
13. A salty soy sauce in the air
14. Dirt
15. Rubber
16. Dried-up, old dairy products
17. Rotted greens and flowers
18. Hot asphalt
19. Hydraulic fluid
20. Traffic
21. Metallic heat
Feel free to turn that in for an assignment about place, any college sophomores in Poetry II.