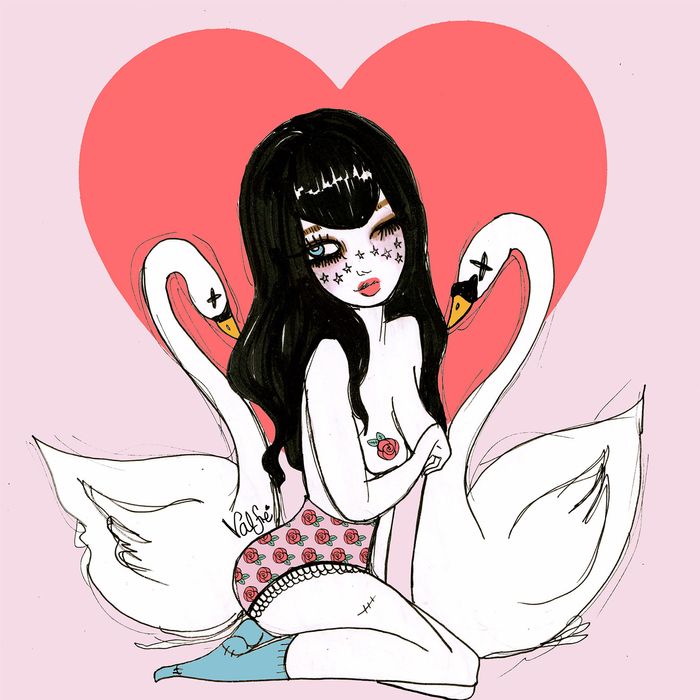 Photo: Courtesy of Valfre
Ilse Valfré's illustrated characters pose in slinky postures under snappy captions; they're lithe, with skin and hair of every pastel-dream shade (cartoon-tits out, frequently). They wear fantastic clothes, but they're usually holed up in their rooms. The girls stretch out on the floor or on their beds: all dressed up and no where to go.
A 26-year-old Mexico-born artist, Valfré recently moved to Los Angeles, and her online store has been open for about a year. She already counts Lena Dunham as an admirer: Dunham posted photos wearing a pussy power Valfré shirt and stroking a Valfré notebook that reads: "Because being a girl fucking rules!" In other drawings, Valfré's work explores the poignant tension between vulnerability and confidence. Her characters drink cartons of "100% boy tears" and Pussy Power! is their mantra; but they weep about exes and scold dates for standing them up: "But I shaved my legs for you!"
Below, Valfré talks to the Cut about comics, Band-Aids, and admiring girlishness from afar.
What was the inspiration behind these characters? 
I collected comic books — that was the biggest influence on my style. I'm a big fan of Betty & Veronica. I got them in Spanish, and I would always draw them. I like the vintage ones. My sister is eight years older than I am, and my dad used to buy her the old ones. We had big boxes of them, and I used to read them. 
Do you have a favorite between the two?
Veronica is the sassy one; Betty is the girl next door. They both had awesome clothes. It's hard to choose — I'm like Archie right now! You know, I would like to be like Veronica because she takes no crap, but at the end of the day, I'm Betty.
What contemporary artists do you like? 
I love Miss Van. When I saw her work, I thought, I can make a living from this! I'm a big fan of her. She does females so well. She's badass. And Mark Ryden, of course. Edward Gorey — he's dead, but his work inspires me constantly. 
Have you always been interested in girlish things?
In my personal style, I'm not that girly, but I always admire people who are. I'm not a fashion girl; I'm very basic with what I wear, but I always admire women who take time to be super girly and like girly-girl things. I'm a girly-girl at heart, but my style isn't girly-girl.
I wear a lot of dress, not girly dresses. I wear a lot of black. I'm been wearing the same clothing since I was 15, which is concerning, because I'm a mother now. But I'm very basic: ten black dresses, two pair of Chucks. Very simple.
Who is your main audience or consumer?
With social media it's cool, because you get to see the people following your work. You click their profile and have a glimpse of who they are. There are tattooed girls and very fashion girls, then there are Kim Kardashian fangirls … It's really interesting. They look so different from one another. 
It's got me thinking about my goal in life (I go back to Betty & Veronica): I want all girls to find themselves in each character I create. It goes for any kind of girl.
How do you start your drawings? 
I try to draw every night. It's silent; there is nobody coming; it's calm. Either I start drawing the girl, or I start styling them. I start with the outfit — usually I start drawing them: She looks like she's doing this, or saying this. 
I used to work from 8 p.m. until 3 a.m. But my son wakes up early. Working with a baby boy (he's 1-year-old) has been a challenge. It takes time to come up with inspiration. I really enjoyed being alone. But I love him so much; he's my No. 1 priority. It's doable. I have a routine with him. He naps twice a day, and it gives me time to work. We have some help, and my husband is really involved.
One theme I noticed, which I adore, is Band-Aids on a lot of your characters. 
That's so cool you noticed that. In my work I try to make it funny, but at the same time I feel like we have scars, either emotionally or physically. So to me, the Band-Aid, it's like a decoration to make it better, embracing that darkness or past. [Laughs.] That sounds really deep, but it's not really that deep! Everyone goes through shitty times, and this is making it better.