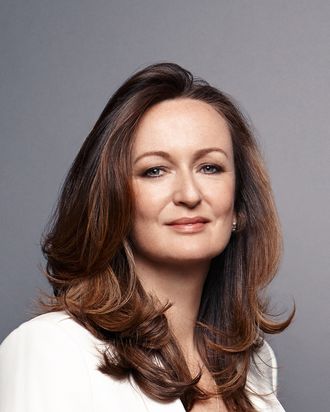 Last year, Lucy Yeomans left her editor-in-chief post at Harper's Bazaar UK for Net-a-Porter, where she's now EIC of Porter magazine. With the third issue now on stands, Yeomans dialed us up from London to talk about why Porter is the furthest thing from a catalogue, buying cowboy hats for Lara Stone, and why she'll never run a three-quarters shot of a celebrity in front of a white background.
This is your third issue of the magazine. What has it been like transitioning from Harper's Bazaar UK, a more traditional editorial magazine, to Porter? How do you see the two audiences as different, and how do you see them overlapping?
Harper's Bazaar has a huge heritage and history, so creating Porter — everything from deciding where it gets printed in the States and in the U.K., to coming up with its name and really coming up with the woman was incredibly exciting. Near the end, I was going, "Oh my God, we're making this new magazine that hasn't existed before." There was a charge to starting fresh and asking what women want now from magazines; looking at frequency, when we feature the clothes. One of the things I really think hard [about] is making sure that we're featuring things when you can buy them in the stores. When we shoot a collection, I don't want it to be about keeping up with the [other] magazines, I want it to be about her. I've always believed that the woman is the most important person you're talking to as an editor. The [other] thing that was really interesting for me was the amazing dialogue that Net-a-Porter has with its women. I'd never been a publishing environment where you have that to-and-fro. You have millions of emails and shopping teams who are actually talking to the consumer. It has to be a conversation. This isn't an age when you just say, "Do this."
Right, when you read about something in a magazine or you see it online, you want to be able to buy it. People are pretty sophisticated, and they don't want to wait around until next season.
Yes, that's just the world now. Whether she goes and buys it from the store or whether she goes and buys it from Net-a-Porter or Gucci.com — wherever she buys it from, we want to make it relevant for her now. In the current issue, we have high summer mixed with pre-fall. The pre-fall pieces we've chosen, we're really looking to make sure that they're transitional pieces.
You've touched upon this a little bit, but what is the integration with Net-a-Porter like and how directly do the magazine and the site interact?
Well, we obviously have Porter, which is powered by Net-a-Porter, and then we have The Edit, the online magazine of Net-a-porter. In terms of Porter, really what we want to do is showcase the best fashions. Whether that's Chanel or Prada — brands that Net-a-Porter doesn't carry — or whether it's from a smaller brand, we're really looking to make sure we feature the best of the best. In some ways, there's maybe more freedom in that than in the traditional model. How we work together is — our fashion director, Gabriele Hackworthy — when we see shows, if there are pieces we like and believe in editorially, we will talk to the buy team and say that we think these are going to be really key pieces for next season. That dialogue is involved there.
Also, for example, that cowboy hat that Lara Stone wore [in the current issue] is something that the stylist, Melanie Ward, had picked up from a store in L.A. called Lone Cowboy. We shot it and Net-a-Porter said, That looks great; that looks amazing; let's buy it. We can be like a fairy godmother to some brands, which is quite lovely. At the same time, if something's fantastic at Chanel, which for the foreseeable future Net-a-Porter isn't going to be able to have, we now know that to be the best we have to be comprehensive. It's not just what's on sale. I think that's been a misconception that thankfully we've dispelled.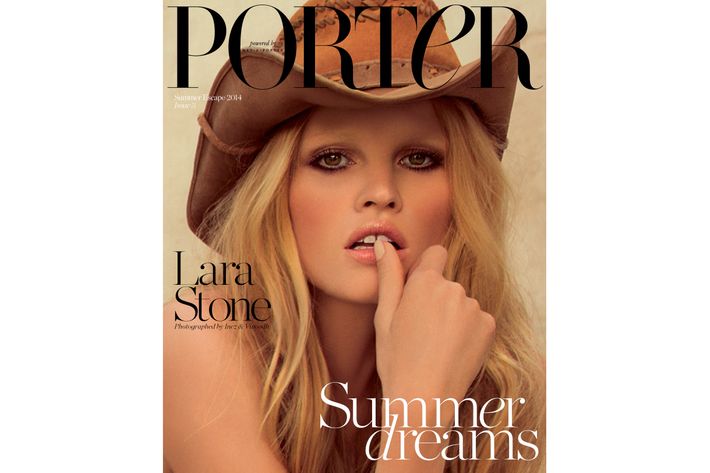 Right, it's not a catalogue. And the content isn't just fashion and beauty — you cover travel and  features. I know you come from a features background and work with serious writers writing about serious issues. Why was that important for you to include?
I've always been a big lover of fashion and a big lover of beauty, but I think at the end of the day they're tools for women to feel fantastic about themselves. That's why in the first issue I wanted that [cover] line, "Fashion to make you feel phenomenal." A beautiful dress is only as good as the beautiful party or the beautiful experience or the amazing trip that you've taken. I love the fact that we can have a piece on somebody like Gisele and then go on to talk to someone like [photojournalist] Lynsey Addario. I sum it up as: for women with a great style and a great story.
You're featuring Lara Stone on the cover — and you previously spotlighted Gisele, who was on the cover of the debut issue. What was behind the decision to feature models rather than celebrities? I'm wondering both why you picked a model, and why Lara specifically. 
A lot of it came out when we were talking to Inez and Vinoodh, who ended up shooting a lot of our covers. When we first spoke to them about the project, we were talking about the importance of authenticity in the image. In some ways, it was the opposite of a [typical] fashion shoot. It was the woman coming first. Obviously, when we did Gaga [on the cover of Porter's second issue], who's not a model, again we came at her from a very natural and non-theatrical angle. I wanted to see the 28-year-old girl who's managed to turn herself into a megaglobal brand. We have some Hollywood covers coming up in the pipeline — but they're all people who want to engage in the creative process, rather than show up and have three quarters of them shot in front of a white background.
Lara always interests me. I think she's this really interesting character, and obviously her return to modeling after the baby would be a good story. Gisele has something to say — she's a powerhouse. I think there are so many celebrity covers where the team is very compromised in terms of what they can do. For us, it's about the access and people feeling like they can give us something that they might not be able to give anywhere else.
I'm wondering what you think about the role of editing and the editor making these decisions. I read an interview recently with Eva Chen, and she said — and I thought this was very astute — that when Lucky first came out, it was before online shopping was such a huge thing, so people wanted to look at pages and pages of shoes. Now, if you want to look at pages and pages of shoes, you can go on Net-a-Porter or all different kinds of websites. What's more important is that people want to see "The Shoe." I'm wondering what you think about that, especially working on a magazine that's under the umbrella of an online shopping site?
I have to say that I agree with her. For me and for Porter, the important thing — and I know this sounds really obvious — but we want to help her get dressed. It's about the messaging. It's about saying, "You know what, you can talk about this trend or this trend or this trend. But, you know, just buy this beautiful oversize coat." Or buy an incredible cape this season. Whatever. It might be a knee-high boot or all about a shearling jacket. For me, it's not about showing endless products. If she loves the trend, she can go off and explore it. Curation, I think, is the main thing. It's about the eye, and it's about the point of view and people trusting that point of view. That was one of the elements that I loved about Bazaar in the 1950s and '60s. They were very helpful and direct.
What do you have coming up for the magazine?
We're probably at that stage where we just go issue to issue. We've got lots of plans for the year ahead. There are a lot of updates to the mobile experience and the digital edition. There's a lot of new photographers coming onboard. It's funny, someone said to me, "You know, it takes a year for a magazine to find its voice," and we're at the end of the year and I'm like, "Oh God, does that mean it's going to take us two years?"
You've been working with so many great photographers and stylists.
You have to find your people. If you're saying to people, "Hey, do a shoot for this magazine," and they're like, "What do you want me to do?" — then they don't have a reference point. I feel very happy that in issue three it all pulled together, but we wanted have a voice and be more adventurous. From an internal point of view, I'd love to move from start-up to sustainable so I can have a life again. But that never happens for magazines, does it? There are so many things. It's going to be a beautiful fall; let's just say that. 
This interview has been edited and condensed.