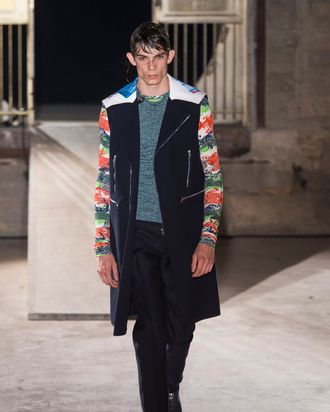 Airline strikes in France had much of the fashion pack stranded in Milan yesterday, as planes were delayed and canceled. Some editors, myself included, were delayed by up to four hours, and the summer traffic coming into the center of Paris only made things worse upon arrival.
That's why, when I received the email notice that guests would be standing at the Raf Simons show, my bottom lip quivered. I'd been waiting and standing all day. And wait we did, but just as my knees started to buckle, the slow throbbing sound of a base drum signaled the start of the show. The lights dimmed, and the room became awash with an eerie red light.
The catwalk snaked through the room, but the models appeared confident as they followed the complex path, often passing more than once in the same look, which helped to build to a climax. The use of flashes on phones was banned (the photographer's pit was installed downstairs in the backstage area), so the models moved about in shadow.
Still, we could see the clothes clearly — after all, they were so close we could have reached out and touched them. For spring, Simons has imagined a more understated wardrobe than his punk-inspired collaboration with Sterling Ruby last season. It was quite heavy as well, with an emphasis on outerwear. Longer coats skimmed the thigh above the knee and shorter coats and vests, all with sailor-style collars, came firmly fastened. Monochromatic jailbird looks broke the heavier looks up nicely, though: Matching chambray — or was it denim? — pants and oversize shirts came in dark blue, washed-out red, and stone.
Silhouettes were straight, yet the fits were baggy, and there were unique details — imagery from the designer's past appeared on the clothing as insignia alongside patches sporting his initials. Elsewhere prints were blown up on the tanks and knitwear. This being summer, florals and waves were clearly on the designer's mind. For the feet, Simons presented the season's (well, so far) coolest shoes: LED platform sneakers, which lit up with movement sensors (and are part of his ongoing collab with Adidas), as well as the omnipresent slide. Simons sent his models down the runway in socks and sandals — and, of course, if anyone, the Simons man is the one to pull them off.