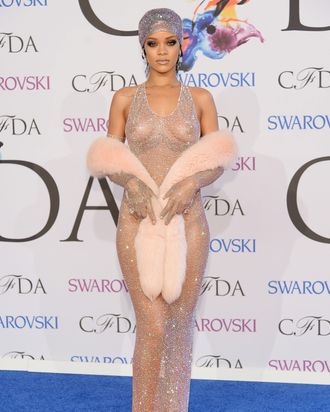 Photo: Dimitrios Kambouris/Getty Images
At this evening's CFDA awards, Anna Wintour presented Rihanna with the 2014 Fashion Icon Award. Wintour's introduction touched upon Bad Girl RiRi's excellent use of fashion and how it proves "that incredible style can help take a talented young woman from a small island to the world stage, and along the way spark a lot of conversation about elegance and empowerment." For her part, Rihanna delved into how she used fashion as a defense mechanism, saying, "Even as a child I remember thinking, She can beat me, but she cannot beat my outfit."
Anna Wintour:
I am here tonight to talk about how Rihanna communicates through fashion, because of course, that is what style icons do. They tell us captivating stories, about themselves and about the world we live in, through the boldness and beauty of their clothes. Whether it's the simple, white, Stella McCartney floor-length dress she wore to the Met — a vision of Hedy Lamarr Hollywood glamour mixed with the hard-edged chic of Grace Jones — or her '80s [garbled] moment in a cartoonish shearling jacket and Cleopatra wig for a recent Paris Show, Rihanna speaks to her fans with her every look. And what she says to them — and I include all of us in that group — is that it's fun to feel a little boyish one day and dress up like a dazzling diva the next. I think that's what she was going for tonight. [Crowd laughs.] The point is to be audacious, even jaw-dropping or button-pushing — and yes, we know she enjoys pushing buttons — while remaining true to yourself. She proves that incredible style can help take a talented young woman from a small island to the world stage, and along the way spark a lot of conversation about elegance and empowerment. It's been an honor to have that dialogue with her, and I am so pleased to present the CFDA 2014 Fashion Icon Award to my tweeting buddy, Rihanna.

Rihanna:
Growing up I didn't have a lot of access to fashion. But as far as I could remember, fashion has always been my defense mechanism. Even as a child I remember thinking, "She can beat me, but she cannot beat my outfit." [Laughter and cheers.] And to this day I mean, that is how I think about it. I can compensate for all my weaknesses with my fashion. And so really, you really can … I enjoy the most that you can tell so much about who someone is just by their style — the way they put fashion together. And I think fashion has been an outlet for me to express myself, to speak up, to say who I am and to be very loud about it at times, and I just like to have fun with it. Fashion is just a world of thrills, it's exciting, there's no rules, there's just … I mean, SHE has tons of rules [gestures at Anna Wintour, audience laughs] … Scratch that! Scratch that! [More audience laughter.] There are RULES! But rules are meant to be broken. [Audience cheers and claps.]

I want to thank MAC for being so supportive and for keeping my face so cute. I want to thank all of the stylists who I've worked with because it's steps, it's stages to get here, and now I can't believe that we're here at the CFDA Awards. Mel Ottenberg, thank you! You GET ME. You honestly get me, and you understand what I'm trying to say. I can send you two pictures, and you bring back the rack full of exactly what I wanted. There's nothing better than that because fashion should never be frustrating. It should be fun! Make it easy to me. I want to thank everybody here tonight, my friends, my family for being supportive, thank you, guys! Good night.