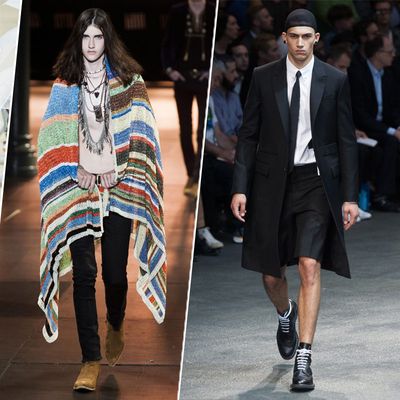 Riccardo Tisci threw some Victoria's Secret angels into the mix during the presentation of his Givenchy men's spring 2015 collection in Paris on Friday night. Adriana Lima, Candice Swanepoel, and Irina Shayk walked alongside their male counterparts, but they were almost unrecognizable in square-shaped silhouettes — or was it just that they were without push-up bras? — and Doc Marten's–style boots.
As far as the men's offerings this season, Tisci created a school uniform get-up for the grown man (his male models were the opposite of "boyish"). Tailored shorts and blazers, polo shirts, basketball tanks, bomber jackets, and windbreakers were lined up in a punchy palette of black and white accentuated by speed stripes. Tisci's epic floral prints were ever present, but this season they evolved from 2-D smatterings to elaborate pearl-studded embroidery with earrings to match.
After Givenchy, guests headed to a garden presentation and soirée courtesy of Antoine Arnault's luxury brand Berluti. Creative director Alessandro Sartori has certainly found his niche at this end of the market (ready-to-wear and accessories for the one percent) by bringing an element of "sports couture" to the more tailored man — think relaxed linen jackets, buttery-soft leather bombers, and luxe leather sneakers. The latter, called the "Playtime" sneaker, is constructed by hand (as is 90 percent of Berluti's offerings) from a single piece of leather. A limited-edition run of 100 pairs can be found now in Berluti stores.
Despite the menacing cloud cover overhead, the rain held off throughout the evening and post-show guests were treated to an al-dente "pasta off." Publisher Jefferson Hack, architect Joseph Dirand, and photographer Jean Baptiste Marino donned aprons and each cooked up a signature dish of pasta for guests to sample. For me, Hack's simple spaghetti aglio e olio was the clear winner and the event was a welcome reminder that this was men's fashion week — hello, carbs.
On Saturday morning, creative directors Humberto Leon and Carol Lim of Kenzo also took the chance with the elements, and they were not as lucky. Yet, despite the drizzle, the Pont Alexandre III and the Seine provided a breathtaking backdrop and guests seemed happy to watch while huddled under umbrellas. Of course, Kenzo collections liven up even the drabbest of days, and this season Lim and Leon dedicated the collection to the stylish homme français, drawing on elements from local culture: The Breton stripe, "macaron-inspired" pastel colors, and the scooter life of the Parisian (motorcycle pants, parkas, and cycling sneakers — which fared well on the wet catwalk) were all featured. Print-wise, there were oversize polka dots and a playful nod to the ultimate Parisian cliché in the form of an Eiffel Tower print, a motif that also appeared in the recent cruise collection.
At Saint Laurent last night (the final show on the schedule), the pants brought to mind that scene in Richard Linklater's cult film Dazed and Confused when one of the film's characters fastens the zipper of her jeans with a pair of pliers. I'm not sure what happened backstage, but I'm guessing Hedi Slimane's models had to go to bed last night with their jeans still on.
Obviously, skinny jeans aren't new for Slimane (in fact, we could justly say they're his calling card), but as a whole, the spring 2015 collection saw the designer taking things to another level. It was rock and roll again, no doubt, but this season Slimane's man is a psychedelic 1970s cowboy with serious swagger. Fringed jackets, paisley shirting, ponchos, and some kick-ass boots hit the runway. The overall look was electrifying, especially the embellishment on some of the jackets and coats that dazzled under the bright lights.