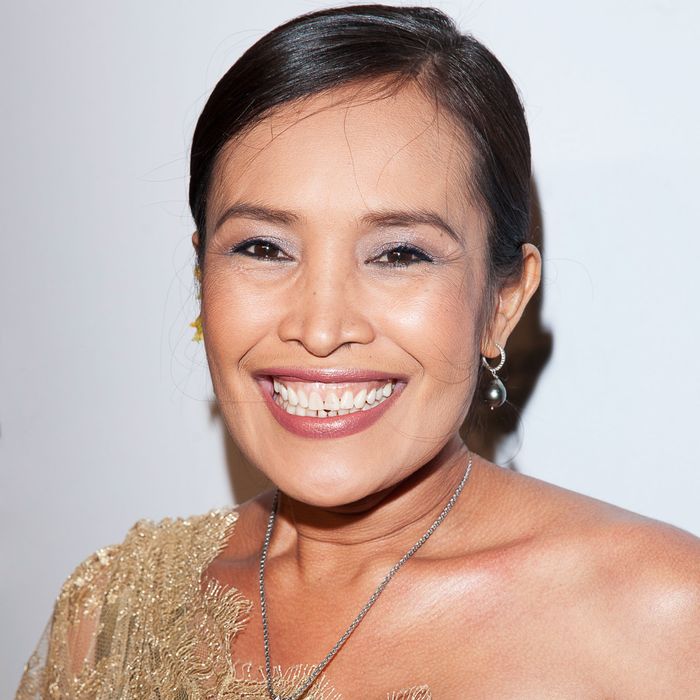 Photo: Dave Kotinsky/Getty Images
Before actress AnnaLynne McCord was ready to share the story of her sexual assault in the pages Cosmopolitan, she found solace in the work of Cambodian anti-sex-trafficking campaigner Somaly Mam. McCord visited the shelters Mam built for girls who escaped the sex trade — as Mam herself did — and met "dozens" of young survivors who had been "kidnapped or sold" into sex slavery "as young as four or five," then rescued from "grimy brothels where they are raped every day." "Through helping them heal," McCord told the magazine, "I began to heal myself." Now she visits Cambodia every year.
McCord was far from the only celebrity drawn in by Mam's feel-good mission and personal magnetism. Susan Sarandon's trip to the rehab shelters for girls rescued in Mam's brothel raids was documented by Condé Nast Traveler. Meg Ryan joined New York Times reporter Nicholas Kristof in Cambodia to visit Mam's shelters for his PBS documentary Half the Sky. Tech PR guru Brandee Barker joined the board of the Somaly Mam Foundation, of which Sheryl Sandberg is an advisory member. Yet despite raising millions of dollars (and receiving accolades from the State Department and the U.N.), Mam's story has turned out to be a cautionary tale about the risks of celebrity philanthropy.
Last week, a Newsweek cover story revealed that Mam had been publicizing her efforts with fabricated, lurid stories about herself and the girls in her shelters, which sex trafficking experts say dangerously misconstrued the problem at hand. In her autobiography, The Road of Lost Innocence, Mam wrote that an abusive grandfather figure sold her virginity when she was 14, after which she spent a decade in a brothel. But Mam's Cambodian friends and neighbors denied the existence of the grandfather figure to Newsweek, and say she finished high school. Another girl, Long Pross, told Oprah Winfrey and Kristof that she had been kidnapped, tortured with electric wires, and had an eye gouged out by an angry pimp before Mam rescued her. Newsweek found medical records saying Pross had surgery at age 13 to remove a nonmalignant tumor. The hospital referred her to Mam's organization, AFESIP, "to see if they could admit Pross to one of their vocational training programs." Mam resigned from the foundation named for her late last week, following a probe by an outside law firm (though she stands by her autobiography, according to Kristof).
It's easy to see why news outlets and do-gooder celebrities flocked to Mam's cause. The American media worries about no one as much as it does young women, in particular their sexual exploitation. The younger, the more fuel for our outrage. (Never mind that experts told Newsweek it is rare to unheard of to see prepubescent children in brothels, as Mam and McCord claimed.) Mam brought to the cause the credibility of a survivor —  however dubious — plus telegenic good looks to rival her celebrity advocates. It seemed like a perfect package.
But another problem was that Mam's tied-up-in-a-bow cause made a celebrity out of a journalist: Her loudest champion by far was New York Times columnist Nicholas Kristof, who devoted numerous columns to Mam's work, treating the made-up Long Pross story as gospel in a column and his docu-series. As Kristof inserted himself into his reporting, he became something of a humanitarian-celebrity himself, purchasing the freedom of two Cambodian sex workers and live-tweeting a brothel raid. In a short blog post, Kristof now says he is hesitant to be the arbiter of Mam's biography (a little late for that), and urges readers not to let one woman's backstory "overtake the imperative of ending the trafficking of young teenagers into brothels." That wasn't nearly good enough for the New York Times' public editor Margaret Sullivan, who said Kristof "owes it to his readers to explain, to the best of his ability and at length, what happened and why."
To a certain extent, I sympathize with Kristof. It feels strange to nit-pick the origin myth of someone so committed to such an obviously worthy cause. According to Newsweek, another girl Mam claimed to have saved from child prostitution, Meas Ratha, later confessed to fabricating and rehearsing the story she gave French television crews (and even auditioning for the role), in the service of the cause. "Somaly said that … if I want to help another woman I have to do [the interview] very well," she told Newsweek. But if Kristof had done his journalistic nit-picking duty, we would have learned that Meas Ratha, like Long Pross, came to Mam not to escape an evil pimp, but out of much less lurid economic desperation. (Her family couldn't afford to raise her and her six siblings.) That's the larger problem behind sex slavery, according to Playing the Whore author Melissa Gira Grant, as well as the much more commonly trafficked domestic, garment, and agricultural workers. "Ending abuse in the sex trade requires action that is less telegenic than a photo op or a gala," Grant explained in a Friday op-ed column. "It's a broader fight against poverty, inequality and vulnerability that goes far beyond a brothel's walls."