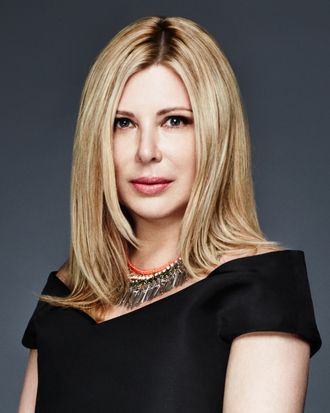 Fair warning to those visiting the new Tinker Tailor headquarters in New York's Hell's Kitchen: A tiny dog named Isis will most likely greet you at the door. While the month-old start-up may not yet have a non-canine receptionist, it does have plenty of fashion-world power behind it. CEO Aslaug Magnúsdóttir, whose online-retail credits include Moda Operandi and Gilt, assembled possibly the world's chicest advisory board, which includes stylist Melanie Ward, Leandra Medine, and Yasmin Sewell. The site offers customers two options: They can design a dress with their choice of fabric and cut — or they can modify existing designs by labels like Vivienne Westwood, Roksanda Ilincic, and Marchesa. Magnúsdóttir talked to the Cut about convincing designers to let people customize their wares, and, along the way, making bridesmaids really, really happy.
Tinker Tailor is a pretty unusual undertaking. Tell me how you came up with the idea and what market you're serving.
I've worked in the fashion space for a while. I previously founded Moda Operandi and, before that, I worked at Gilt, so I've been following very closely how online shopping for fashion has changed so dramatically over the last ten years. When I was working at Gilt, a lot of people at the time — this is back in 2009; Gilt launched in 2007 — were making their first fashion purchases online, and at a discount. When we launched Moda [in 2010],  the price points [people] were comfortable paying had gone up. Interacting with a lot of these customers, I kept hearing from them, "We want something that's even more special; we want something unique; we don't want to run into someone who's wearing the same thing at a party." I also often heard "I love this style, but I can't wear something that's that short," or "I can't wear something that's that open."
Or maybe they want to have long sleeves. 
Right: "I want to cover my arms." There are so many women throughout the world who appreciate beautiful design and have the budget to buy designer fashion, but sometimes have a hard time finding the things that they really want or that suit their lifestyle or their culture, or whatever it may be. So, when I left Moda, which was just over a year ago, I took a month off and then started working on this concept and became very excited when I started talking to the designers. So many of them agreed that this was really a trend right now, that more and more of their private customers were asking for customization.
Department-store buyers will often come in and say to the designer, "I want this shorter or longer than it was on the runway, or in a different colorway."
Yes, and I think it resonated with the designers that there was a need for exclusive and customized things. I like to say that this is bringing it back to a couture experience, where there was more of a collaboration between the customer and the designer. But I think what's important about the designer collaborations that we do is that you can't just go wild on the designer's creation. The designer gives certain options for each. So, it's still something that they're proud to stand behind. And so if a customer — if it's really just about making it work for her lifestyle, [if] she wants to have sleeves, or she likes a different color, or she wants an embellishment, you know, it is all preapproved by the designer. We have a few bridesmaids groups who love that they can each pick a shape that suits their body.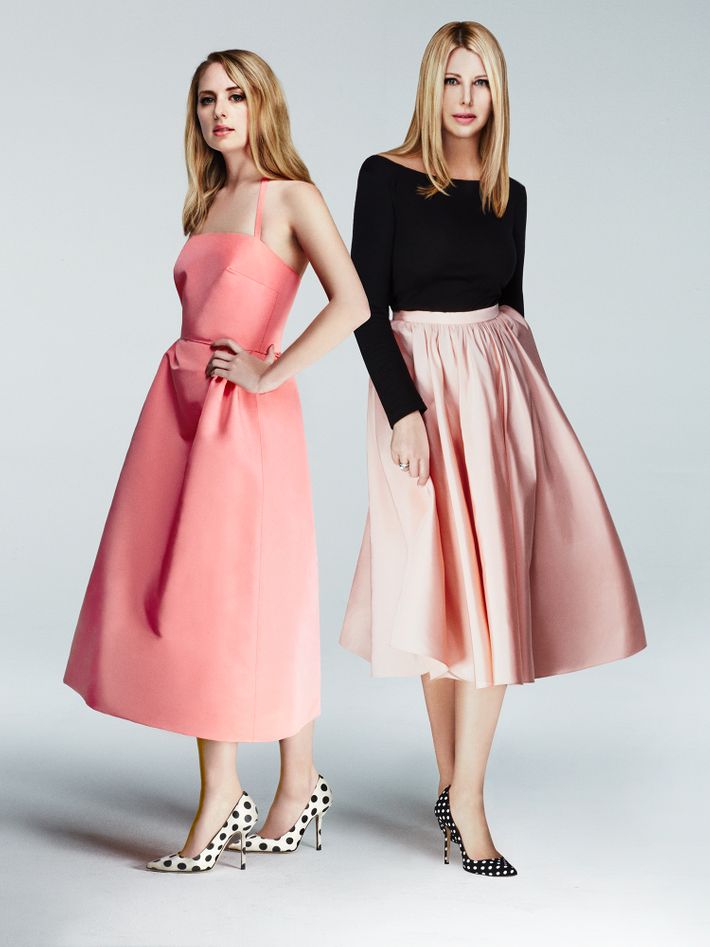 So, there are two arms of this, essentially. There are the designer collaborations, and then there's the option to create your own design from whole cloth.
Right. That's a little bit more like going to a tailor. But what I've always found about going to a tailor is that it's a little bit daunting. You don't know exactly what it's going to look like, it's hard to know who to go to, and it's still a very expensive proposition.
Maybe it's too early to say, but what percentage of the business is coming from the collaborations and what from people creating their own designs?
Well, it's pretty evenly split so far. But it has only been a month.
Were there hurdles involved in asking some of the designers to do this, or were they up for it because they've been asked to make tweaks by buyers and maybe even by celebrity stylists?
There was a very positive reaction from designers. For some of them, the production of smaller units is harder than for others, so it depends a little bit on their production capabilities. But, in general, they were very enthusiastic about the concept. It's something that's different [from] the other platforms they're on.
How did you decide which designers to include?
It's all designer-level with some advanced contemporary sprinkled in. We wanted to have a good mix. So, we wanted to have brands that are more established and have a loyal, longstanding customer base. But we also wanted to have some of the emerging, younger brands. It was really about having that mix. We couldn't launch with everyone, of course, but we try to launch two or three collaboration per week. We started with a group of about 50 brands that committed to working with us, and now we're up to about 80. We're constantly introducing new things. I think one of the things that's attractive about this to brands is that they can offer customization without having to sample every version because of the technology that we've built. It allows them to just tell us the pattern they want with the swatches, and then we build those for them.
Are customers who want, say, longer sleeves or a longer hemline doing so for cultural or religious reasons?
That was definitely a big part of my thinking in terms of this concept, actually, because I have had interactions with a lot of Middle Eastern women who have expressed interest in unique items, but also need to be able to respect their culture and dress appropriately for that. You know, I'm not originally from America myself. I'm Icelandic, from this small country where there was very limited access to fashion when I was growing up, and so,  for me, it's really important to have a product that's relevant for this global customer.
And where are the customers coming from? Are they mostly in the U.S. for now?
Well, it's still mostly the U.S. We've had a lot of interest from Russia. We've had a tremendous amount of press in Russia, almost astounding. Vogue Russia has done three articles about us so far, and we've only been live for a month.
What are some of your goals in terms of what you want for the start-up, moving beyond the initial days? Will you be bringing on more designers?
We definitely want to bring on more designers. Category expansion is also interesting to me, to add accessories. I think the concept is very relevant for jewelry and bags and shoes.
Isn't it much harder to customize accessories?
You know, in some cases, it's not. There are so many jewelry designers who do customization anyway, so for many of them, it's a no-brainer. If you think about bag designers offering your monogram or different hardware, different skins, there are actually a lot of interesting opportunities. And when we went out to talk to the designers we're working with for the apparel, those that also had accessories really expressed a strong interest for their accessories, too. We will soon be launching our Tink Tank, which is a social platform for the sharing of your creations, so people can follow you and like your creations from the site, and if somebody ends up buying something that you have created and shared, you get a shopping credit on the site. Hopefully, we'll have some emerging talent coming out of it!
Do you think customization is the future of fashion? Is that where things are heading?
I think so. I think people, more and more, want unique expression. There's been so much of this fast fashion, and I think there's an appreciation for things that are made locally by craftsmen with high-quality items that can live a longer time. It just makes sense. We aren't all the same and have our different cultures, our different professions, our different tastes, and it makes sense that we want things that work for us.