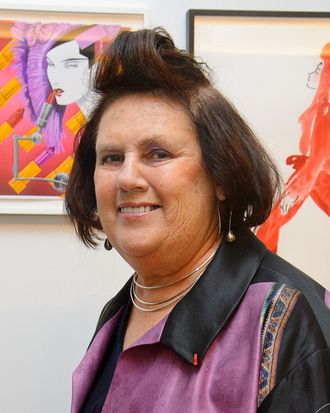 Photo: Ben A. Pruchnie/Getty Images
Suzy Menkes is now in possession of a plum gig as international Vogue editor, not to mention a custom business card that places her signature hairstyle over the O in Vogue. On the heels of her anti-bitchery rant, she sat down with The Business of Fashion for a wide-ranging chat. "I don't feel like retiring; I've got lots of energy left," the septuagenarian fashion critic tells BoF's Imran Amed. As for reconciling her spiky point of view with Vogue's voice, Menkes says she won't have to.
"I do not believe that Vogue is going to rein me in. Jonathan Newhouse said to me right from the get-go that this was not the idea, because obviously, what is the point of hiring Suzy Menkes and getting some dumbed down version? I, also, can't change myself."
Hear, hear. While Menkes looks to be adapting nicely to the digital world, she's still an analog girl at heart: Over the years, she's developed a collection of photos she snapped with digital cameras at fashion shows and parties, which she plans to keep to herself for now (you can see the published few here).
"You know what I think is the sweetest word in the English language now? Private. I think the idea of privacy — it's completely gone now — but it was something rather special. I feel that my photos are private. This is not to say that one day they're not going to come out. I hope that one day some of them will be published, but I'm not in a rush. In a way, I think photographs become more precious with the passing of time."