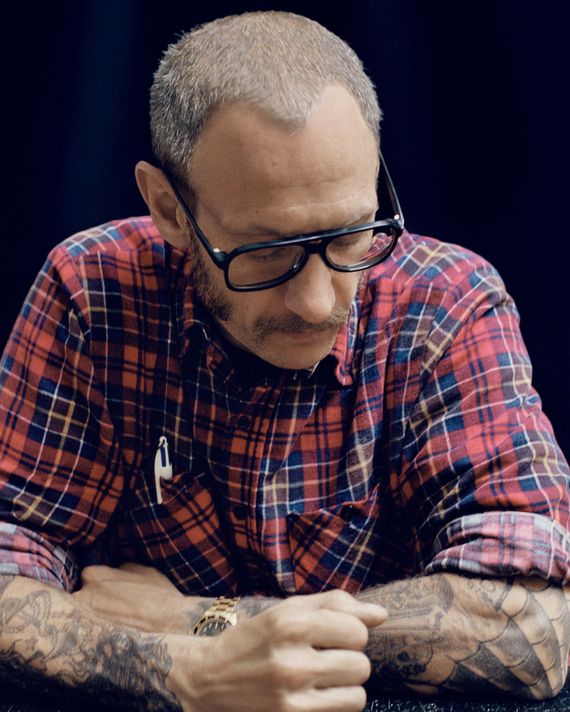 Photo: Cass Bird/New York Magazine
Terry Richardson, displaced from his old photography studio on the Bowery by a high-end fitness chain, was at his new space, an unadorned floor-through loft down the street. Wood floor, tin ceiling, brick walls interrupted by white swaths of Sheetrock. Four employees sat working quietly on Macs. Pandora was tuned to Elvis Presley Radio. "It's insane, the internet," Richardson was saying. "Totally craziness. Like a little cancer. People can just do whatever they want, say whatever they want, be totally anonymous. It's totally out of control."
He was sitting on a couch near the windows, wearing the get-up that has made him the most physically recognizable photographer working today: widow's peak, friendly muttonchops, oversize black plastic glasses, Converse sneakers, jeans, untucked plaid shirt, necklace with a cross, Star of David, and Narcotics Anonymous medallion. It was late April. The day was cool, so he'd added a hoodie. All that was missing was the toothy smile and thumbs-up gesture present in most pictures of him.
Four days earlier, an English model named Emma Appleton had tweeted a screenshot of what appeared to be a Facebook message from Richardson: "if I can fuck you i will book you in ny for a.shoot for Vogue." The message was clearly an ­impersonation (Richardson does not have a personal Facebook account, and he hadn't worked for American Vogue in four years), and another photographer might have ignored the incident. But Richardson occupies a singular, controversial position in photography.
Best known for his fashion and celebrity work, much of it with an erotic bent, he regularly shoots covers for Harper's Bazaar and GQ and has photographed virtually every major contemporary figure in film and music, not to mention Barack Obama. In the last few years, he and Lady Gaga collaborated on a book (Lady Gaga x Terry Richardson), and he made videos for Beyoncé ("XO") and Miley Cyrus ("Wrecking Ball," viewed more than 665 million times). He works for luxury brands Valentino and YSL, and mass-market brands Target and H&M, at a reported day rate of $160,000. His portraits have an unmistakable style—shot head-on with a bright flash against a white wall—and an illusion of spontaneity. He excels at something increasingly rare in fashion photography: what the designer Tom Ford calls "capturing a very real moment."
Richardson's own fame is due partly to his habit of including himself in shots of celebrities (his friends like to say he invented the selfie) and partly to his formal consistency: Most people who get photographed alongside Richardson adopt some aspect of his signature look, such as his glasses or thumbs-up gesture. It's an unchanging cartoon, a self-cloning that reached its highest expression in a photograph in which Chloë Sevigny wears fake muttonchops, red flannel, and glasses and is kissing the identically attired photographer.
Richardson is also famous for another reason: He has cultivated a reputation of being a professional debauchee, a proud pervert who has, outside his commercial work, produced a series of extremely explicit images—often including himself naked and erect—that many find pornographic and misogynistic, and which can make viewers distinctly uncomfortable. In recent years, a number of the models in those images have indicated that they, too, weren't altogether comfortable, filing lawsuits and, increasingly, speaking up in essays and interviews. Richardson has been called "the world's most fucked up fashion photographer" by the website Jezebel, "fashion's shameful secret" by the Guardian, and "America's Next Top Scumbag" by Wonkette. Baron von Luxxury, a Los Angeles DJ, wrote a song called "Terry Richardson" with the lyrics "She'll have a few more sedatives / I'll have whatever comes next / And then I'll burn the negatives."
In the past nine months, criticism of Richardson has moved from the periphery to a more central and dividing place, where one is expected to take a stand for or against him. In October, a British teenager uploaded a petition to Change.org titled "Big brands: Stop using alleged sex offender & pornographic Terry Richardson as your photographer." It has since attracted more than 33,000 signatures. A few days later, in response to a tweeted link to a 2010 article about Richardson, H&M tweeted, "if these accusations are true, it's totally unacceptable to us. Currently we're not working with Terry Richardson."
In March, after a model published a graphic account detailing how a session with Richardson turned into "sexual act after sexual act" that were "never once initiated by me," Richardson put out a statement on the Huffington Post, decrying what he called "an emotionally charged witch hunt." This only inflamed his critics, and on Twitter he has become radioactive. After Richardson shot Neil Patrick Harris in April for Rolling Stone, and the actor tweeted that it was a "bucket list moment" that had been "so fun," he was immediately assailed by followers ("gross," "Stop supporting sexual predators"). He deleted his tweet. After Lena Dunham was called hypocritical for denouncing R. Kelly while having let Terry Richardson take her picture, she told the Guardian that she was "not in the business of being BFFs with alleged sexual predators."
This is why the supposed Facebook-message proffer of a quid pro quo received such attention. (Even Time covered it.) A reporter for BuzzFeed asked 25 magazines and brands whether they would work with Richardson, and editors at Vogue, T, and W stated that they had "no plans."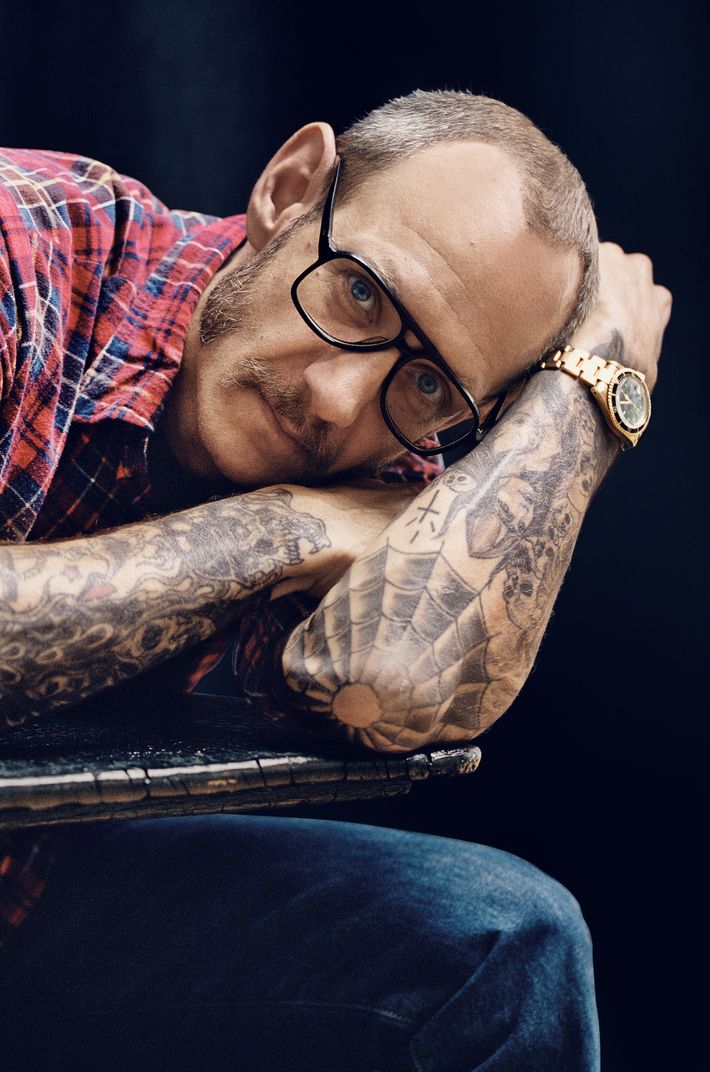 " 'I'll put you in Vogue,' " Richardson, in his studio, said bitterly. "So corny. Ridiculous. Who talks like that? When people call me a pedophile and fucking bullshit, that's a horrible thing to say about someone."
For Richardson, the situation is oddly dissonant. He has famous friends willing to defend him publicly ("You'd find a line down the block to talk about how generous and warm and gracious he is," Jared Leto told me) and frequent encounters with strangers who profess their adoration; much of the fashion Establishment continues to prize his work. Others who had supported him are suddenly quiet or guarded. Dian Hanson, a friend and editor at Taschen who believes the accusations are unfair, nonetheless says, "I don't want to be against these girls. Anyone who questions any of it is attacked with death threats." And then there is what Richardson refers to as "the internet" but is really the wider world—full of not just reactionary conservatives but also culturally engaged people, many of them young, who reject the sophisticated titillation that once greeted Richardson's work, seeing predation instead of transgression. All of which is perplexing to the photographer, who finds himself maligned as repugnant for being the same person who was once broadly celebrated.
"Often a session would wind up with sex," a famous 1960s fashion photographer named Bob Richardson later recalled of his shoots. A handsome man with a mane of hair, Richardson came out of nowhere and blew up the field. A lot of editors found him impossible to work with, but he introduced a dark, dreamy realism into a genre then characterized by cold perfection, and the photographers Bruce Weber, Peter Lindbergh, and Steven Meisel have all cited his influence. For Italian Vogue, he shot Anjelica Huston with a bathing lover styled as a Nazi. His most famous editorial work, a 16-page spread for French Vogue in 1967, featured the actress Donna Mitchell on a Greek island, crying. Accompanying him on that two-week shoot in the Aegean were his wife, a former Copacabana dancer named Norma Kessler who worked as his stylist, and their infant son, Terry.
Two years later, Bob had left Norma and Terry for 17-year-old Huston, with whom he remained for three years before descending into schizophrenia and homelessness. Terry barely had a relationship with his father for the better part of 20 years. He spent much of his time after high school trying to be a musician, playing bass in punk bands in L.A., despite being "tone deaf," he says. Only in the late '80s, after rescuing now-toothless Bob from a life pushing a shopping cart in Santa Monica, did Terry, soft-spoken and somewhat lost, start to get interested in photography. He assisted fashion photographer Tony Kent, an old friend of his parents'; began taking actors' head shots; and eventually quit his funk-rap band Double Freak to join his father in San Francisco, where Bob was doing telemarketing to pay his flophouse rent. His father helped him get a portfolio together, telling him what he needed to do to impress editors. It was his first real acquaintance with his father as an adult.
Bob then followed Terry to New York, where he proposed they work as a father-son team, the Richardsons. They got an assignment at Interview and shot some smaller stories for Glamour and Mademoiselle, but Bob would invariably make trouble, Terry recalls. "We were broke, but he'd get there and be fighting with the editor. We're [in Miami] at the Raleigh, everything's paid for, we're getting nice food—why are you fighting with them over these pictures?" Six months into the partnership, the night before a shoot for Vibe, Terry called his father to say he wanted to do this one by himself. "He was like, 'You'll never do it without me, and I'll never speak to you, fuck you,' and he hung up on me."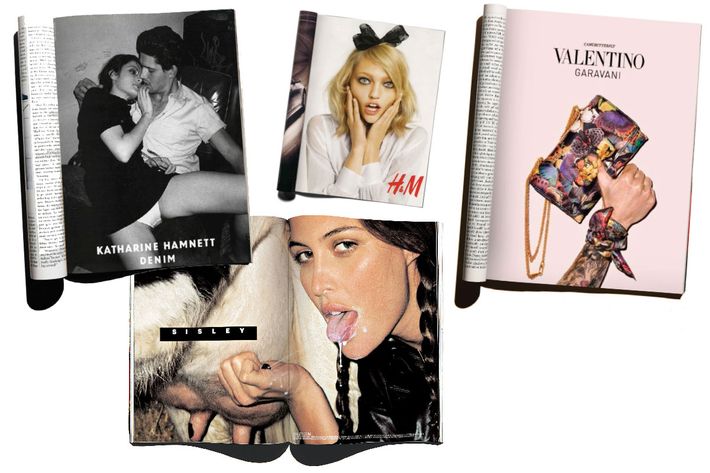 Terry shot the story alone, and the resulting black-and-white photographs of downtown street life—kids at urinals, spitting beer on the sidewalk, roller-skating at the Roxy—launched his career. On the strength of the Vibe shoot, Richardson won his first ad campaign, for the British designer Katharine Hamnett. Those pictures, in particular one that featured a woman with her legs casually splayed across a man's lap, some of her pubic hair visible, would in turn announce Richardson as a fresh, boundary-nudging talent.
Where Bob's pictures had been brooding and cinematic, about giving direction and capturing a desired emotion, Terry sees his as more of a comic dance with the subject. "People go, 'What do you want to do?' What do you want to do? What are you feeling? Going into a shoot not fully knowing what I want to do—that excitement, that thing that happens, is just so powerful and makes such great pictures."
Using a Pentax point-and-shoot or two, he found he could carry on a conversation while snapping away. The simple cropping, and the unexpected mistakes that found their way into images, conveyed life and energy and added up to a style. He began shooting regularly for downtown and foreign magazines. Gucci hired him. Ford, then the brand's head designer, remembers Richardson, who was still new to the highly produced world of fashion photography, being uncomfortable with the number of crew members at the first shoot, at producer Bob Evans's house in L.A. "Terry was used to putting girls against a wall, photographing them with a flash, his style. Quite honestly, I think that's still the thing he does best." They ended up going back to Richardson's room at the Marmont and shooting the models against the wall there.
Richardson's photographs eschewed makeup and retouching, and he was soon being lumped with a group of photographers whose gritty, lo-fi realism, dubbed "heroin chic," rejected the artifice of the '80s. His look borrowed from low-budget porn but also had an irony and humor and playfulness. An ad he shot for Sisley showed model Josie Maran squeezing a cow's udder and spraying the milk at her own face. "You knew that people were having a good time when he was taking their pictures," says Katy Barker, his agent at the time. She recalls a series of pictures Richardson took at a Florida nudist camp for George magazine. "I remember thinking that only Terry could get away with this, because he didn't do it with any distaste," she says. "They let him take pictures with a sense of joy, a bit of exhibitionism that a lot of people subconsciously like."
Editors and art directors took to Richardson. He was polite, humble, collaborative, fast—a pro in all the ways his father had not been. But just as important, he shared his father's acute sense of moment, and he knew how to capture that electricity in his pictures. Though some found his work offensive (W stopped using him for 14 years after its creative director deemed two of his ­pictures anti-Semitic), Richardson became extremely deft at navigating the line between provocative and unacceptable. "You want to do things that get seen," he says. By 2001, he was landing assignments like Sports Illustrated's "Swimsuit Issue." Helmut Newton, himself a famously provocative photographer who'd initially thought Richardson's work "shocking for shocking's sake," had become a fan. "Now I can see he's got a certain handwriting that comes through," he told Index.
Richardson had also begun cultivating his public persona. On a Sisley shoot, to finish a roll of film, he stepped into the last frame holding a Heineken. That photograph became an ad that ran in The Face, and it then became a tradition to include himself in the last shot of every Sisley campaign. For an ad that ran in i-D, he appeared in the corrida in Seville, mooning an angry bull. For another, he stood flanked by models who wore Terry Richardson masks.
His shoots could get wild, and he made no secret of that. In 2002, he told Vice about his forthcoming calendar for street-style brand Supreme, the goal being "to put together a calendar you could jerk off to." The shoot, he revealed, "got a bit out of hand by the end. The woman producing the shoot got freaked out and had to leave. I think every person there fucked someone. It was intense."
For the past two decades, Richardson has walked and cycled the streets of New York taking pictures. It is central to his identity as a photographer. "A friend told me, 'It's not about waiting for the phone to ring,' " he says. "You live, breathe, wake up, take pictures of yourself, photograph things. You have to constantly document your life; always photograph, always photograph." It borders on compulsion and is the most creatively productive of the many habits that organize his life. Always the same clothing, always the same pose in front of the camera, always the same sandwich. "My wife and I have a Terry every Sunday," says his friend Gavin McInnes, co-founder of Vice. "English muffin, mayonnaise, avocado, Cheddar, tomato, salt, and pepper. My wife says: 'Do you want a Terry?' "
One afternoon earlier this month, I met Richardson in front of the New York Public Library, where he stood in jeans and a MAJESTIC PERSUASIONS T-shirt, a Lumix GF1 hanging from his neck. We walked for hours around midtown, pausing from time to time for him to take pictures—and greet fans. Three young women separately approached Richardson to share how much they loved his work; two asked to take selfies with him. (Also ­during the course of our walk, a man named Ryan Rigley tweeted, "Saw Terry Richardson on 34th St. today and he DIDN'T make me put his penis in my mouth. Go figure!")
Richardson is reflexively exuberant. A straw with an attached mustache made him chuckle; an old sign looked "incredible"; a Barclay Cigarettes mural prompted him to put out his fist and say "Give me a pound!" He was drawn most often to images that spoke to the past or had a winking quality, like "If Only Closed Minds Came With Closed Mouths." He typically avoids shooting people (he's "shy on the street," he says) but couldn't resist snapping a disheveled man on Ninth Avenue who was wearing a FUCK ME I'M FAMOUS T-shirt. "Irony's good," Richardson said.
In his early years in New York, when Richardson was documenting the world he knew around his apartment in Alphabet City, he quickly amassed boxes and boxes of eight-by-ten-inch prints. A Japanese publisher, Hysteric Glamour, convinced him to publish a book, and Aaron Rose simultaneously persuaded him to do a solo show at Rose's Alleged Gallery on Prince Street.
"These Colors Don't Run," which opened in June 1998, was shocking even by art-scene standards. There was a four-by-six-foot close-up of Richardson's face coated in semen. The back room was reserved for a grid of images pairing plates of Richardson's food with toilet bowls full of the consequent excretions. Richard Goldstein, reviewing the show for the Village Voice, praised the photographer's "gift for spontaneous combustion." Sonic Youth's Thurston Moore would later recall "almost throwing up" at seeing the "sweating orifices" of people he knew. That year, Richardson appeared on the cover of Index.
Richardson was a heavy heroin user in the '90s. He had a three-year marriage to a model named Nikki Uberti, followed by a series of relationships, many with models. In 2001, after breaking up with a girlfriend three days before Christmas, Richardson put on a suit and tie, consumed $100 worth of heroin, swallowed a handful of Valium, and finished a bottle of vodka. He was found by his friends comatose in his apartment. The next year Richardson went to rehab in Pasadena and got clean. (He had a relapse with heroin in 2008.)
As Richardson's career accelerated, his personal work became more intensely sexual. He now routinely took off his own clothes during shoots, which he explained as simply a gambit to make models comfortable posing naked. In what he would later describe as both a replacement for the substances he'd forsworn and a catharsis of his "issues," he increasingly photographed himself, or was photographed by his assistants, in a multitude of explicit scenarios. "Doing that nude work and taking his own clothes off is how he got over his own shyness," says Dian Hanson. "And he's got a big dick. And once the world notices that, it's kind of encouraging to continue taking your clothes off."
To hear Richardson's friends tell it, the scene at his studio back then was a blur of Beavis and Butt-head jokes, Jackass pranks, and goofy porn shoots. There was a penis in a hot-dog bun, a guy lighting his fart on fire. Steve-O, a member of the Jackass cast, recalls in his memoir an afternoon when Johnny Knoxville called and said, "Hey, I'm at Terry Richardson's studio. He wants to do a bukkake shoot, and we're just a few cocks short. You game?" Richardson photographed it all. He wanted Steve-O "pulling a girl's hair while I shot a load on her face and someone else pointed a gun at her head."
"It was never just me and a girl ever," Richardson told me at his studio. "It was always assistants, or other people around, or girls brought friends over to hang out. It was very daytime, no drugs, no alcohol. It was a happening, there was energy, it was fun, it was exciting, making these strong images, and that's what it was. People collaborating and exploring sexuality and taking pictures."
Taschen wanted to put out a collection of Richardson's work, and Hanson, whose title is "Sexy Book Editor," found his personality familiar from her years working at men's fetish magazines. "The very best of the photographers from that world have a very enthusiastic personality that draws people out and makes them do things they normally don't do," she says. "You don't have to ask or push." Once, when Hanson visited Richardson while he was taking test shots for a men's-underwear ad, he encouraged her to step into the frame. "He said, 'Dian, go in there.' You don't go into Terry's studio without becoming part of Terryworld."
Professional models weren't all so enthused. Sara Ziff was around 19 when her agency sent her to see Richardson. According to ­Richardson, it was billed in advance as a semi-nude casting, but Ziff, now the head of the advocacy group Model Alliance, remembers otherwise. "It was supposed to be for a mainstream fashion magazine, but when I arrived, he unexpectedly asked me to pose topless," she says. "I felt pressured to comply because my agent had told me to make a good impression because he was an important photographer who shot for all the major magazines and brands." Liskula Cohen walked off a 2002 shoot for Vogue Hommes International because Richardson "wanted me to be completely naked and pretend to give this faux husband a blow job."
When Sena Cech, then 19, was sent to see Richardson that same year, she says her agent told her it was "really exciting" that she'd been booked and that she should "just do whatever it takes to get the job." Cech says that at that time, she was unaware of Richardson's more risqué work. When she arrived, she was asked to sign a release, which she did, even though normally her agency would take care of any paperwork. Richardson took off his clothes. "And they wanted me to get naked. And they're like, 'Grab his dick and twist it and squeeze it really hard.' " She laughs. "It wasn't even a hand job. It was maybe not even sexual. Weirdo. And then they were taking pictures the whole time. They were like, 'You're awesome! You're in the club!' " When her agent called her afterward to say Richardson wanted to use her for the assignment, she turned it down. "I was like, 'No way I'm doing the shoot, this guy's too weird.' " (A source close to Richardson insists that Cech was the instigator, and that she willingly returned after the casting to take sexual pictures.)
In 2004, Jeffrey Deitch, the downtown gallerist, put together a show of Richardson's more hard-core work. When several women who worked for Deitch objected to the material, he offered a month's paid leave. On opening night, the sea of would-be attendees on Wooster Street numbered around 3,000. Those who made it inside were treated to giant images of the photographer grinning while being fellated, and also a display of 1,000 teddy bears. The show wasn't an art-world success—only a single picture sold—and Deitch's landlord tried to evict him. But when Taschen published Terry­world three weeks later, it was "one of our better-selling titles," says Hanson, with multiple reprints.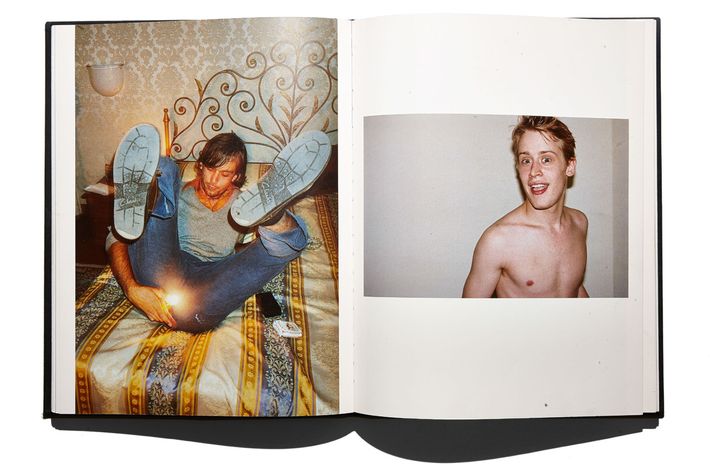 Richardson seemed to relish having become what the Village Voice called the "notorious sleaze fashion photographer." He'd tell models to call him "Uncle Terry." In interviews, he'd say things like "I was a shy kid, and now I'm this powerful guy with his boner, dominating all these girls."
That August, the Italian publisher Damiani brought out a Richardson book called Kibosh. Printed in a limited edition of 2,000, it remains the most extreme collection of his work. It is a black, clothbound monument to Richardson's penis, which appears in most of the 358 images. A preponderance of the photographs depict Richardson receiving oral sex or ejaculating on a woman's face. He called it "my life's work" and "the summary of my career."
There's something interrupted about Richardson. It's present in the '70s-fetishizing costume; in the sad-eyed picture of him at age 9, dressed as Billy Jack for Halloween, that's tattooed on his chest; in the puerility of much of his humor; in the three teddy bears he sleeps with.
Richardson's childhood was almost preposterously chaotic and unsupervised. His parents were part of the jet set in Paris, partying with Keith Richards, participating in group sex, shooting speed. When Terry was 3, his father smoked too much hash and passed out in the street in Morocco. The same year, his father locked himself in the bathroom and slit his wrists (one of four suicide attempts); Terry was there when the police came. Soon after, Terry ate a bottle of orange-flavored aspirin and had to have his stomach pumped.
Once the Richardsons returned to New York, to a penthouse apartment on Jane Street, and Terry's father left his mother for Huston, his mother took a series of lovers, including Jimi Hendrix and Kris Kristofferson. Then she moved to Woodstock, where she changed her name to Annie and married a British musician, Jackie Lomax, who'd been a protégé of George Harrison's. When the couple went out at night, they left Terry without a babysitter, petrified. He spent a summer with his father and Huston in their London flat when he was 7 or 8 and heard them having sex every day.
By 1974, when Annie and Jackie Lomax decided to move with Terry to Los Angeles, he was an angry kid. "I used to fucking just destroy my room and smash everything and have tantrums," he told Index in 1998. "I used to hear voices in my head, but that's gone away a little now." His mother sent him to twice-weekly therapy appointments.
She was on her way to pick him up from a session one day when her car was rear-ended by a truck. She emerged from a coma with brain damage and came home in diapers. Terry was 9. He smoked pot for the first time that summer.
Around the same time, his stepfather's record deal collapsed, and suddenly the once-glamorous family was on welfare. When Terry was 14, he swallowed 40 pills; his stomach was pumped again. Then his mother decided to move north to Ojai and pull her son out of Hollywood High. This "shattered" Terry, according to Christopher Judges, a friend at the time. He got into punk rock, playing bass in a band called Invisible Government of the World and writing a song called "What Is Love? Love Is Pain." At 18, he was using heroin. After his mother unplugged the TV one time, he threw her across the room. She had him arrested. The same year, after taking downers and drinking a dozen beers, he hit an electric pole at 55 miles per hour, making the local newspaper.
The connections to Terry's work draw themselves. In the pictures of the late '90s and early aughts, there's a motif of childhood defiled: a garishly made-up clown; an X-rated Batman and Robin; Tinkerbell giving Peter Pan a blow job; a teddy bear straddling Richardson's erect penis. Using the title Son of Bob for a book containing pictures of his own feces cannot have been a simple homage. Dedicating Terryworld, which includes an image of him flossing his teeth with the string of a still-inserted tampon, "to my mom and dad" was surely an ambivalent tribute. Even the signature frozen smile and thumbs-up reads as a mask, a willfully sunny self-presentation. (Richardson's newest tattoo, inked four years ago, says SMILE NOW, CRY LATER.)
Richardson has had a lot of psychotherapy. He meditates and attends AA meetings and exercises daily (he's a regular at ­Soul­Cycle). But when I asked him about the themes of his work, over lunch one day at the Smile on Bond Street, he was unreflective. Son of Bob? "My father's name was Bob. I was his son. I just thought it was funny." Teddy bears? "I don't know. Not consciously or whatever. I don't know, I like that film Ted. It's great. Teddy bears are great. A lot of that stuff is, I don't think about, What theme should I explore? Teddy bear. Terry bear. I don't know. But they're comforting, bears." Maybe this was wary deflection, or maybe he really hadn't thought about it. "He has so many blind spots," says a former close friend. "He has extremely strong and smart instincts, but he doesn't have a terrifically sophisticated way of analyzing his own work."
The next time I saw Richardson, it was clear our conversation about the hardships of his childhood had troubled him. He said he wanted to stress that "I have nothing but so much love for my parents. They're artists, and they showed me films and took me to museums and taught me about art and things that I'm eternally grateful for."
It is Richardson's earlier work that is at the root of much of the current furor surrounding the photographer. Even at the time, there were isolated issues. In August 2003, a young Romanian model named Gabriela Johansson was dispatched by her agency, L.A. Models, to the Chateau Marmont, where Richardson was doing a casting session. During the shoot, she took her top off, but when he "pushed aggressively" for her to remove the rest of her clothes, she became "extremely uncomfortable," according to a lawsuit she filed against Richardson in 2005, after a Richardson picture of her surfaced in an art exhibit. Johansson claimed that she'd been tricked into signing a release that had been presented as merely a "sign-in sheet." A similar suit was brought against Richardson the same year, this one by a male model named Frank "Speedy" Lopera, who had appeared fully naked in Terry­world and later claimed he had been misled. Both were quietly settled.
Another model displeased by her appearance in Terryworld was Rie Rasmussen, and in March 2010, she confronted Richardson in a Paris nightclub. "What you do is completely degrading to women," she told him, in an incident that made "Page Six." When an abbreviated reprint of Terryworld came out in 2012, both Rasmussen's and Lopera's photos were absent.
According to someone close to the situation, as many as nine people depicted in the original Terryworld have threatened Richardson with lawsuits since its publication. The actress Juliette Lewis, who'd agreed to allow Richardson to use photos of her in the book, was unhappy when she saw the finished product. "I had no idea my photos would be interspersed alongside graphic pornographic images," says Lewis. "Otherwise I clearly would have said no." (Last year, after Gawker posted a scanned Terry­world photo in which the photographer is having sex with a woman who resembles Lewis, her publicist vehemently denied it was the actress. "We repeatedly asked his publicist to simply say who the model was and state that it wasn't me," Lewis tells me. "They refused, which was infuriating." Richardson's publicist confirmed to me that the model isn't Lewis.)
Four days after the "Page Six" report, a writer named Jamie Peck published an account on the Gloss of her experiences with Richardson titled, "Terry Richardson Is Really Creepy: One Model's Story." Calling herself a "vain girl with nice tits who likes to pose for the occasional cheesecake photo," she recounted how in 2004, when she was a 19-year-old student at Columbia, she'd gone to a Williamsburg club where the photographer was casting a Suicide Girls pinup calendar. She'd posed topless there and later gone to his studio to do further modeling. "The first time I went over there was pretty okay," she wrote. He made her tea, and they chatted. "I got naked, danced around a bit, smiled, squeezed my tits together, yada yada."
"The second time was the weird one," she continued. "Uncle Terry was feeling frisky that day!" He asked Peck to take off her underwear. When she demurred, because she had her period, he asked her to remove her tampon, saying, "I love tampons!" Then he got naked and "strongly suggested" she give him a hand job. She did, after which "his assistant handed me a towel." "Of all the fine folks I've frolicked au naturel for, he's the only one who's left me feeling like I needed to take two showers," Peck wrote.
It was after Peck's vividly detailed account that the narrative of Richardson as predator, as opposed to kinky eccentric, gained traction. Tavi Gevinson, 14 at the time, wrote on her website Style Rookie that "the quality of the photos is irrelevant to the fact that he had to sexually harass people to get them." Coco Rocha, whom Richardson had shot for French Vogue, told Fashion magazine, "I've shot with him, but I didn't feel comfortable and I won't do it again." (Richardson says her parents, Jehovah's Witnesses, were upset by the exorcism theme of the shoot; Rocha declined to comment.)
Other than a brief post on his website denying the allegations, Richardson made no public comments, and he seemed to have weathered the controversy. He negotiated a new contract with Harper's Bazaar. He began dating Audrey Gelman, who in addition to being then–Manhattan Borough President Scott ­Stringer's press secretary at the time is Lena Dunham's close friend. (Richard­son and Gelman broke up last fall.) He teamed up with Lady Gaga, the biggest celebrity in the world.
Richardson can be canny about his image. When he attended Jennifer Aniston's birthday party last year, he was photographed standing beside Gloria Steinem. "Terry just made a beeline for her," says someone who was in the room. The picture went up on his diary the next day. But he can also seem equal parts naïve and stubborn. Until last February, the solicitation for nude models on his website consisted of the word casting and a photo of a hotel-room door marked "69."
The rawest story to newly emerge about Richardson came from Charlotte Waters, who in March posted a graphic, initially anonymous description of her encounter with Richardson on Reddit. It had occurred in 2009, when she was paying her way through art school by working as a nude model. By her account, when she went to Richardson's studio, simple posing quickly progressed to him "licking my ass." Then he "directed me to squeeze his balls as hard as I could … I was completely a sex puppet at this point." She described going into a dissociative state as a female assistant egged them on. "It ended with him jacking off onto my face and he told me to keep my eyes open really wide and his assistant stood over me and it got in my eye and they both began taking pics."
I'm going to be weird and not shake your hand," said Alex Bolotow, 31, who has worked as an assistant to Richardson for much of the past ten years, when I met her for coffee. The day before, she'd had a shamanic cleansing and had been told not to touch anyone for a couple of days, lest she leak bad energy. She wore loafers and a horizontal-striped blue-and-white shirt, her hair pinned back with barrettes. She told me she had met Richardson the same night Jamie Peck first did, at the pinup-calendar casting. She was an undergrad at NYU, but she began interning at Richardson's studio, then dropped out to work for him full time.
Bolotow was featured prominently in Kibosh, appearing in at least 90 photographs. There are images of her fellating Richardson from inside a trash can; from inside a suitcase, with him pinching her nose shut; under his desk; upside down; with the word SLUT lipsticked on her forehead; in tandem with another woman; wearing a paper In-N-Out Burger cap. I asked how she had transitioned from intern to Kibosh star. "There was something exciting about being involved in something that feels just really freeing," she said, "like, 'Oh, I'm totally expressing myself, and this is great.' I remember being like, 'I'm just glad to be alive in a time when this is happening.' "
She sees the internet as having changed everything. Back when Richardson was taking, exhibiting, and publishing his Terryworld and Kibosh pictures, the market of people interested in extreme photography seemed tiny and self-selecting. You didn't yet assume that any image will be instantaneously transmitted, via Twitter or the Huffington Post, into every single computer-owning human being's home. "I'm sure that for a lot of people, that might change what they're comfortable with," she said.
I asked Bolotow about the SLUT picture and whether she interpreted any misogyny in it. She laughed. "I love that picture. I'm always like, 'I look so hot in that picture.' The whole setup was even my idea; that was the full comedy of it. I think we had a friend coming over, and I was like, 'You know what would be so funny? If they walked in the door, and I was sucking your dick, and I'd just written slut on my forehead.' "
Bolotow takes offense when images of her are used to make a case against Richardson. "When I look at those pictures, I'm smiling," she said. "I'm having the time of my life, I look great, I have a beautiful haircut. This is a great day." She has little respect for women like Peck and Waters, who did things with Richardson and then later publicly blamed him for it. (In her first email to Richardson's studio inquiring about modeling opportunities, Waters wrote, "My name is charlotte. I'm 19 and a pervert"; she now says this was a "poor choice of words." As for Peck, she has repeatedly maintained that she engaged in sexual acts with Richardson only once, but there are photographs in Kibosh featuring her with different haircuts. "Jesus Christ, I have no explanation for that," she wrote me after I showed her the images. "I'd be scared this undermines my credibility but if anything I think it shows I was/am more traumatized by the experience than I thought.") "I think part of being a strong woman is owning the decisions that you've made in your life," Bolotow told me. "Trying to put the onus onto someone else for your own decisions is really cowardly and kind of dishonest."
Bolotow is now studying anthropology at Columbia. Richardson reads her papers, she said, and "we have a lot of conversations about things—the weird moral quandary of sexual things." Her syllabus included an article in the Times by Steven Pinker about "the moral instinct"—"how people feel about a certain situation instinctually for no real reason," Bolotow said, "and then rationalize why they feel that way."
At some level, whether you believe Richardson was sexually coercive hinges on a judgment of the power dynamic in any given photo shoot, and of the agency of young models in the moral vacuum of the fashion world. "I think when you put yourself in front of a photographer, you have to have a clear idea of what you're willing to do and what not," says Freja Beha, the Danish supermodel. "[Richardson] has never taken me anywhere I've felt uncomfortable with. I'd even go so far as to say he's one of the most sensitive people in the business, who's quite honest about how he feels."
Joan Juliet Buck, the writer and former editor of French Vogue, suggests the model-photographer dynamic is grayer than internet discourse allows. "When a beautiful young girl is standing on the paper, and the photographer is looking at her—that thing of being told you're the most beautiful works everyone into a state of desire, where the girl is being appreciated and she feels loved," she says. "There's a very fine line between abuse of that innocence and validation of their beauty."
The raunchiest of Richardson's shoots took place in a professional setting, with other people present—often members of the ad hoc family of friends and colleagues who've surrounded him for years, including Bolotow, a stylist named Leslie Lessin, and studio manager Seth Goldfarb. Lessin, who has been harshly criticized as Richardson's enabler, told me that "I would never, ever stand around passively while anyone was being taken advantage of or made to feel uncomfortable. That is simply not what happened."
As for Richardson, "when I was taking those pictures," he says, "I was very, like, 'Cool, sounds great, let's do it, great, okay, sure, great, cool, if not, no problem, never do anything you don't want to do, of course, I totally respect that.' " He makes the point that agents and bookers shouldn't encourage their clients to take on assignments that will make them uncomfortable.
But he seems either unaware of or unwilling to acknowledge the ways in which coercion can be unspoken and situational. A prominent photography agent identifies the potential for abuse. "Kate Moss wasn't asked to grab a hard dick," this person says. "Miley Cyrus wasn't asked to grab a hard dick. H&M models weren't asked to grab a hard dick. But these other girls, the 19-year-old girl from Whereverville, should be the one to say, 'I don't think this is a good idea'? These girls are told by agents how important he is, and then they show up and it's a bait and switch. This guy and his friends are literally like, 'Grab my boner.' Is this girl going to say no? And go back to the village? That's not a real choice. It's a false choice."
Someone who's spoken with Richardson about the Kibosh project recalls him describing his feelings with some nuance. "He said, 'I was really up front about the kind of work I was making, and it came from pain; it was an expression of the pain and trauma I've experienced in my life, and I'm not proud of it.' " In our conversations, Richardson was less introspective and more defensive. "I don't have any regrets about the work at all," he tells me, "but obviously I don't ever want someone to feel like that. It was never my intention. But also, people do things, and then they have regrets, and that's also nothing to do with me. Then don't do pictures like that again … I'm okay with myself about everything, and that to me is the most important thing."
Until last fall, an anonymously administered Tumblr called "I Miss the Old Terry" featured scans from Richardson's older, more explicit books like Kibosh and Terryworld and Son of Bob, which are rare and expensive (a copy of his first book, Hysteric Glamour, was recently being offered on eBay for $2,500). The new Terry, to fans of his old work, isn't as interesting—a man with more to lose. Equinox stopped using him; some magazines have distanced themselves from him. And then there was that H&M tweet, though Richardson's powerful agent, Giovanni Testino, seems unconcerned. "To tell you the truth," Testino says, "H&M dropped him twice. The first time this came out, they dropped him, then used him after a year, then dropped him."
Richardson obviously misses the old Terry, too. Our conversations were sprinkled with backward-glancing references: the opening credits to The Mary Tyler Moore Show, an Eagles documentary, his childhood trips to Woodstock. In 2010, he published a pair of books, Mom/Dad, each focused on one parent (his father died in 2005, his mother in 2012) and both improbably tender in their portrayals.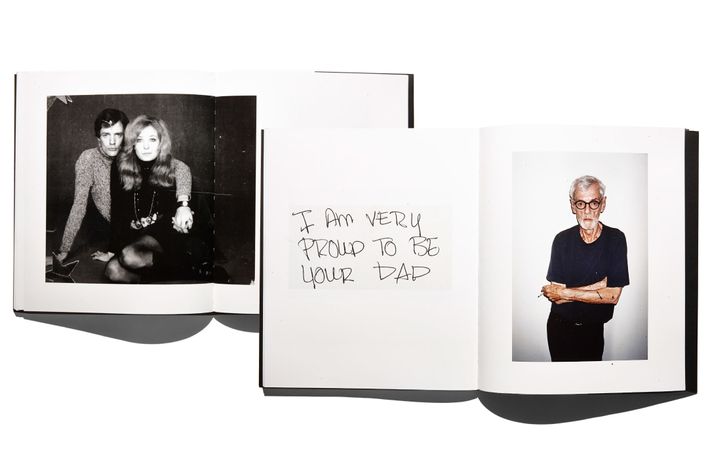 He often thinks about the early years of his career, before fashion shoots became big productions, when his work was still considered something new and challenging and when his transgressions were exactly what made him so exciting. At the end of my visit to his studio in April, Richardson showed me a rough edit of a book Rizzoli will publish next year, a 20-year retrospective of his fashion photography and portraiture. As Elvis Presley Radio cycled oldies—"I Saw Her Standing There," "Just One More Time," "Baby Love"—Richardson scrolled through the pictures, laughing frequently. There was a spread from the Vibe assignment when he split with his father. There was a shoot at a transvestite club in Blackpool, on the English seaside. He came to a picture of the Hollywood sign. "I love that thing," he said. He's considering relocating temporarily to Los Angeles in the fall, and is preparing to make his first film, about that city's early-1980s punk scene.
Here was Jerry Seinfeld, banana cradled to his ear, for GQ. Richardson laughed. "A banana phone is always funny. C'mon, it's fun. Oh, wow, I'm on the banana phone!"
And here was a portrait of Anjelica Huston, for Love magazine. "I hadn't seen her in a while. To see her again and photograph her was really emotional."
Richardson scrolled to a picture of Lindsay Lohan. "LiLo," he said. A recently leaked list of her supposed conquests included him. "Somehow she said we spent a romantic night making love at the Chateau Marmont," Richardson tells me. "Which never happened. Then, on the internet, people are like, 'He did this and that.' But it's totally untrue.
"So much of this stuff," Richardson continued, looking at his old pictures, "it's great, it's emotional, to get in and work with someone, let things happen organically, just work off feelings in the moment, powerful, I love doing portraits. It's hard to explain. Just this kind of beautiful interaction and connection you get."
Richardson photographed by Cass Bird.
*This article appears in the June 16, 2014 issue of New York Magazine.