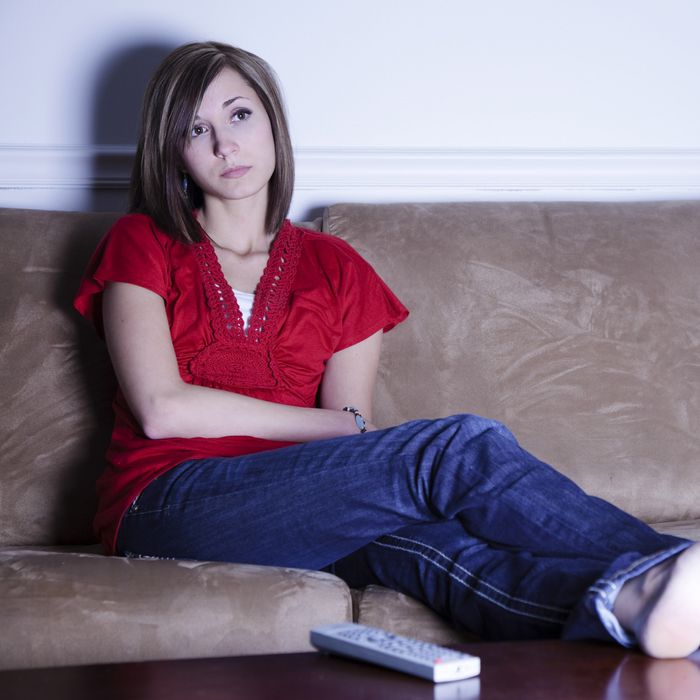 This week we got two episodes of The Bachelorette. That meant four whole hours of Andi Dorfman and her band of merry suitors, which meant I got to watch four hours. All in a row. All by myself.

Since my weekly watch party was canceled, I settled in for two consecutive nights with Andi and the boys, who have begun to really coalesce into the Brotherhood of Bach Frat House. I watched alone, a little bit jealous as they hung out in the house hot tub and discussed their collective feelings for the same girl. They all sang "I'll Make Love to You" in unison while I ate a lap-dinner of tilapia — the fish of sadness. They dog-piled into a bathtub while I yelled comments into the ether (Twitter).
The Bachelor franchise is perfectly engineered for the communal viewing experience: watch-parties in dorm rooms, at sorority houses, in your boozy neighbor's living room. Make a theme dinner, put on a party top, pop a bottle of vino, and get to work on that bracket. This is a show about one woman's search for the one — primed for collective hate-watching and snarking about cheesy metaphors and other people's weird kissing faces, but also, secretly, Aww, feelings. It's like when you go out to dinner with a friend and eavesdrop on the couple next to you. You might say: "Ha. OKCupid date!" But inside you're thinking: Cuuuute. Love. Lurrrrve. 

But watching The Bachelorette alone is filled with pitfalls. For one, Andi's kissing noises are grossly amplified by the silence — and the girl makes out a lot. But even more disturbing than the delicate slurps of a make-out sesh was my natural inclination to genuinely like the show. I found myself wondering, If I make a wiseass comment and nobody is around to hear it, does that mean I'm just a bitter, pantsless soul? Instead of snark, I chose feelings. Horrible, embarrassing feelings. I teared up twice, sang along to Boyz II Men quietly, in solitude, and had a fully realized conversation with JJ the Pantsapreneur aloud. I might have even said "You go, girl!" when Andi delivered another "Y'all better be here for real" monologue. (I can't be sure; I kind of blacked out without supervision.)  Left to my own devices, I think I ended up watching The Bachelorette in earnest. If so, I should probably just call it a day and start watching the Hallmark Channel.