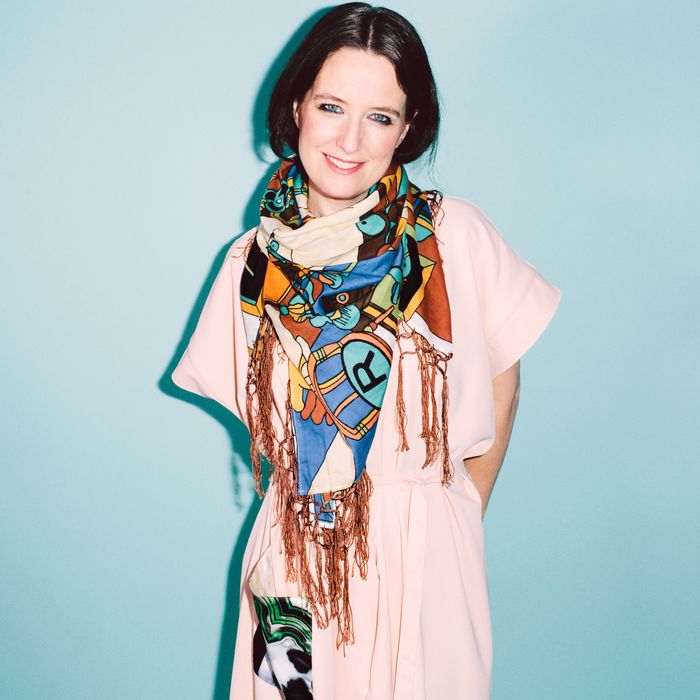 Contemporary brands — the stuff that's not crazy expensive, but isn't exactly cheap, either — make up a huge part of the fashion industry. (Analysts estimate that mid-priced fashion lines, which include everything from Alexander Wang to Carven, generate close to $10 billion in sales in the U.S. every year.) But back in 1999, when Carin Rodebjer started her namesake label in New York City, there wasn't a lot happening in the space. Marc by Marc Jacobs didn't even exist yet.
And, from that pool of indie brands that came up with Rodebjer — Built by Wendy, Mayle, and Rebecca Danenberg come to mind — there are few still standing. Born in Sweden, Rodebjer spent just a couple of years in Manhattan before heading back to Stockholm to develop the business. Ten years on, she decided to make a reverse move, settling with her husband and daughter on the Upper West Side. The Cut spoke with the designer (who hopes to open a New York City store soon) about how she's managed to keep things moving in the right direction for 15 years.

Do you still split your time between Stockholm and New York?
I live in New York full-time now, actually, but I travel back and forth a lot since the head business is in Sweden. I go back to Europe maybe six times a year.

Where do you produce the collection?
All the production is in Europe: Italy, Portugal, Lithuania. We do a little bit of knitwear in Hong Kong, but the rest is in Europe.

How did you get into design?
I studied pattern-making and sewing in Sweden, like a kind of preparation school. And then I interned for two years at a fashion label called Soot. It was a small company — or quite big, by Swedish standards, but still small. And then I decided to go to New York. My best friend lived here, so I stayed with her. I passed by FIT one day and signed up for classes. Since I knew I wanted to start my own business, I studied a bunch of different things: fabric science, sewing, pattern-making, draping. I did that for a year and a half, but then I dropped out when the business started growing.

This was the late '90s?
Yes — I started selling at a store down in Soho called the Dressing Room. And I sold to a store on Broadway at the time; it was called Antik Batik. I sold a few shirts to Steven Alan as well. And then I started selling in Sweden, and then the business began growing so much that I pursued it full-time and moved back there.

When did you decide to move back to New York?
Two-and-a-half years ago.

That's still very new.
The first year, I was very naïve. It just disappeared: It's so much to just open a bank account, get your kid into day care, and, wow. I woke up one year later and felt like I was ten years older.

Why move here? Is it about making the business here in the U.S. bigger, since you're so established in Scandinavia?
I always want to grow the business wherever, you know. I feel that what we do is very interesting, so I want to expand and get better and bigger. But the main reason was that I wanted to get the experience. I wanted to learn something new, and I felt that I knew the Swedish culture so well. I always have been very intrigued by the U.S., New York especially. Rodebjer, for me, is actually a mix between the high energy of New York and the long-lasting values and tranquility of the island where I grew up.

What neighborhood are you living in?
Upper West Side.

Do you like it?
Yeah [laughs]. People go, like, "Upper West Side?"

Like, "You're too cool to live in the Upper West Side."
When you have a child, it's actually perfect. Because you can choose to go downtown and you can choose whenever you want to have that interesting life, but uptown it's a different story. On the Upper West Side, nothing happens, really. People just live there. I like the realness.

It sounds like the industry started paying attention to your designs early on, but when did the line transform from a passion project to a legitimate business?
In the beginning, I didn't know that it was going to grow. I just loved what I was doing, so I was happy that some people were buying it. It was around 2005 that I realized that it was getting out of hand. Well, not out of hand, but bigger than myself somehow. I had to rethink what I was doing — it was a bit of an awakening. Now it's a real business with lots of investors and board people and employees.

How has your aesthetic changed over the years?
I think it has always stayed the same, in that I want to make clothing to live in. I want to be able to get on with my life and still look and feel good. Sometimes I get the impression that people design so much out of looks that they forget the feeling of it. For me, it's always been about  how it feels as a woman. There have always been more dimensions to it than the actual look. It's the feel … it's holistic in a way.

What is your process? Do you start with a mood board or an image?
We build on the last collection, because the line [consists of] a lot of ideas that grow over time, but we always start with a mood board. We had the architect Eileen Gray on this season's board. We took the freedom to explore her life.

What's next for Rodebjer? I hear a New York store is in the works.
We have two stores, both in Stockholm. But I would love to open a store here — that's the plan. That would be a dream. So we're focusing on opening a store in New York and continuing to grow in the rest of the world, because we've only focused on Sweden and the U.S. in the last years. We have a lot of demand from the rest of the world as well, so I'm actually making the organization ready to handle what's about to happen.

You mention that you have investors. At what point did you decide that was the right move, and how did you find the right partners?
That's where people usually have trouble, if they take on the wrong ones. I was very fortunate because my cousin — a trained doctor who ended up going into finance — was the first one who invested. And then in 2011, he helped me find other investors as well.

So you waited more than ten years to raise capital.
I took my time to grow. It's been 20 years since my first internship. You can never know everything, but I feel like I know a lot.

You decided to launch your own label at the beginning of your career. What made you decide to do that instead of going to work at a big company?
I think for me, personally, I've  always had this sense that I have to be independent. I don't know where that comes from, but I've always felt that I wanted to build my own platform. Sometimes it's good to be naïve, because then you actually go through with it. I think a lot of people start working and then realize how complicated [starting a company] is and then don't want to do it. But I think I would advise people to actually work somewhere else to see if they like it, because it's good to make all the mistakes on someone else's [dime]. And you always make mistakes in the beginning.
Photographer: Eric T. White; Make up and Hair:Tiffany Saxby using CHANEL/ Weleda skin care and T3 tools; Manicure: Casandra Lamar using MAC Cosmetics at Factory Downtown