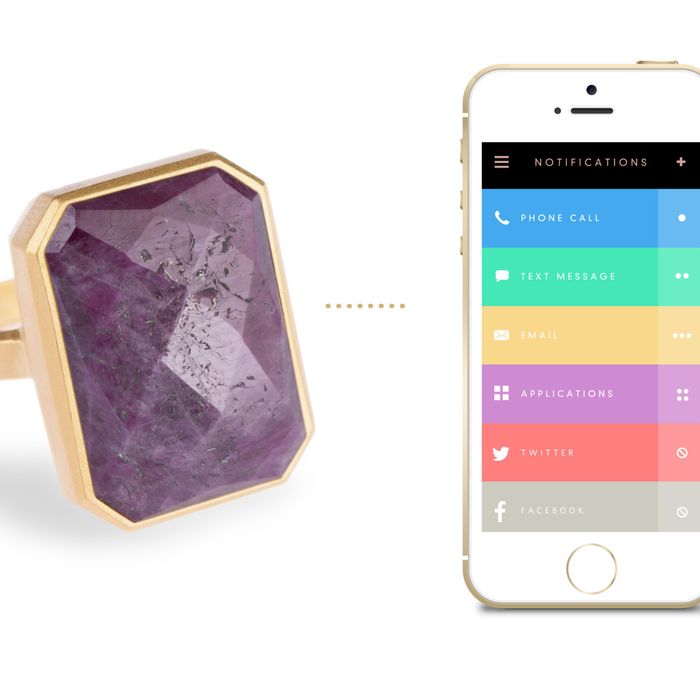 I'm the first to plead guilty to extremely bad iPhone etiquette. I can be found at most dinners checking a quick "urgent" text, which leads me to "surreptitiously" fall down the K-hole of Instagram, Twitter, Facebook, Instagram, Vine, and Facebook until I realize I've taken 15 minutes to respond to a question that was directed at me.
So I was initially intrigued by Ringly, a new business in the wearable-tech melee, which offers a ring that inconspicuously notifies you of incoming communication. Co-founder Christina Mercando, a start-up alum with a background in fine art, created the ring because she was sick of missing texts and calls from friends and family, but also felt like a jerk for keeping her phone constantly in view. The ring, available for preorder this week for $145, connects to an iPhone or Android and alerts the wearer to incoming texts, calls, calendar alerts, or emails. It also allows for push notifications from Tinder, eBay, Facebook, and Twitter. If info is coming in, the ring will vibrate and flash a tiny light, so the wearer can be aware of communication without sacrificing social etiquette or style.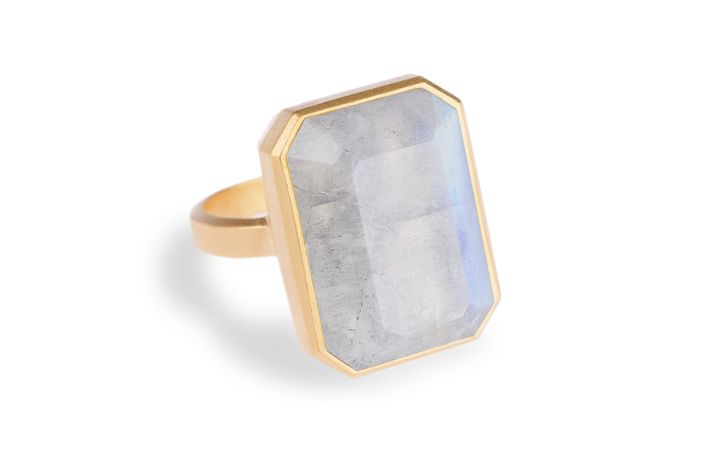 On one hand, Ringly is taking wearable tech in the right direction for consumers, because they've created something that people will actually want to wear. According to both a Nielsen study and a more recent poll by L2 and Intel, over half of consumers polled want wearable devices that look like jewelry. Crafted from 18-karat gold and stones like black onyx and emerald, the Ringly ring is a beautiful piece of jewelry that would fit right in at Barneys. And, naturally, as start-ups take a more fashion-centric approach, marketing to a female demographic makes sense. But what comment or critique is a company making when its product's functionality is gender-specific?
Even if I ignore the metaphoric overtones of having my Bluetooth tether be a ring (married to my iPhone, much?), the imagined target market here is the ever-popular anxious modern woman — she's having it all! And she's doing it without bothering anybody. The function of the device is basically to make you a better people-pleaser: You're available to everyone and disappointing no one, neither the person you're talking to nor anyone else who might be trying to reach you from afar.
Ringly is the second company to introduce smart jewelry made specifically for women seeking to solve the problem of being connected without being rude — the MEMI bracelet was introduced at CES earlier this year and received positively. (As of now, neither company has produced a product for men, though Ringly plans to release watches and bracelets in the future.)
MEMI's campaign video features a frazzled mom who can't juggle a phone and a stroller, and a woman too laden with shopping bags to notice her iPhone. Both Ringly and MEMI serve solely to keep a woman tethered to her phone. They imply that it's women who are always anxiously, distractedly waiting for that call or text. That we are the ones who can't get through a meal or a walk without knowing if someone is trying to contact us. That we need the connection and can't bear to miss it. It also makes being always available our responsibility. Last time I checked, lack of iPhone etiquette was a human problem, not a woman problem.
Women have been underserved in the realm of gadgets, and it's good to see that changing. But it's also crucial to be aware of what problems a gadget is meant to fix and what message that sends. According to co-founder Logan Munro, Ringly is actually at work on some interesting future uses: One day your Ringly ring could open your car door, or let you pay for things, both of which feel less readily gendered (everyone hates fumbling for keys). If the future is smart jewelry, I suppose we'll have to be more accepting of man-rings if we want to level the playing field.