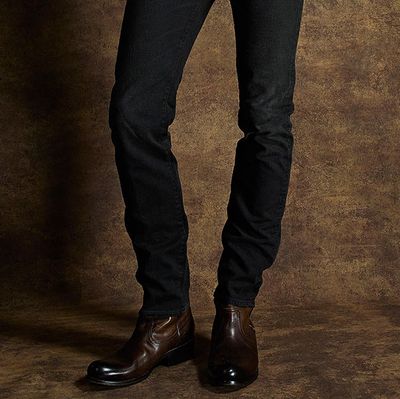 Photo: Courtesy of Tom Ford
As is his usual style during the menswear shows, Tom Ford spent today holding private appointments with groups of journalists and buyers (without allowing photography, of course). Last season, he introduced "sportswear" to his men's line, including a hand-finished, luxury leather tennis shoe (so sporty!). This time the brand has run with the theme and expanded the casual offering to include a whole range of jeans, which come in three different fits.
Don't be alarmed by the three fits though – he pointed out that they will not include a boot-cut. "They're really to give you a straight slim leg, but for different body types," he explained. "If you've got a slightly bigger butt, or bigger thighs, there's a cut that will make you look the same way as the guy who's super skinny." Those sound like magic jeans.
The collection is influenced by Warhol Superstar Joe Dallesandro, and there's also a Western flavor to it, "because that's the other side of my life," said Ford. "I was wearing jeans the other day and someone said, 'You never wear jeans!' I said 'I do, all the time – I just wear them in New Mexico.'"
Luckily there's also something that looks much like a cowboy boot in the collection – perfect for the man in your life to wear with his butt-sculpting jeans.