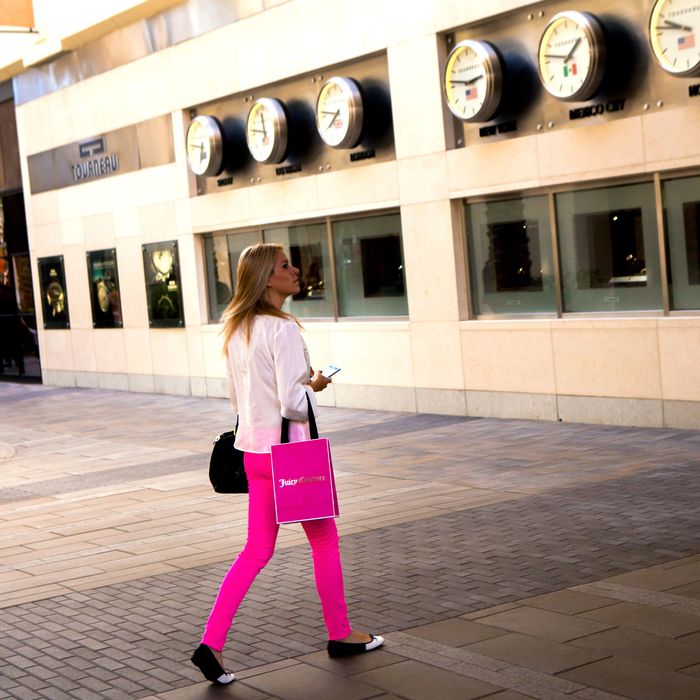 Photo: Bloomberg/Getty Images
That "RIP" for Juicy Couture may have been a tad premature. After last week's report that the company was shuttering all its stores, we were ready to sound the death knell and prepare the eulogy. But there is hope for those carrying on the timeless practice of wearing words across their posteriors. The company sent out a press release today announcing that it will re-brand as Juicy Couture Black Label (FANCY!) and open new "concept" stores across the U.S. and Canada come 2015. (The release cited New York, Los Angeles, and Vancouver as intended locations.) "Black Label is the premium
Juicy Couture collection for the global generation that values being fashion forward. It is internationally identified as the confident 'It Girl' casual luxury lifestyle brand." Sure, we can definitely picture Alexa Chung in a tracksuit.
Per the statement, which came from Juicy's parent company, Authentic Brands Group, "the new locations will replace existing Juicy Couture stores in the U.S., which are being phased out as they were opened by a previous owner of the brand and were no longer representative of the Juicy Couture brand today and ABG's vision for the brand's future." Apparently, said vision includes a relaunched website and, over the next five years, plans to open additional locations in Asia, Europe, and the Middle East. "Blue-chip partnerships" with the likes of Steve Madden, Safilo, and Elizabeth Arden are also on the docket. Sounds like those who persist in swaddling themselves in terrycloth and velour will be just fine. Take heart, Paris.