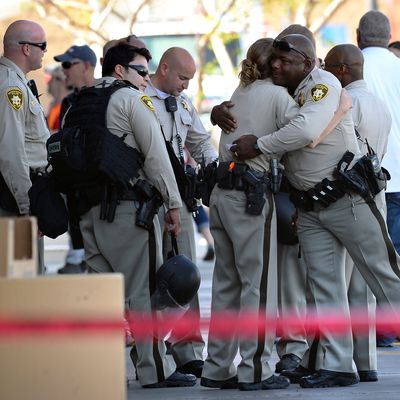 Las Vegas Metropolitan Police Department officers hug near a Wal-Mart on June 8, 2014 in Las Vegas, Nevada.
Photo: Ethan Miller/Getty Images
Yesterday, a man and a woman killed two police officers at a Cici's pizza in Las Vegas, killed a third person at a nearby Walmart, and then killed themselves. The Las Vegas Review-Journal is reporting that the duo "draped their bodies with cloth showing a Revolutionary War-era flag" and that "[i]nvestigators have also found paraphernalia associated with white supremacists." The paper also cited a witness who said that one of the two shouted "This is the start of a revolution" before the killings began, although the paper said this hadn't been confirmed.
It's understandable that the media-blitz follow-up to this event will focus on white supremacy in the U.S. That, after all, is where these killers appear to have come from, and it's a virulent subculture that has incubated violence for centuries. But just as was the case recently with Elliot Rodgers, there's a risk of focusing too much on the culture that gave rise to this act while ignoring a more immediate, practical question: How can we get better at sifting the "merely" hateful from the hateful and homicidally violence?
Brian Levin, a professor at Cal State - San Bernardino and former member of law enforcement who has worked for anti-hate organizations like the Southern Poverty Law Center, said that mass killing of the Rodger and Las Vegas varieties tend to be preceded by warning signals — and that the burden of preventing them falls on all of us.
"If someone talks about suicide, if someone talks about murdering others, if someone has experienced a major life event that has been negative, these are things that we can look at," he said "And this is not something, frankly, that is merely a government or a law enforcement or an institutional problem. It's really an issue with respect to people who have direct access to those who are expressing these kinds of warning signals."
Levin had some practical suggestions for preventing these acts in the future. "One of the things we have to do," he said, "is look within the constraints within the Constitution, what are some reasonable regulations we can make with regard to handguns, and access to handguns by unstable or dangerous people." That's because while more powerful weapons gain more attention, handguns are the weapons used in a great number of more under-the-radar killings, he explained, and therefore don't receive the scrutiny they deserve. But "we have thousands upon thousands of deaths related to handguns. Handguns are the most protected under the Heller decision."
In addition, he said that people should "really take the terrorism angle into this. If you see something, say something. If someone is expressing a propensity toward violence, particularly toward a specific target, we give them greater ease in" reporting these behaviors to the authorities.
There's a great deal of information still missing about both of the mass shootings from the last couple of weeks. But what's striking about what both Levin and Jeffrey Rowe, an adolescent psychiatrist and anti-violence specialist, told Science of Us about preventing violence, is that little of it has to do with specific ideologies. People have, at one point or another, killed innocents for every reason imaginable.
It's rare, though, for such horrors to explode out of nowhere. Their perpetrators tend to broadcast warning signs beforehand, and lives can be saved simply by learning how to look for them. There are a million reasons why it's important to fight both misogyny and racism. But given the sheer number of freely available deadly weapons in the U.S., if the goal is to stop another mass shooting from occurring tomorrow or next week, better risk-assessment — the tricky science of knowing how to separate angry people from homicidal ones — should be our most pressing concern.
"These people telegraph what they're going to do," said Levin. "Not all of them will do it on a particular timetable, but the more they're talking about it the more we want to make sure there's some kind of ability from the people who are close to them to get to either mental health professionals or law enforcement. And that's the thing: getting people to understand that it's okay to tell someone. That's probably the best way to present this."