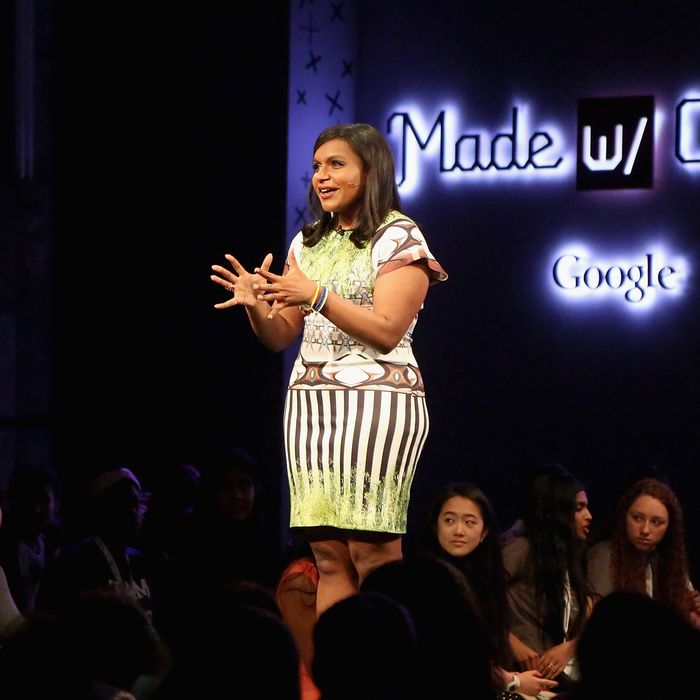 Photo: Taylor Hill/FilmMagic for Google
Yesterday, I sat among 150 cheering, screaming, and dancing teenage girls, amped up on goblets of sugary lemonade, chocolate-drizzled popcorn, and Iggy Azalea pumped over loudspeakers. Icona Pop performed, Mindy Kaling told jokes, and we all went home with free tablets. What appeared to be a girl-power sleepover was actually the launch of Made With Code, Google's latest initiative to address the enormous gender discrepancy in computer sciences.
As well as dedicating $50 million over three years to creating new educational programs, Google has created a website to build girl-coding community. Made With Code provides code-based DIY projects like a GIF-builder and 3-D bracelet printing, as well as resources for classes and IRL groups, all intended to inspire 13- to 18-year-old girls to embrace the male-dominated world of coding.
Yes, Kaling, who served as the emcee for the event — is an unlikely marquee name. She doesn't really code, she explained — in fact, as a kid, she ignored computers while her brother played on them for hours. Her opening banter included apps she would make, should she ever learn (e.g., Factbender, an app that just gives facts about Michael Fassbender). But since she can't create this app (for now!), she was hoping at least one of the girls in the audience could.
"I'm a textbook example. I was not encouraged," she explained in an interview before the event. "I got into computers for writing essays — for nothing other than opening up Microsoft Word. If me being involved somehow makes people think coding is cool, then great. I can't think of anything I'd rather lend my name to."
Personally, I'm in a similar boat. Other than knowing AIM, LiveJournal, and, recently, the most basic HTML, I never saw a need to learn my way around the back end of a computer. Stereotypically, coding involves hunchbacked dudes in dark rooms being solitary and boring. It didn't sound cool or fun, as Kaling said. Made With Code seeks to give computer sciences an image overhaul by pointing out that code is everywhere and in everything — teaching kids from an early age that code is the reason you can watch a Pixar movie or post a GIF, and helping them learn to code through those examples.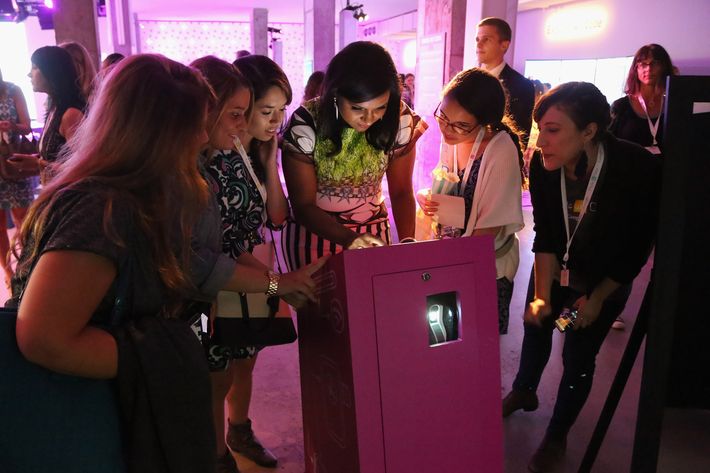 A recent Mother Jones story made the case that learning code is now crucial: By 2022, there will be 1.2 million new computer-science-related jobs, and learning to code will be integral to career advancement. Chelsea Clinton, who also spoke at the event, noted that in the mid-'80s women made up 37 percent of computer-science gradates; now, the figure is 16 percent. And less than 1 percent of high-school girls want anything to do with CS.
Made With Code is just one of many new pushes to make sure young girls get basic coding skills. In a New York Times op-ed, Nitasha Tiku described a similar initiative that's trying to hook girls through the popular game Minecraft, which seems more gender neutral than Google's plan.
Initially, I had a strong aversion to the coat of girl-power paint Google slapped onto coding. But, honestly, if teaching someone how to code and print a 3-D bracelet with a Beyoncé lyric means that she then understands a basic principle, then becomes excited to see how it applies to other tasks — well, there's nothing wrong with that. The non-girly Minecraft plan is great — but Kaling said that she would have needed a different way in, and other girls might feel similarly. "I was very traditionally girly," she said. "I thought it wasn't very social. I thought it was for boys. I thought it was solitary and not fun. I was into Latin, which is 100 percent more boring than coding. But I was into it because of the way that it was sold to me in high school. It was really social, and I felt like cool people were doing it and that's why I wanted to do it. If coding can be sold that way, that's awesome."
"I think it's pretty shrewd," she said of the new effort to re-brand coding. "I would have been duped and would have loved it. But I think it will extend beyond just this sphere. These girls will see what else they can do with it and run with it."