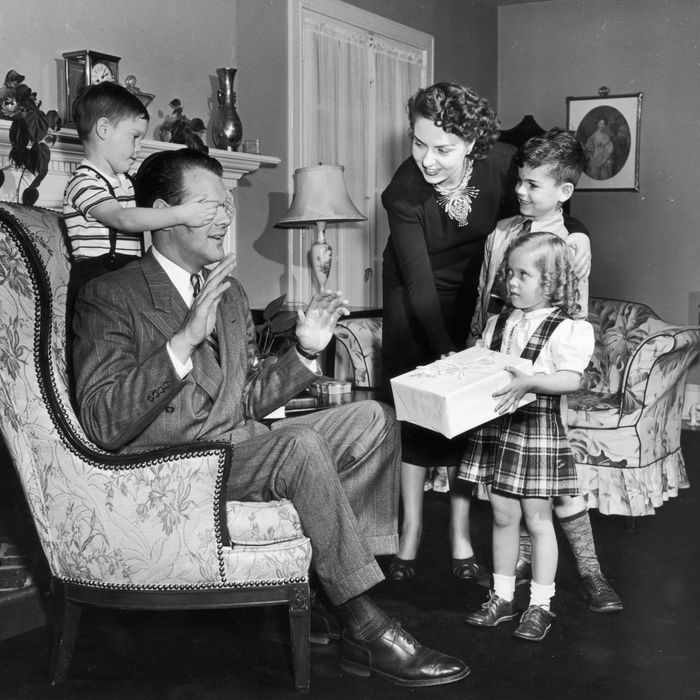 Photo: Lambert/Getty Images
This year I wanted to get my father the perfect Father's Day gift. I know him well, but he is difficult to shop for: He has most everything a man could want or need, which, as far as he is concerned, involves the clothes on his back and a roof over his head. He is not impressed by frivolity or waste. He loves reading — and he's become the most ardent fan of my writing — but doesn't really have hobbies. And this year, in my search for the perfect Father's Day gift, I noticed a problem even greater than my own dad's austerity. Turning to the internet as I began my quest, I was stunned by how terrible most Father's Day gifts are.
There are some general categories of masculinity celebrated around Father's Day — barbecue paraphernalia, beer- and whiskey-related merchandise, affirmation-based gifts bestowing the honor of "World's Greatest Dad," lawn-care accessories, and electronic gadgets. Neckwear is ubiquitous, as are shaving accessories, golf equipment, watches, wallets, and items in the shape of briefcases, including, I kid you not, a briefcase barbecue grill and a briefcase containing barbecue accessories — some kind of triumphantly boring synthesis of Father's Day gift ideas.
Fathers, to judge by the gifts suggested for them, are manly folk who wear ties because they work at important jobs. They excel at fathering and spend their free time grilling, drinking, mowing the lawn, and fiddling with newfangled technologies. They do not have a diverse range of interests, or discernible interior, emotional lives.
This narrowness becomes even more apparent when we consider how intensely motherhood figures in our cultural imagination — motherhood is so frequently proclaimed the most important job in the world that it can begin to feel almost cultlike. While dads are stereotypically remote, mothers are assumed to know us inside and out, and we hope we know them to a similar extent. Though Mother's Day gift guides are also fraught with cliché, they generally offer a broader, more distinct range of choices. Mother's Day gifts acknowledge that mothers have interior lives and emotional relationships. They acknowledge that there is more than one way to be a mother.
In fact, the list of our cultural expectations for men is nearly as long as the one for women. They have to be providers and protectors. They have to be strong and emotionally impermeable. They have to offer moral guidance. There is little room, amidst such expectations, for most men to simply be human, or to be seen and understood. I suspect this situation arises, in part, because of the persistence and pervasiveness of so-called traditional domestic gender roles — the happy housewife keeping things together on the home front while the man puts in his eight hours and comes home to a stiff drink and well-behaved children who keep quiet so Daddy can rest.
My father was and is a very present father. He was there most nights at the dinner table, interested in our young lives. He helped my brothers and me with school projects. This one time, he and I built a suspension bridge out of balsa wood! He coached our soccer teams. But he was also a mystery. He traveled a lot and was gone all day, only to return around six, tall and lanky, his suit hanging loosely as he set his briefcase down and opened his arms to my brothers and me. We knew him in a far different, often more distant way than we knew our mother. I know we gave him a lot of ties, beer mugs, and barbecue tongs as Father's Day presents, along with homemade cards boasting, as you might imagine, how he was the world's greatest dad. Now that I am older and, I hope, wiser, I know my father differently. I see him and understand him more clearly. I recognize what he missed out on by working as hard as he did to support our family.
Thankfully, the role of fathers is changing. According to a report from Pew Research, "fathers' time with children rose from 2.5 hours per week in 1965 to seven hours per week in 2011, nearly a threefold increase. During the same period, fathers' time spent doing household chores has more than doubled (from an average of about four hours per week to about 10 hours)." Clearly, there's a lot of room for improvement, but fathers are, increasingly, co-parents instead of occasional parents. If we expand how we think of fathers, and how we choose to celebrate them, if we took more time to see them as people with the same emotional, interior lives as our mothers, I would hope even more men would get onboard with expanding their roles in their domestic lives.
I ended up buying my father a fancy pen. I learned to read and, in turn, write, while sitting on his lap as he read the newspaper, secretly reading along. He and my mom gave me my first typewriter. One way or another, my father's hand is always covering mine when I write. With this woefully inadequate token of my appreciation for him as a father and a human being, I am offering up one small moment where my father might feel seen, where my hand might cover his.