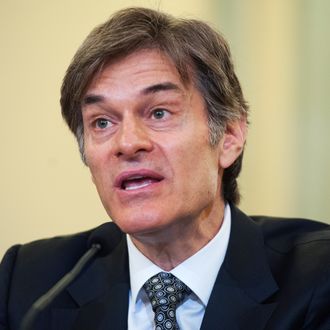 Photo: Tom Williams/CQ-Roll Call, Inc.
Oh, Dr. Oz. Surely you sorta knew this was coming? The Oprah protégé with the popular daytime show, whose full name is Mehmet Oz, has been criticized in the past for hyping "miracle" weight loss cures on his show, and yesterday, the TV doc got his comeuppance. Oz was harshly criticized at a Senate consumer protection hearing that followed up on the Federal Trade Commission's $34 million January lawsuit targeting companies that sell bogus diet products.
Senator Claire McCaskill of Missouri had some tough words for the TV doc, according to reports:
I don't get why you need to say this stuff because you know it's not true. So why, when you have this amazing megaphone…why would you cheapen your show by saying things like that?

When you feature a product on your show it creates what has become known as the 'Dr. Oz Effect' — dramatically boosting sales and driving scam artists to pop up overnight using false and deceptive ads to sell questionable products.
It's tempting to sneer at the naïveté of those who fell for things like green coffee bean extract as a mystical, magical way to quickly lose weight. But Stephen Lea, a psychologist at the University of Exeter, has studied the reasons why people fall for scams in general, and it turns out those reasons are somewhat counterintuitive.
For example, you'd think that the people most likely to believe in the promises of a dubious diet product would be the casual observers of the weight loss industry, but, often, the opposite is true. It's the most knowledgeable who can be the most gullible. Lea explained in an email:
I'm never going to fall for a scam connected with betting on football (soccer to you), because I don't gamble and I am not the slightest bit interested in football.  So the scam isn't even going to get into my consciousness.  On the other hand, I do like travelling and I'm always looking for cheap fares to make my money – and me – go further.  So I am potentially vulnerable to a scam that was offering cheap air fares by booking through some spoof travel agent.
It makes sense that increased exposure to scams would make you more likely to eventually fall for one of them. But Lea further explained that those who consider themselves to be experts in a particular field often overestimate their competence. This overconfidence shows up all over the place: Many drivers, for example, believe they're above average. And just last week a national survey showed that just over a third of Americans believe that they're overweight, when government figures show nearly the opposite to be true.
Handily, the FTC has provided a dummy-proof checklist of sorts, which is intended for advertisers but that NBCNews.com points out can just as easily protect consumers from their own gullibility. Think twice before purchasing a product that promises the following:
Weight loss of two pounds or more a week for a month or more without dieting or

 

exercise.
Substantial weight loss no matter what or how much you

 

eat.
Permanent weight loss even after you stop using the

 

product.
Blocking the absorption of fat or calories to enable you to lose substantial

 

weight.
Safely lets you lose more than three pounds per week for more than four

 

weeks.
Substantial weight loss for all

 

users.
Substantial weight loss by wearing a product on the body or rubbing it into the

 

skin.
It's a cliché for a reason: If it seems too good to be true, it probably is.