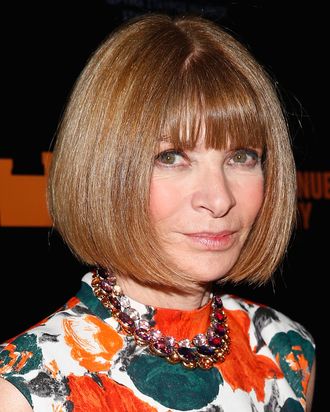 Photo: Astrid Stawiarz/Getty Images
When Anna Wintour and anti-bitchery activist Suzy Menkes sat down at Central Saint Martins for an honest discussion about what it takes to make it in the fashion business, there was #realtalk aplenty. According to the school's student-run blog, 1 Granary, Wintour counseled the students to educate themselves about business and to consider working for another designer before striking out on their own. Sound advice, if you ask us! She also spoke about the manufactured state of the red carpet today.
The red carpet, in the United States, has become too much of a business. It's a fact that celebrities are paid to wear everything, and to me that sometimes comes across as very manufactured and not individual. I was just recently at the Tony Awards in New York, and, God, they need your help. Let me tell you, it was a disaster … [Celebrities] have all these teams of people telling them what to do, what to wear, how to do their hair, makeup. And they're so scared of being criticized, whereas, you know, what's wrong with looking different? How many mermaid fishtail strapless sequin [gowns] can we see?
Amen to that, sister. Wintour also told the crowd that the days of the garret-dwelling reclusive genius are long gone:
In today's world you have to interact. You can't really be some difficult, shy person who is not able to look somebody in the face: you have to present yourself. You have to know how to talk about your vision, your focus and what you believe in. If you can't be passionate about who you are and what you are doing, how can they be?
And finally, don't splash out on a fashion show just because you feel like you have to.
Please listen to me when I say: an interesting creative presentation is just as effective as a fashion show. I see people who are paying hundreds of thousands of dollars [for] fashion shows, which I simply don't think is necessary. A presentation gives us all an opportunity to meet you, rather than to go and sit in some dark room somewhere and wait for you to start; then [have] no time to say hello, and rush off to the next one.