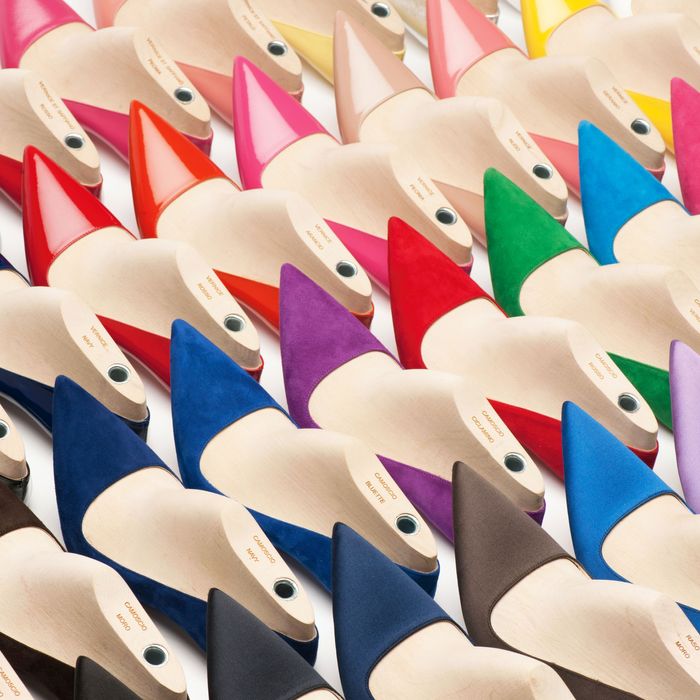 Despite their height and pitch, Prada heels seem so much more comfortable than other options out there. And that's why our eyes went wide at the thought of Prada's new custom-made shoe program, where customers can create a Made-to-Order Décolleté pump or peep toe — choosing between an array of five finishes, 27 colors, sole colors, and shoe-box colors. You can even opt to have your initials monogrammed on the soles. After designing and purchasing at the store, buyers can expect to have their new heels on their feet in a month. While prices start at $745, we think these are the perfect option for anyone who's a diehard when it comes to heels — or someone who is looking to play the long game with pumps that are built to last.
Here's everything we know about this program so far: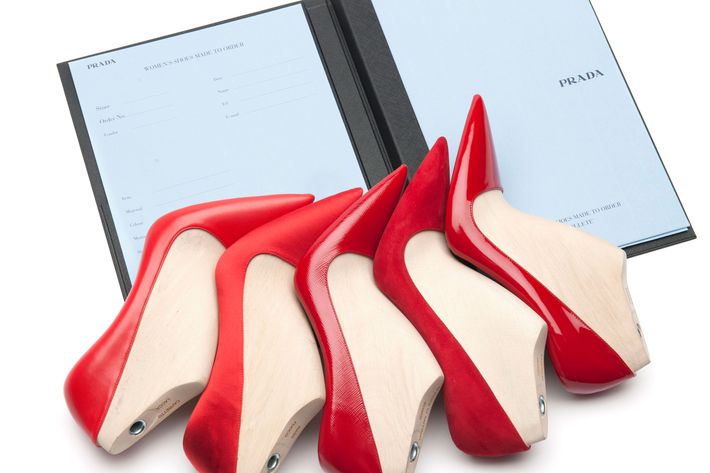 • Styles include a "Fashion" Pointy Toe, a classic pointed toe, peep toe, round toe, platform, and single-sole options, as well as a pointed toe that features a metal heel.
 
• You can choose between a 45 mm (kitten heel), 85 (mid-heel), and 110 mm (high heel).
• Customers can choose between satin, leather, Saffiano (Prada's durable signature-stamped leather seen in many classic handbags), patent leather, and suede.
 
• The colors are extensive, and almost every color and shade imaginable will be offered, depending on the finish. For example, satin alone has 27 colors, including two shades of white and nude. For suede, there are 14 different colors available.
 
• For the sole, you can choose between black, a nude called "Lily of the Valley," or Prada's signature pale blue and add initials lettered in gold — so that everyone will know that these shoes are yours, if their specific color and finish don't already communicate that.
 
• Even the packaging is custom, with six different colors of boxes available so that you can color coordinate with other shoe boxes in your closet. 
 
• This service will be available in all Prada boutiques moving forward. (For those in the New York area, there are events at the 57th Street store on  June 18 through 22, the Short Hills boutique on June 11 through 15 and at the Manhasset boutique from June 24 to 29.)