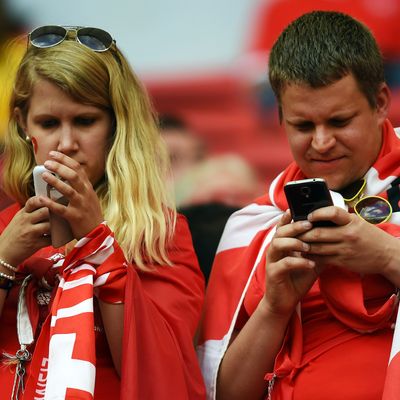 Photo: Pedro Ugarte/AFP/Getty Images
Between the man-on-man PDA and Croatia's hot-tub peep show, the World Cup is one big aphrodisiac masquerading as a sports event, and lusty fútbol fans are using the occasion as a cross-cultural smorgasbord of random hookups. Quartz reports that both Grindr and Tinder have seen a major usage bump in Brazil — downloads of Tinder are up  50 percent and users are spending double the time swiping through hookup candidates.
But with 600,000 tourists from all over the world, won't language barriers make soliciting new sex friends impossible? Fortunately, Tinder speaks the universal language: A crotch shot needs no translation.