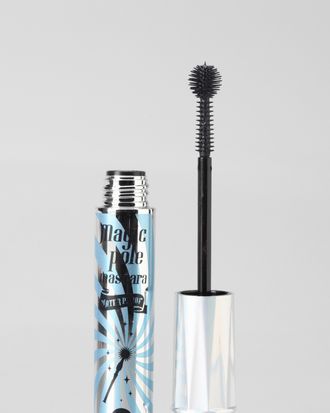 The perfect mascara is a feat of architectural magic: lengthening, volumizing, smudge-proof, long-lasting, and maybe even capable of figuring out your taxes. Most fall short — but at a preview of Urban Outfitters' newly expanded beauty section, which included a large selection of beauty products from Korea, everyone was talking about Holika Holika's Magic Pole Mascara. "It's my favorite!" one of the PR women told me, batting her long, non-clumpy, magical lashes. Maybe Holika Holika is Korean for Abracadabra! Presto! lashes?
Magic Pole Mascara is totally tubular, one of those mascaras that encase your lashes in a polymer coating that promises to be smudge-proof. But Holika Holika's version also includes a special brush and five steps of directions, printed in Korean. Fortunately, I could guesstimate the direction to "Swipe" just fine. The bottom part of the wand is a vertical, traditional wand containing spikes to lengthen and brush the product through your lashes. The top part is a medieval-looking ball mace, which sort of resembles Givenchy's Phenomen'Eyes mascara. You're supposed to drag the ball to separate any clumps, a wrecking-ball de-clumper of sorts.
If you already have long lashes that just need some magnification, this mascara is for you. The polymers do an incredible job of making your lashes look even longer. But if you aren't carefully using the wrecking ball, your lashes can look a tad on the spidery side, long and slightly grouped together at the ends. It also doesn't do the best job of thickening, so it's not great for people without a full lash line. But as someone whose eyelids practically need their own skin-care routine, I can attest that it's completely smudge-proof. Removal is also fun and creepy, since the mascara washes out easily with water, in little bits of rubbery detritus.