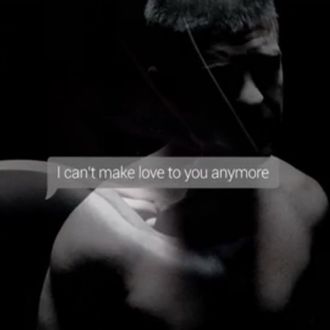 There are so many reasons to roll one's eyes when watching the new Robin Thicke video for "Get Her Back," which premiered online yesterday. Both the song and the singer's upcoming album, subtly titled "Paula," are either desperate attempts at getting back his ex or at selling albums, or both. 
It may not come as a surprise for those who have gone through the relationship revolving-door wringer, but research suggests that getting back together with an ex is usually a terrible decision for both parties involved. At least that's what Amber Vennum, an assistant professor of marriage and family therapy at Kansas State University, has found.
Vennum's research focuses on "cyclical couples" who break up and get back together (sometimes over and over, forever). When you're in the throes of a recent heartbreak, it can be soothing to daydream about the romance of reuniting with your ex, that your once and future significant other will realize that you are his or her one true love — of course it was you; it was you all along! — and you end up happily ever after.
This, however, is exactly the opposite of what Vennum's research has found. On average, dating and cohabiting couples who get back together tend to report lower satisfaction and higher conflict than couples who have not experienced a breakup and renewal," she said in an email to Science of Us.
Even if a reunion eventually leads to marriage, the couple still feels the aftershocks of the breakup. Newlyweds who broke up before getting married are more likely to go through a trial separation during the first five years of marriage. "This doesn't mean that it never works out to get back with an ex, but it does mean that there were probably issues that need to be explicitly addressed in order for things to improve going forward," she said. Instead of #GetHerBack, may we suggest: #GetOverIt.