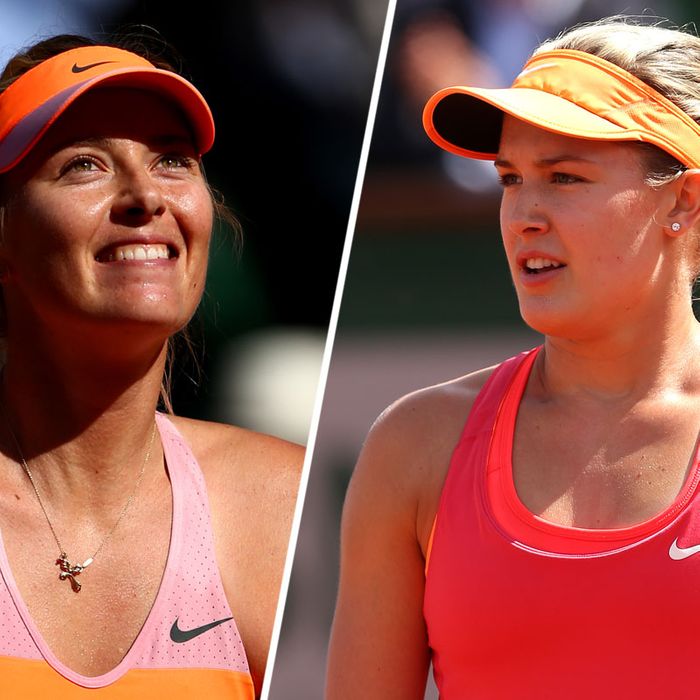 With yesterday's semifinals at the French Open, tennis media season is in full, sexist swing. Here's everything totally irrelevant that you'd never need to know about this year's rising stars if they were men.
Eugenie Bouchard
Twenty-year-old Canadian Eugenie Bouchard is the most likely inheritor of Maria Sharapova's beauty-based coverage curse because she has roughly the same dimensions and hair color as the 27-year-old Russian. Salivating over the prospect of yesterday's Sharapova vs. Sharapova 2.0 semifinal, Sports Illustrated described Bouchard as an "ambitious ingenue" who's already shown a "Sharapova-esque willingness to get down and dirty in order to win." (Did I miss Sharapova blowing a line judge?)
"Yes, they are both blonde. Yes, they both cut a perfect swath for billboards and magazine covers. […] And then there's the fact that Bouchard's outfits come from the Sharapova Nike collection."
Nothing like a couple of hot, blonde frenemies forced to wear matching outfits and fight to the death!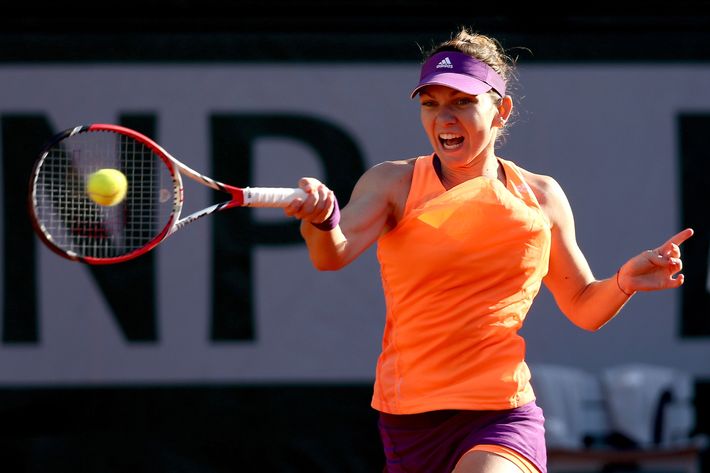 Simona Halep
Twenty-two-year-old Romanian Simona Halep's big mistake was getting breast-reduction surgery. Not in terms of, like, her life. She has said she reacts quicker and feels more comfortable since downsizing from a DD cup to a C — a change she says she would have made even if she weren't an athlete. But that was five years ago, when she was 17, and we're still talking about it! "I understand that it's what a lot of people know her for," her coach told the New York Post, "But let's hope she will win a grand slam and then they will start talking about that instead." Republishing her before pics probably won't help.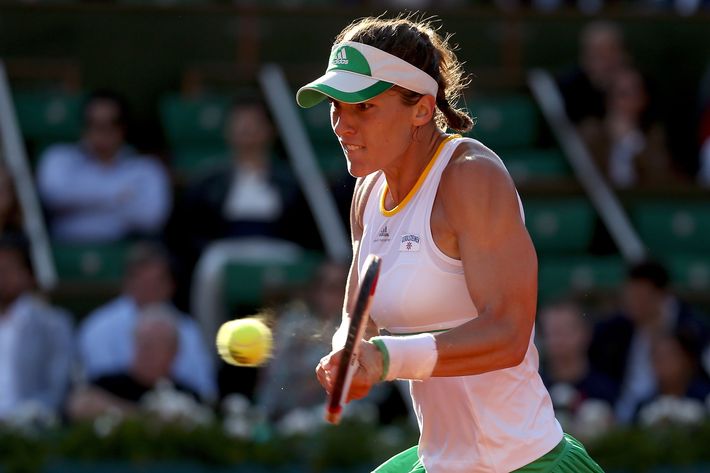 Andrea Petkovic
Andrea Petkovic is smart. The 26-year-old German reads Goethe, Nietzsche, and David Foster Wallace. During a year marred by injuries, she considered a career switch to journalism and maintained a self-parodying video series starring her alter ego, "Petkorazzi." So it was only logical that reporters would ask her to explain what the deal is with all these other tennis broads. After her victory over Kiki Bertens, a reporter asked Petkovic why Bertens appeared to suffer a "mental breakdown after the first set" — which, he said, "seems to happen a lot in female tennis." "That's sexist," she replied. Yes, it is!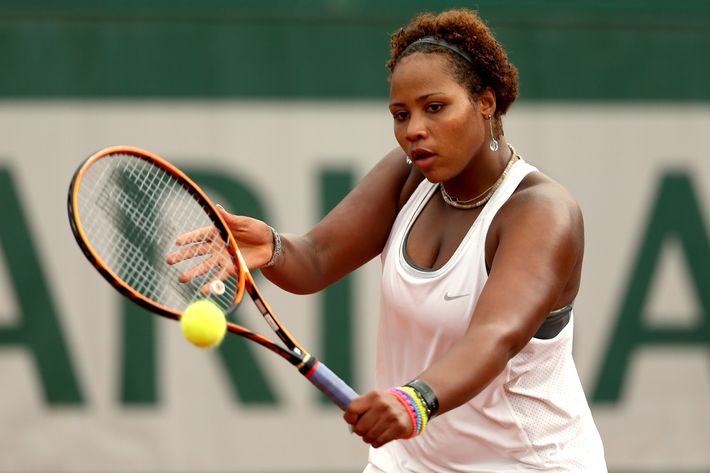 Taylor Townsend
The only thing you need to know about the Andy Murray–beloved 18-year-old from Atlanta is that she could technically be skinnier. You might have thought the long reign of Serena Williams would make that fact less reportable. Sadly, no. In 2012, the United States Tennis Association tried to get Townsend not to play in its junior tournament because of "dissatisfaction with her physical conditioning." "I would like the media to be more appreciative of the process and acknowledge progress as opposed to only acknowledging the finished product," her coach begged the New York Times. "She's learning, and she's open. She's not in denial, but the message we are trying to send is: It takes time." Indeed, the arguments that the teenager's deviation from the norm doesn't affect her game come off totally weird. Like the time Sports Illustrated compared her to a Mexican restaurant:
"In the monoculture of baseline bashing, Townsend stands out like the independent bookstore or the authentic burrito joint in a strip filled with Gaps and TGIFridays. Is it possible that her unique physique is ideal for her unique game? Put simply, this is her fighting weight."
And where I'm from, those are fighting words.