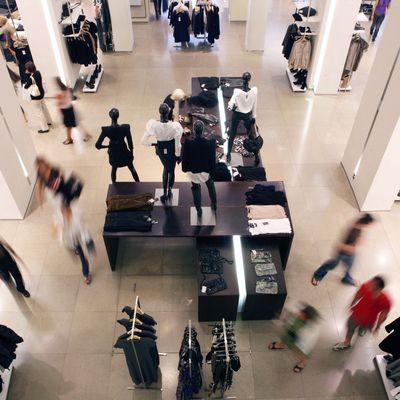 Photo: Markel Redondo/Bloomberg Finance LP/Getty Images
You know those people who brag about getting something at Tar-JAY? Now they're taking a similar tack with Zara, which has become fashion-girl crack with its lightning-quick "interpretations" of runway looks. A New York Times trend piece interviews several Zara obsessives who work in fashion, including Yael Quint of the Albright Fashion Library. "Stylists who visit here are constantly asking, 'Are you wearing Céline, are you wearing Givenchy?' We like to tell them, 'No, we're wearing Zalenciaga, or we're wearing Zéline'," Quint said with a "hoot."
Zara isn't exactly hard to come by: They have stores all over the country, and their price points are a fraction of Céline's and Balenciaga's. So why is the fashion crowd so into it? Part of it has to do with the kinds of labels they echo:
At a time when there are few sweeping upmarket fashion trends, Zara is championing minimalism, noted Jeff Van Sinderen, a senior retail analyst for apparel with B. Riley & Company, a research and investment firm. "Their look is very aspirational, in terms of the brands they are emulating," he said. "Focusing on clean, spare lines, like those of Jil Sander or Céline, has set them apart." And, he might have added, turned the chain into an unlikely magnet for fashion progressives.
It probably doesn't hurt that the company has hired some fashion insiders, like Taylor Tomasi Hill and Amanda Brooks, who starred in a recent campaign that integrated social media. And, according to the Times, "though Zara declines to confirm it, the company has engaged a handful of influential fashion stylists as 'consultants,' to rework or adapt — in a word, copy — the most heat-generating runway looks for its increasingly savvy audience." And finally, one fashion editor corralled for the piece noted that as someone who's constantly on market appointments, Zara is the only label she doesn't see ahead of time. So perhaps that very novelty is what's drawing jaded fashion-world insiders in. Small wonder that the company reported $15 billion in sales last year.