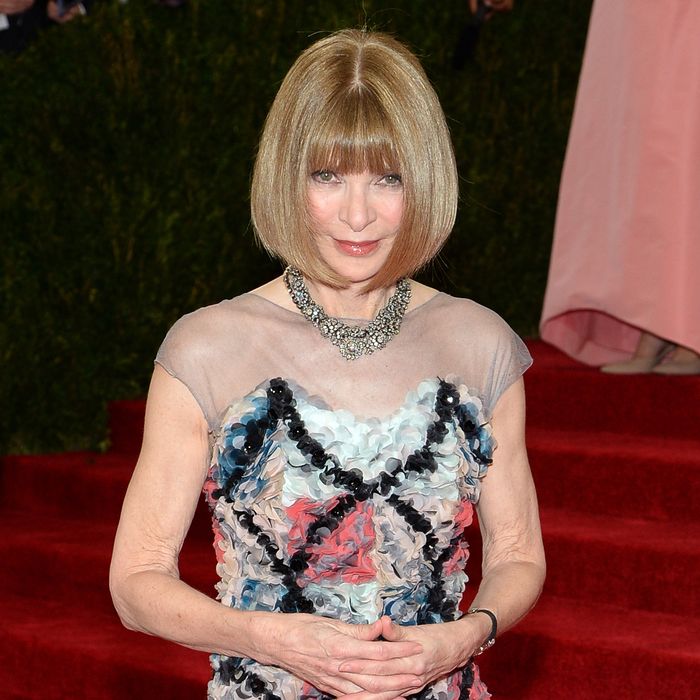 Photo: Jamie McCarthy/Getty Images
Elizabeth Cordry has officially become a member of the Anna Wintour family (by marriage, at least) after a truly Vogue-worthy wedding. According to all matrimonial tradition, the new Mrs. Schaffer ought to feel comfortable referring to Wintour as Mom, or Mother, or Ma (don't) — but can she, actually?
After combing through the Vogue slideshow of her magical Mastic wedding, here's a handy guide to knowing whether you can call Anna Wintour "Mother."
Anna Wintour considers you family (by marriage) if …
1. Your wedding was at Anna Wintour's summer home.
2. Bee Shaffer was your bridesmaid.
3. The bridesmaids' dresses were Prada. (Coordinating but not matching — chic.)
4.  "It wasn't even a question" that Oscar de la Renta would design the wedding dress.
5. Sarah Burton at Alexander McQueen used scrap fabric to make outfits for your ring-bearers and flower girls.
6. Every guest was guaranteed to RSVP yes. No matter whom you invited.
7. Amanda Brooks avidly Instagrammed your wedding hashtag (#thismasticmoment).
8. Your reception entry as husband and wife was envisioned by Baz Luhrmann.*
9. Umbrellas for the guests were "sourced" from Longchamp, only to double as parasols when the weather is, no doubt, perfect.
10. Chelsea Leyland, the only DJ Vogue knows, was spinning at your reception.
11. Mario Testino casually snapped all your wedding candids.
12. You're guaranteed Vogue (.com) coverage. 
Congratulations on your nuptials, Elizabeth. It seems you're one of the lucky few people allowed to make eye contact with Anna at Thanksgiving dinner.
* This post has been modified for accuracy.