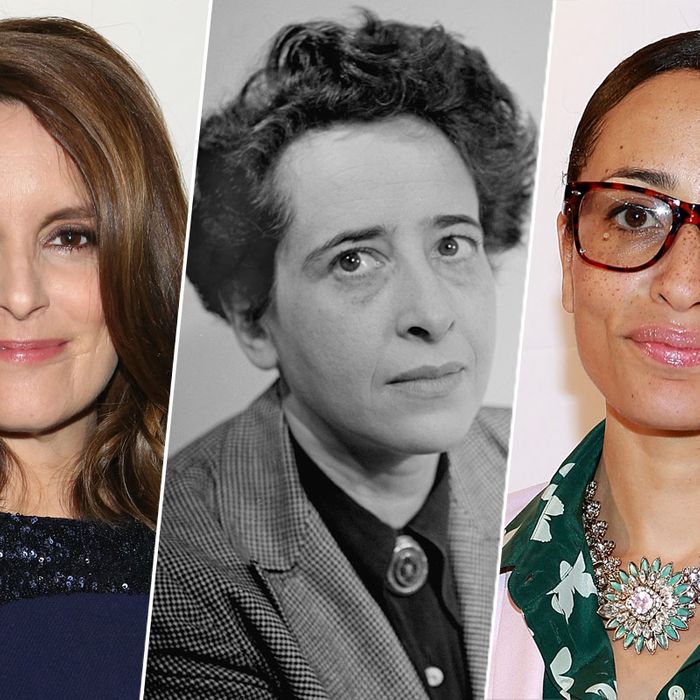 Photo: Monica Schipper/Getty Images, Fred Stein Archive/Getty Images, Robin Marchant/Getty Images
This week The New Yorker relaunched its website, opened up its archives since 2007 to non-subscribers, and announced a forthcoming metered paywall. There's a lot to read, most of it written by men: In 2013, women still made up less than a third of the magazine's bylines, according to the annual count by VIDA. But they're a formidable less than a third! In honor of the new site and summer reading, the Cut has selected 20 classic stories — old and new, locked and unlocked — by the women of The New Yorker.
In "Netherland" (December 2012), Rachel Aviv follows a young, gay homeless woman from street to shelter to subway, permanently changing the way you see New York City.
Jill Lepore's twisty history of Planned Parenthood, "Birthright" (November 2011), is full of salient one-liners like, "If a fertilized egg has constitutional rights, women cannot have equal rights with men."
Lillian Ross uncovers the mostly sad fates of Miss America pageant winners in "The Symbol of All We Possess" (October 1949).
Ariel Levy's personal history of a miscarriage, "Thanksgiving in Mongolia" (November 2013), requires tissues.
Tina Fey's "Lessons From Late Night" (March 2011) includes the difference between male and female comedians: "The men urinate in cups."
Philosopher Hannah Arendt's report from the trial of Holocaust architect Adolf Eichmann, "Eichmann in Jerusalem" (February 1963), is the source of the phrase "the banality of evil."
Patricia Marx orders hors d'oeuvre on TaskRabbit in "Outsource Yourself" (January 2013).
In "Covert Operations" (August 2010), investigative reporter Jane Mayer revealed the full scope of the industrialist Koch brothers' conservative, libertarian, climate-change-denying influence in politics.
Pauline Kael reviews Marlon Brando's "sexual warfare" in Last Tango in Paris (October 1972).
Emily Nussbaum's defense of Sex and the City, "Difficult Women" (June 2014), allowed us to proudly display our boxed sets.
Janet Malcolm's profile of former Artforum editor Ingrid Sischy, "A Girl of the Zeitgeist" (October 1983), made us worry that the way we chop vegetables is the key to our personalities.
If Earth's future alien inhabitants want to know how humans went extinct, they'll read Elizabeth Kolbert's climate reporting, including "The Climate of Man" (April 2005).
Before there was The Price of Gold, there was "Figures in a Mall" (February 1994), Susan Orlean's report from the Tonya Harding fan club in the disgraced figure skater's Oregon hometown.
For Zadie Smith on youthful philistinism and Joni Mitchell's Blue, read "Some Notes on Attunement" (December 2012).
In the ultimate humblebrag, Martha Stewart recently tweeted Joan Didion's profile of her, "Everywoman.com" (February 2000).
Ellen Willis's "Essential" Woodstock essay began as New Yorker pop criticism in "Rock, Etc." (September 1969).
Lizzie Widdicombe dissects Taylor Swift's "Oprah-like gift for emotional expressiveness" in "You Belong With Me" (October 2011).
Judith Thurman on Amelia Earhart and gender in "Missing Woman" (September 2009): "She is an epicene, at least in the grammatical sense of the word: that of a noun that has one form to denote either sex ("doctor of "friend," as opposed to "heroine" or aviatrix.")"
In "The Fashionable Mind" (March 1978), fashion writer Kennedy Fraser worried that the superficial language of fashion criticism had infiltrated intellectual life.
The quiet ambition of Pioneer Woman blogger (now Food Network star) Ree Drummond was first exposed by Amanda Fortini in "O Pioneer Woman!" (May 2011).